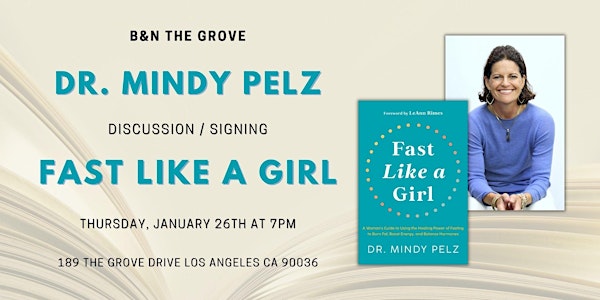 Dr. Mindy Pelz discusses & signs FAST LIKE A GIRL at B&N The Grove
Barnes & Noble The Grove welcomes bestselling author Dr. Mindy Pelz to discuss & sign FAST LIKE A GIRL on January 26 at 7 PM PT!
When and where
Location
Barnes & Noble The Grove 189 The Grove Drive Los Angeles, CA 90036
Refund Policy
Refunds up to 1 day before event
About this event
**PLEASE BE AWARE THAT THESE GUIDELINES ARE SUBJECT TO CHANGE DUE TO CHANGING COVID-19 REQUIREMENTS**
Join Barnes & Noble - The Grove at Farmers Market on January 26, 2023, as we welcome bestselling author, keynote speaker, nutrition and functional health expert Dr. Mindy Pelz to the store to discuss and sign FAST LIKE A GIRL: A WOMAN'S GUIDE TO USING THE HEALING POWER OF FASTING TO BURN FAT, BOOST ENERGY, AND BALANCE HORMONES, a go-to fasting manual created specifically to address women's needs based on their hormones and menstrual cycle by Dr. Mindy Pelz, a well-known expert on women and fasting, whose fast-growing YouTube channel has become the destination for women who want to learn about fasting.
***Vaccinations and mask coverings are highly recommended to attend this event.***
To make this event safe and enjoyable for all attendees, please read the below guidelines ahead of buying a ticket, so you know what to expect on the day. To avoid disappointment, we must stress that there will be no access to the event for non-ticketholders.
Barnes & Noble reserves the right to make new rules and orders in its sole discretion with regard to COVID-19 at any time and any person not abiding by the Barnes & Noble directives will be refused entry or directed to leave the premises.
TICKET INFORMATION
**A ticket includes:
SEATED Book Admission - $27.36 (Admission + one copy of FAST LIKE A GIRL): **LIMITED QUANTITY AVAILABLE**: A ticket PER PERSON includes:
Admission to the event space for the discussion, signing, & photo-op with Dr. Mindy Pelz.
For Seated Tickets: Limited quantity is available and will be provided on a first-come, first-served basis. Purchase of a ticket guarantees entrance to the event for the discussion and signing. However, this ticket may not necessarily guarantee a seat at the event, as later arrivals may be placed in a line behind the seated audience.
Ticket holders will be admitted into the event beginning at 6:30 PM on the day of the event. Please have a copy of your ticket available (either printed out or on your phone) for check-in.
GUIDELINES
This is a discussion, audience q&a, signing, and photo-op event.
Due to COVID-19, vaccinations and masks are highly recommended to attend this event.
No large bags will be permitted into the event.
In order to attend this event, ticket holders should:

Have not had any contact in the last 14 days with a confirmed COVID- 19 patient.
Not be subject to a quarantine order.
Not travel in the past 14 days to any state or country that California has designated as an area requiring isolation upon returning to the state.
At the time of the event, have not experienced in the last 72 hours any body temperature above 100 degrees Fahrenheit or any new symptoms associated with COVID-19. People with COVID-19 have had a wide range of symptoms reported – ranging from mild symptoms to severe illness. Symptoms may appear 2-14 days after exposure to the virus. People with these symptoms may have COVID-19: fever or chills; cough; shortness of breath or difficulty breathing; fatigue; muscle or body aches; headache; new loss of taste or smell; sore throat; congestion or runny nose; nausea or vomiting; and/or diarrhea.
Barnes & Noble may cancel this event at any time with or without notice to the ticket holders.
ADDITIONAL GUIDELINES
Some outside queuing may be required, so please come dressed appropriately for all weather.
The exact time at which the event ends will be determined on the day.
To avoid disappointment, we strongly advise you to arrive on time for the event. Late arrivals may not have the opportunity to enter the event space.
Due to health and safety and space limitations, those without a ticket will not be permitted to join the queue.
All event guidelines are subject to change.
If you have any additional questions, you can call the store directly at 323-525-0270.
Please note that Eventbrite is the only authorized dealer for this event. Each person must have a ticket to enter.
Refunds:
Attendees can receive refunds up to 1 day before your event start date.
If you are unable to attend the event, Barnes & Noble - The Grove will hold your book for seven days after the event. Please contact the store to arrange your pickup.
Should this event be canceled due to changing COVID-19 concerns, all customers will be refunded their ticket price to the original method of payment per Eventbrite's refund policy.
Event guidelines are subject to change.
ABOUT FAST LIKE A GIRL: A WOMAN'S GUIDE TO USING THE HEALING POWER OF FASTING TO BURN FAT, BOOST ENERGY, AND BALANCE HORMONES:
Are you among the many women who feel unheard and unseen by their doctors and health professionals? Have you become exhausted by the promise of quick-fix diets that only leave you disappointed? Well in Fast Like a Girl, Dr. Mindy helps you to take back control of your health by using the quickest path back to better health—fasting.
While most fasting advice has been a one-size-fits-all approach that leaves women with more questions than answers, in this book Dr. Mindy shares the proven strategies, specific protocols to use if you are trying to overcome a condition, fasting hacks, and tools that she has used to help hundreds of thousands of women thrive with their fasting lifestyles.
Dr. Mindy will teach you:
· the rights steps on how to go from eating all day to intermittent fasting (13-15 hours)
· how to safely fast longer if you choose to do so (15-72 hours)
· how to time fasting according to your menstrual cycle (although if you don't have a cycle, she has you covered)
· the best foods to break your fast to achieve better metabolic health
This book also includes more than 50 recipes based on the two food plans—ketobiotic and hormone feasting—she created to best support women's hormones. And, it has recipes specifically created to break a fast such as her Coconut Cacao Chia Pudding.
Inspired by the thousands of women she has worked with who have reclaimed their health with fasting, Dr. Mindy wrote this book because, "once a woman knows how to build a fasting lifestyle around her cycle, she becomes unstoppable."
ABOUT DR. MINDY PELZ:
Dr. Mindy H. Pelz, D.C is a bestselling author, keynote speaker, nutrition and functional health expert who has spent more than two decades helping thousands of people successfully reclaim their health. She is a recognized leader in the alternative health field and a pioneer in the fasting movement. Her popular YouTube channel regularly updates followers on the latest science-backed tools and techniques to help them reset their health.
She is the host of one The Resetter Podcast, and the author of three best-selling books, The Menopause Reset, The Reset Factor, and The Reset Kitchen.