Dr. Michael J. Bradley: When Things Get Crazy with Your Adolescent/Teen - M...
Description
Stand Strong Coalition and the Vernon Area Public Library is proud to present
When Things Get Crazy with Your Adolescent/Teen:

The Why, The How, The What To Do Now

Dr. Michael J. Bradley, respected licensed clinical psychologist, parenting expert, and author insight and practical strategies to the common challenges affecting adolescents in today's fast-paced world. A renowned speaker, Dr. Bradley offers a set of specific resilience-building parenting strategies, or "what to do when..."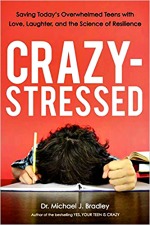 Program is free and open to the community. Parking and seating may be limited. Please arrive early.
---
DATE: Thursday, September 13
TIME: 10:30 am - 12:00 pm
PLACE: Vernon Area Public Library - ANNEX Building
Please park at the north end of the library's main lot and enter via 300 Olde Half Day Road. The Annex is just a short walk from the main lot and is the small orange building located behind the main library building.

---
Stand Strong Coalition is a community-based coalition dedicated to preventing underage drinking and drug use for the youth in our community. Please consider supporting our mission to engage and educate our youth and community about teen alcohol and substance abuse prevention issues by donating via PayPal today.
---
Follow us on Facebook and Twitter to stay updated on future community events and parent education resources.