Dr. Michael J. Bradley: CRAZY-STRESSED: Saving today's overwhelmed teens -...
Description
Stand Strong Coalition is proud to present:
Dr. Michael J. Bradley: "When Things Get Crazy with Your Adolescent/Teen: The Why, The How, The What To Do Now"
Over the past five decades confirmed levels of anxiety and depression among adolescents have increased 400%
This dynamic and entertaining program from Dr. Michael J. Bradley:
Compares today's adolescent world with that of its parents, revealing critical parenting factors that have contributed to this risk-laden trend.

Reviews the latest teen risk behaviors of sex, drugs, and violence, which relate to their excessive stress levels.

Offers a set of specific resilience-building parenting strategies, or "what to do when."

Allows for extensive audience Q&A.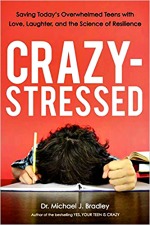 Program is free and open to the community. Parking and seating may be limited. Please arrive early.
---
DATE: Thursday, September 13
TIME: 7:00 - 9:00 p.m.
PLACE: Stevenson High School - Recital Hall
The Performing Arts Center is located near the Circle Drive entrance.
---
Stand Strong Coalition is a community-based coalition dedicated to preventing underage drinking and drug use for the youth in our community. Please consider supporting our mission to engage and educate our youth and community about teen alcohol and substance abuse prevention issues by donating via PayPal today.
---
Follow us on Facebook and Twitter to stay updated on future community events and parent education resources.
---