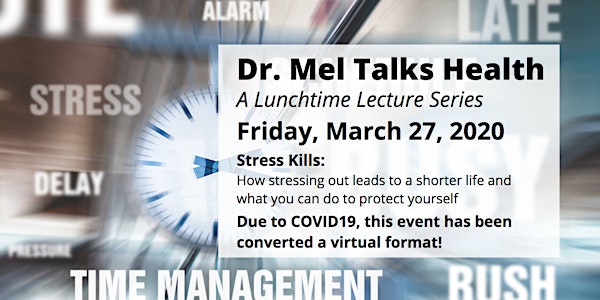 Dr. Mel Talks Health: Stress kills (On-Line Zoom)
Stress kills: How stressing out leads to a shorter life and what you can do to protect yourself
About this event
Due to COVID19, this event has been converted to a virtual format!
We will be using Zoom. Please register to receive link.
Did you know that stress is the health epidemic of the 21st century?
Chronic stress has become common reality for many Americans. According to the World Health Organization, stress and anxiety have reached epidemic proportions across the globe. Stress and worry have adverse effects on the body, which can lead to the development of cancer and other serious diseases.
Come hear Melanie R. Palomares, M.D., M.S., preventive oncologist and Physician Founder of the Cancer Prevention Movement, talk about fact vs. fiction when it comes to cancer risks and prevention, with specific emphasis on stress management.
While there is no such thing as a completely stress-free life, you can increase your odds of living healthy, long, and cancer-free by learning tools that allow you to thrive despite everyday challenges.
12pm Lecture Starts
1:00 pm Questions and Answers
1:30 pm Adjourn
Space is limited.
With multidisciplinary training and experience in medical oncology, epidemiology, and clinical cancer genetics, Melanie R. Palomares, M.D., M.S., affectionately known as "Dr. Mel", practices preventive oncology. Dr. Mel coined this term to describe the care of healthy patients who are either at increased risk for cancer or are cancer survivors at risk for second cancers. After nearly 20 years in academic medicine, first at the Fred Hutchinson Cancer Research Center in Seattle, and then at the City of Hope, and after experiencing cancer personally, she founded the Cancer Prevention Movement, which empowers individuals to maintain long-term health through risk-based screening and preventive strategies.