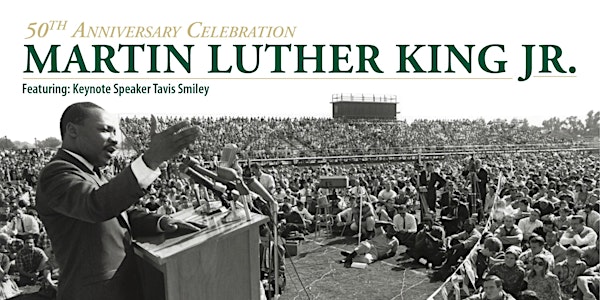 Dr. Martin Luther King Jr.'s Visit – 50th Anniversary Evening Keynote Address. Tavis Smiley to present "Death of a King: A Life of Empathy that Created a Movement"
When and where
Location
The University Union at Sacramento State 6000 J Street Sacramento, CA 95819
Description
The Martin Luther King Jr. 50th Anniversary Celebration being held on October 16th, 2017 brings together the campus and surrounding community to celebrate the life and legacy of Dr. King and his many contributions to the world. In celebration of his speech to the campus some 50 years ago entitled, "The Civil Rights Movement of the Future," this historic date will mark the 50th anniversary of his speech on campus to some 7,000 people back in 1967. Join us for this year's celebration with the theme of "Empathy, Equality, and Esteem to celebrate the milestones that have been reached thus far in working to fulfill the dream of Dr. King and to continue the fight of transforming ourselves, our communities, and our world.
Save
Save