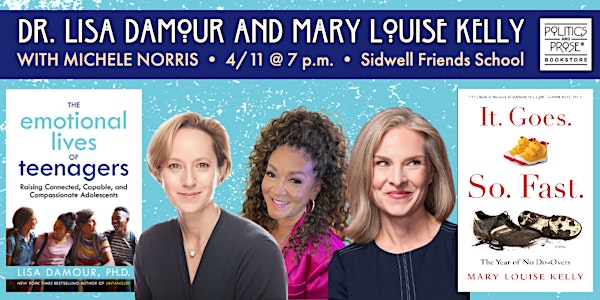 Dr. Lisa Damour & Mary Louise Kelly w/ Michele Norris — at Sidwell Friends
Join us for a discussion about parenting and the inner lives of teens with acclaimed authors Dr. Lisa Damour and NPR's Mary Louise Kelly.
Date and time
Tuesday, April 11 · 7 - 8pm EDT
Location
Sidwell Friends School Robert L. Smith Meeting Room 3825 Wisconsin Avenue Northwest Washington, DC 20016
Refund Policy
Contact the organizer to request a refund.
About this event
In teenagers, powerful emotions come with the territory. And with so many of today's teens contending with academic pressure, social media stress, worries about the future, and concerns about their own mental health, it's easy for them--and their parents--to feel anxious and overwhelmed. But it doesn't have to be that way.
With clear, research-informed explanations alongside illuminating, real-life examples, The Emotional Lives of Teenagers gives parents the concrete, practical information they need to steady their teens through the bumpy yet transformational journey into adulthood.
Recognized as a thought leader by the American Psychological Association, Lisa Damour, Ph.D., co-hosts the Ask Lisa podcast, writes about adolescents for the The New York Times, appears as a regular contributor to CBS News, works in collaboration with UNICEF, and maintains a clinical practice. She is the author of two New York Times bestsellers, Untangled: Guiding Teenage Girls Through the Seven Transitions into Adulthood and Under Pressure: Confronting the Epidemic of Stress and Anxiety in Girls. She and her husband have two daughters and live in Shaker Heights, Ohio.
Ever since she became a parent, Mary Louise Kelly has said "next year." Next year will be the year she makes it to her son James's soccer games (which are on weekdays at 4 p.m., right when she is on the air on NPR's All Things Considered, talking to millions of listeners). Drive carpool for her son Alexander? Not if she wants to do that story about Ukraine and interview the secretary of state. Like millions of parents who wrestle with raising children while pursuing a career, she has never been cavalier about these decisions. The bargain she has always made with herself is this: this time I'll get on the plane, and next year I'll find a way to be there for the mom stuff.
This chronicle of her eldest child's final year at home, of losing her father, as well as other curve balls thrown at her, is not a definitive answer―not for herself and certainly not for any other parent. But her questions, her issues, will resonate with every parent. And, yes, especially with mothers, who are judged more harshly by society and, more important, judge themselves more harshly. What would she do if she had to decide all over again?
Mary Louise's thoughts as she faces the coming year will speak to anyone who has ever cared about a child or a parent. It. Goes. So. Fast. is honest, funny, poignant, revelatory, and immensely relatable.
Mary Louise Kelly has been reporting for NPR for nearly two decades and is now cohost of All Things Considered. She has also written the suspense novels Anonymous Sources and The Bullet, and is the author of articles and essays that have appeared in the New York Times, the Atlantic, the Washington Post, and the Wall Street Journal, among numerous other publications. A Georgia native, Kelly graduated from Harvard University with degrees in government and French language and literature and completed a master's degree in European studies at the University of Cambridge in England. She created and taught a graduate course on national security and journalism at Georgetown University. In addition to her NPR work, Kelly has served as a contributing editor at the Atlantic, moderating news-maker interviews at forums from Aspen to Abu Dhabi.
Damour and Kelly will be in conversation with Michele Norris. Norris is one of the most trusted voices in journalism. She is a Columnist for The Washington Post Opinion Section, a celebrated author and the host of an upcoming podcast with Higher Ground Productions called Your Mama's Kitchen. Her voice will be familiar to followers of public radio, where from 2002 to 2012 she was a host of National Public Radio's afternoon magazine show, All Things Considered. Norris is also the Founding Director of The Race Card Project™, a Peabody Award Winning narrative archive where half a million people from all around the world have shared their experiences, questions, hopes, dreams, laments, and observations about identity --in just six words--as the starting point for conversations about race and belonging. The author of the The Grace of Silence, her upcoming book, tentatively titled Tell Me What You Really Think, is scheduled to be released by Simon & Schuster in October of 2023. Based on her work at The Race Card Project™, her next book explores America's hidden conversation about race and identity during the period bookended by the presidencies of Barack Obama and Donald Trump.
All tickets include a book.
The authors will be signing books following the event.
Attendees are encouraged to follow COVID guidance provided by the school while on campus.
Click here for information on how to get to Sidwell Friends and where to find parking.