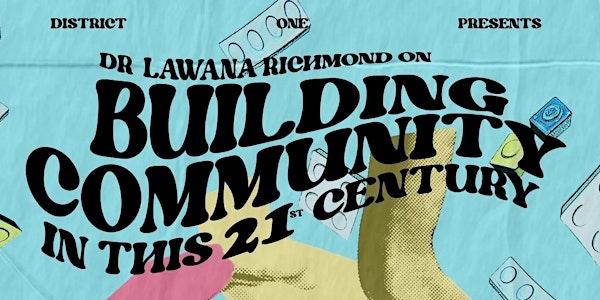 Dr. LaWana on Building Community in This 21st Century
Join Dr. LaWana Richmond in an interactive workshop about building and engaging with a sustainable community.
When and where
Location
1835 Studios 1835 Imperial Avenue San Diego, CA 92102
Refund Policy
Contact the organizer to request a refund.
About this event
In this time of unsettling and unexpected change, how do we connect in meaningful ways with our customers, constituents, clients, and neighbors? Join Dr. LaWana Richmond in an interactive workshop where she will share theory, tools, and techniques that support effective and sustainable community building leveraging technology as well as analog methods.
About Dr. LaWana:
I am Dr. LaWana Richmond and I curate this web page.
We live in a moment when adversity and the opportunities it presents beckons us all to rise above ourselves. I have been in the business of making things happen (often something out of nothing) for my entire career. Let me know how I may be of assistance. If you're trying to get on my calendar, click here. I invite you to engage. Whether it be political, community, equity, inclusion, or other forms of activism - Get off the sidelines. I did. Subscribe to updates if you are interested in staying informed. If you are familiar with the work I do and want to be supportive, click here to buy me a coffee.
While many long for a return to "normal", all of the current chaos and disruption present opportunities to return better than ever before. Historically, it is times like this that lend themselves most easily to exponential progressive change and innovation. We may not have another opportunity of this magnitude for another 100 years or more.
My greatest hope is that we go beyond just trying to get back to where we were before and rather focus on moving forward towards what we can be.
I have a track record of navigating systemic change that involves fostering a culture of continuous improvement, equity, and fiscal responsibility.
At the University of California, San Diego, my responsibilities have ranged from extramural funds management to business systems analysis with my current role being focused around organizational development with an emphasis on operational excellence and continuous improvement.
Shortly after completing my doctorate in 2015, I began teaching doctoral students and eventually undergraduate students at UCSD. Throughout all of this, I have been engaged with my community. I have shown up and made the effort to make a difference whenever and wherever I could because it's who I am.
In closing, Ubuntu theory says, I am because we are and because we all are therefore, I am.