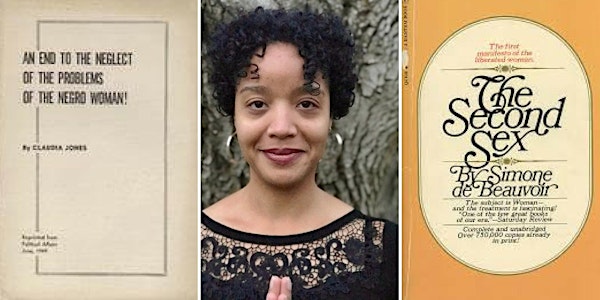 Dr. Kathryn Sophia Belle: 70 Years Later: A 1949 Debate Between Claudia Jones ("An End to the Neglect of the Problems of Negro Women!") and Simone de Beauvoir (The Second Sex)
When and where
Location
Georgetown University 3700 O Street Northwest Arrupe Multipurpose Room, Pedro Arrupe, S.J. Residence Hall Washington, DC 20057
Description
Dr. Kathryn Sophia Belle, Associate Professor of Philosophy at Penn State University and Founding Director of the Collegium of Black Women Philosophers, will discuss her paper imagining a debate between Claudia Jones ("An End to the Neglect of the Problems of Negro Women!") and Simone de Beauvoir (The Second Sex) paying particular attention to Jones' triple oppression analysis (of Black women as simultaneously raced, classed, and gendered) that centers Black women's experiences, and contrasting this attention with de Beauvoir, who equates oppression against white women with oppression against black men.
Professor Rosemary Ndubuizu of the Department of African American Studies will introduce the event. Following Dr. Belle's public lecture, Professors Marcia Chatelain of the History Department and Elizabeth Velez of the English Department and Women's and Gender Studies Program will offer responses, followed by audience questions. The event will conclude with a light reception from 5:30pm-6pm.
Kathryn Sophia Belle changed her name from Kathryn T. Gines in 2017 to honor her maternal grandmother. Professor Belle's primary research and teaching interests lie in Continental philosophy (especially Existentialism and Phenomenology), African American/Africana Philosophy, Black Feminist Philosophy, and Critical Philosophy of Race. She has also taught in African American Studies/African Diaspora Studies. Some of the major figures she writes about and teaches include Hannah Arendt, Jean-Paul Sartre, Simone de Beauvoir, Frantz Fanon, Anna Julia Cooper, Claudia Jones, and Richard Wright. She has published articles on race, assimilation, feminism, intersectionality, and sex and sexuality in contemporary hip-hop. Under the name Kathryn T. Gines, she co-edited an anthology titled Convergences: Black Feminism and Continental Philosophy (SUNY Press, 2010) and authored Hannah Arendt and the Negro Question (Indiana University Press, 2014). Professor Belle is the founding director of the Collegium of Black Women Philosophers (CBWP), the former director (2010-2016) of Cultivating Underrepresented Students in Philosophy(CUSP), and a founding co-editor (2013-2016) of the journal Critical Philosophy of Race (CPR). She is also founder of La Belle Vie: Coaching. Workshops. Retreats, offering executive academic coaching, workshops, and retreats for administrators, faculty, and graduate students.
This event is part of the CSJ's Consciousness at the Margins speaker and salon series and Education Week of the Center for Social Justice, and is supported by the Global Humanities Faculty Seminar Grant from the Office of the Vice President for Global Engagement and Georgetown College.
To request accommodations related to a disability for this event, we kindly ask that you fill out this Google Form or contact Center for Social Justice Operations Officer, Caitlin.Miller@georgetown.edu. A good faith effort will be made to meet requests made with 5 business days notice.