Description
SCHEDULE
Saturday, November 11, 2017
8:00 AM - REGISTRATION
8:30 AM-12:00 PM - DR. JACK D. GRIFFIN JR
12:00 PM – 12:45 PM - GUEST SPEAKER, MR. STEVE DOWN
12:45 PM – 1:30 PM - LUNCH PROVIDED
1:30 PM-5:00 PM - DR. JACK D. GRIFFIN JR

7 CE CREDITS
---
COURSE DESCRIPTION
"Doc, It Was Never A Problem Until You Fixed It"
The goal of this course is to simplify indirect and direct restorations with the latest materials and techniques to provide great success. Time will be spent learning BIOACTIVE and CAD/CAM that can provide the most biofriendly, long lasting restorations ever. We will eliminate problems you have with posterior composites such as weak contacts, sensitivity, and slow placement with predictable matrix systems, bulk fill materials, and great bonding techniques. Then we will discuss preparation and placement of newer indirect materials such as Lithium Dislicate and Zirconia. We will learn how to prep fast for success, do great build-ups, and simplify esthetic post placement with new universal bonding materials that decrease sensitivity and increase longevity. We will then apply these techniques to anterior and reconstruction cases. We will learn how to do it right the first time and to make the practice more enjoyable and efficient.
"Direct restoration efficiency"… newer regenerative/bioactive provide an environment that promotes healing, less sensitivity, better contacts… more than just filling a hole.
"Doc, that tooth never hurt until you fixed it!"… Steps, materials and techniques to maximize longevity and reduce sensitivity.
"Cementation Sanity" … The most durable indirect esthetic restorations EVER. We will go from planning, to prep, to placement featuring CAD/CAM, lithium disilicate, and zirconia…both simple and complex.
Aesthetic and rehabilitation cases for the ultimate in durable cosmetics, incorporating everything learned into comprehensive cases…gingiva health, material strength, less sensitivity, highly aesthetic.
The ultra-efficient practice… high and low tech gadgets, what to buy and how to use it to create a more blissful, better, busier practice. More production, less stress.
GUEST SPEAKER-Mr. Steve Down
As America's Wealth Coach, Steve is the Founder of Financially Fit, an organization committed to helping families and individuals create wealth from any starting point. He is the author of Financially Fit for Life, which is the financial education program of choice for thousands across North America. His most recent books are Idea Economy and Wealth Bound.
Steve will share the benefits of private equity as a primary wealth creation tool for dentists.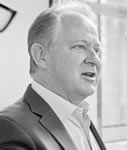 Mr. Steve Down
Salt Lake, UT
Steve Down, an Innovative Entrepreneur and, Successful Business Owner, is passionate about creating companies and providing jobs. He is the founder of many flourishing companies including CE Karma, Financially Fit, Even Stevens, The Falls Event Center, Storm Maker Media, and, Blue Hat Ventures.
You may learn more about The Steve Down Companies at www.stevedown.com
---

Approved PACE Program Provider. FAGD/MAGD Credit. Approval does not imply acceptance by a state or provincial board of dentistry or AGD endorsement. 1/1/2017 to 12/31/2018. Provider ID 217950
This activity has been planned and implemented in accordance with the standards of the Academy of General Dentistry Program Approval for Continuing Education (PACE) through the joint program provider approval of Knowledge Factory, LLC and CE Karma. Knowledge Factory, LLC is approved for awarding FAGD/MAGD credit. AGD ID# 217950
Cancellation Policy: You may cancel your registration up to 24 hours before the start of the event for a full refund.