Description
David Lagares, Massachusetts General Hospital
"Balancing Organ Regeneration and Fibrosis: From Biology to Therapeutics"
QB3 invites you to the second seminar in a series focused on fibrosis. The event aims to bring together academic researchers from Bay Area universities and industry scientists to promote collaboration and catalyze progress in the field. If you are interested in learning more about this topic and the clinical implications of pathological fibrosis, please join us for the seminar.
The talk will start at 5:30 pm and will be followed by a networking reception.
About the Speaker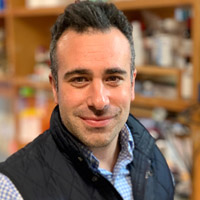 Dr. Lagares is an Assistant Professor of Medicine at Harvard Medical School and a Principal Investigator at the Center for Immunology and Inflammatory Diseases and the Division of Pulmonary Critical Care Medicine at the Massachusetts General Hospital. He also serves as Director of the Matrix and Mechanobiology Program, Fibrosis Research Center, Massachusetts General Hospital. He is a recipient of multiple career awards from the American Thoracic Society and the National Institutes of Health. Dr. Lagares is also a Co-Founder of Mediar Therapeutics, a biotech company developing innovative anti-fibrotic therapies.

The Lagares Laboratory investigates cellular and molecular mechanisms that regulate the delicate balance between organ regeneration and fibrosis following tissue injury, with an emphasis on the biochemical and biomechanical drivers of scar-forming myofibroblast activation. His laboratory utilizes cutting-edge molecular biology techniques, new bioengineering assays, genetic manipulation of mice, animal modeling of tissue fibrosis and translational studies in humans to understand the biology of fibrotic diseases and ultimately develop innovative anti-fibrotic therapies.

The lab is working on several projects, including the ADAM10-sEphrin-B2 pathway in pulmonary fibrosis, targeted apoptosis of myofibroblasts in scleroderma, and the role of mechanotransduction pathways including integrin signaling, FAK, ROCK and YAP/TAZ in regulating fibroblast mechano-activation in fibrotic diseases.
About Fibrosis
Fibrosis is a cellular phenomenon common to a wide range of medical conditions that we experience as we age. It commonly affects many organs, including the lung, heart, kidney and liver and is a leading cause of mortality worldwide.
Fibrosis is characterized by abnormal collagen accumulation in the extracellular matrix that can lead to impairment of tissue function. Although a vast number of patients are suffering from fibrotic diseases such as cirrhosis and idiopathic pulmonary fibrosis, there are currently no satisfactory treatments available.
Fibrosis is also a feature of many other diseases including scleroderma and graft rejection and can influence tumor invasion and metastasis. Even though fibrosis is very common in various contexts, the triggers leading to fibrosis and the disease progression are not well understood.