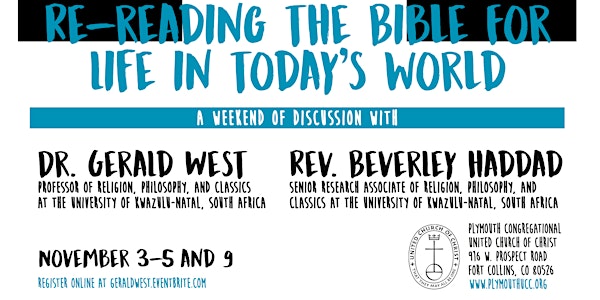 Dr. Gerald West, Plymouth Visiting Scholar 2017
When and where
Location
Plymouth Congregational Church, UCC 916 West Prospect Road Fort Collins, CO 80526
Refund Policy
Refunds up to 7 days before event
Description
Contextual Bible Study is an approach to Scripture that has its roots in the South African struggle against apartheid. It is a development upon the "See-Judge- Act" method of Bible study used in many different communities. It begins with the concrete social realities of the participants ("see"), moves into a measured, critical reading of a Biblical text that providing room for the text to speak to those social realities ("judge"), and then back to the real-life situation to develop a plan of action where God works with the participants to change the situation for the better ("act"). Our scholars have devoted their lives to developing and re ecting upon this method.
DR. GERALD WEST
Gerald West teaches Old Testament Hebrew Bible and African Biblical Hermeneutics in the School of Religion, Philosophy, and Classics at the University of KwaZulu-Natal, South Africa. He is Director of the Ujamaa Centrefor Community Development and Research, a project in which socially engaged biblical scholars and ordinary African readers of the Bible from poor, working- class, and marginalized communities collaborate for social transformation. It is through the work of the Ujamaa Center that he has developed and honed the process of Contextual Bible Study. His academic inquiry and publications reflect on the process and theory these groups use. Dr. West is a frequent lecturer and visiting professor at schools and conferences in Africa, Europe and the US. He is married to the Rev. Prof. Beverley Haddad.
REV. PROF. BEVERLEY HADDAD
Rev. Prof, Beverley Haddad is Senior Research Associate at the School of Religion, Philosophy and Classics, at the University of KwaZulu-Natal, South Africa. She has worked in the field of theology and development for the past twenty years and has published widely in this field, particularly concerning issues of religion and HIV and AIDS. She is also a member of the Circle of Concerned African Women Theologians. Ordained in the Anglican Church of Southern Africa in 1992, she has assisted in a variety of church communities. During the apartheid years in South Africa she was an activist in the struggle for justice and remains committed to engaging issues that pertain to the prophetic witness and service of the church.
*Childcare up to age 5 is available upon advanced request. Please email Mark Lee at mark@plymouthucc.org with ages and names to reserve childcare.
PROGRAM SCHEDULE:
FRIDAY, NOVEMBER 3
Registration 6:00–7:00 pm
LECTURE: CONTEXTUAL BIBLE STUDY: AN EFFECTIVE APPROACH TO FAITH-IN-ACTION 7:00 – 8:30pm
Contextual Bible Study emerged as a type of faith-in-action during the struggle against apartheid in South Africa in the 1980's. It engages marginalized, poor, and non-literate people in dialogue between their concrete life situation and biblical texts leading to personal and social transformation. We will consider the history of the struggle, and varied theological resources people relied on during those times.
Cookies and Conversation 8:30–9:00 pm
SATURDAY, NOVEMBER 4
Registration 8:00 –9:00am
WORKSHOP: READING THE BIBLE 'WITH' THE ECONOMICALLY MARGINALIZED 9:00–10:30 am
Economic transformation was a key concern of the liberation struggle in South Africa, with issues of race and class being closely connected. In contemporary South Africa, while we have achieved political and legal liberation, economic liberation proves elusive. Churches often nd it dificult to work with the economic dimensions of scripture to provide resources for that liberation. We will explore ways Contextual Bible Study may provide these resources.
WORKSHOP: READING THE BIBLE AS "EMBODIED" PEOPLE 11:00am–12:30 pm
Even as many South Africans found liberation around racial issues, it became apparent that other issues remained largely untouched. Other 'embodied' struggles have now come to the fore, including gender issues, violence against women and children, HIV/AIDS, masculinity, disability, and sexuality. Challenging discussions in these communities have led to the development of Contextual Bible Study resources from these life contexts.
Break for lunch on your own 12:30–2:00pm
WORKSHOP: ENGAGING CONTEXTUAL BIBLE STUDY IN AN AMERICAN CONTEXT 2:00 – 3:30 pm
Everyone does theology from the context of their own life and culture. Powerful cultures, who enjoy 'default' status, are sometimes unaware of their own context. Liberation methods by North Americans must take into account the reality of being both beneficiaries of oppressive systems and victims of such systems. How does a discipline like Contextual Bible Study lead to liberating faith-in-action for us?
SUNDAY, NOVEMBER 5 | FREE TO THE PUBLIC
FORUM: CONTEXTUAL BIBLE STUDY AS A SPIRITUAL DISCIPLINE 10:20 - 10:50am
This short Forum will explore how Contextual Bible Study might become part of our regular spiritual discipline. Grab a piece of pie and join us in the Forum Room.
SERMON: HIV AND AIDS IN SOUTH AFRICA: REMEMBERING LIVES OF FAITH, COURAGE, AND RESILIENCE 6:00pm
Rev. Prof. Beverley Haddad will preach at the regular Plymouth 3.0 service at 6:00 pm.
THURSDAY, NOVEMBER 9 | FREE TO THE PUBLIC
HANDS ON NOW: PRACTICING CONTEXTUAL BIBLE STUDY HERE AND NOW 7:00 - 8:30 pm
Contextual Bible Study is best learned by doing. Join Drs. West and Haddad for one more workshop as we explore applying this method to our own context of Fort Collins. Every generation can consider their unique contexts, so all ages (youth and adults) are welcome!