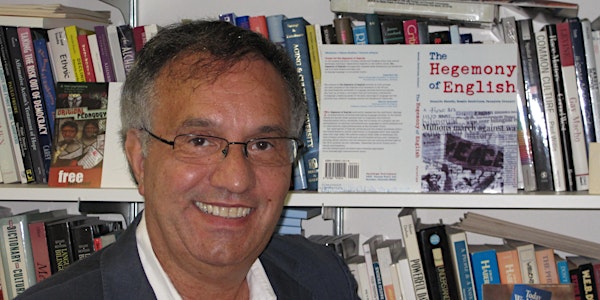 Dr. Donaldo Macedo: "Critical Educators' Recusal to De-Guccify: Anti-Praxis in Situated Written Critical Discourse
When and where
Location
Georgetown University Arrupe Multipurpose Room, Pedro Arrupe, S.J. Residence Hall 37th and O Streets NW Washington, DC 20057
Description
Please join us! The Center for Social Justice Research, Teaching and Service will host keynote speaker, Dr. Donaldo Macedo, Distinguished Professor of Liberal Arts and Education at the University of Massachusetts at Boston on October 24th. Senior Associate Dean Adanna Johnson will introduce Professor Macedo who will then give a 25-minute talk about his research on critical theory and pedagogy as it relates to deconstructing the contradictions between social justice discourse and praxis among educators. For example, he will deconstruct the contradiction inherent in the denouncement of neoliberalism and racism at the level of words devoid of the necessary action.
Professor Nicholas Subtirelu from the Linguistics Department and Professor Fida Adely of the Center for Contemporary Arab Studies (CCAS) will offer responses to Professor Macedo before we open to audience questions and comments. The event will conclude with a light reception from 5:30pm-6pm.

Dr. Macedo has been a central figure in the field of critical pedagogy for more than 20 years. His work with Paulo Freire, author of Pedagogy of the Oppressed, broke new theoretical ground, as it helped to develop a critical understanding of the ways in which language, power, and culture contribute to the positioning and formation of human experience and learning. Macedo was Freire's chief translator and English language interpreter. His published dialogues with Paulo Freire are considered classic works not only for their elucidation of Freire's theories of literacy but also for adding a more critical and theoretically advanced dimension to the study of literacy and critical pedagogy. Macedo's and Freire's coauthored book, Literacy: Reading the World and the Word, is central to critical literacy in that it redefines the very nature and terrain of literacy and critical pedagogy.
This event is part of the Consciousness at the Margins speaker and salon series and Education Week of the Center for Social Justice, and is supported by the Global Humanities Faculty Seminar Grant from the Office of the Vice President for Global Engagement and Georgetown College.
To request accommodations related to a disability for this event, we kindly ask that you fill out this Google Form or contact Center for Social Justice Operations Officer, Caitlin.Miller@georgetown.edu. A good faith effort will be made to meet requests made with 5 business days notice.