Description
ABOUT THIS EVENT
This is a book launch for RUSH: Revolution, Madness, and the Visionary Doctor Who Became a Founding Father by Stephen Fried. Benjamin Rush, a signer of the Declaration of Independence and colonial Philadelphia doctor and civic leader, helped found The College of Physicians of Philadelphia in 1787.


Light refreshments provided after the lecture.
The Mütter Museum will not be open during this event.
ABOUT THE BOOK
RUSH: Revolution, Madness, and the Visionary Doctor Who Became a Founding Father by New York Times bestselling author and journalist Stephen Fried. Rush is one of America's greatest stories that has been hiding in plain sight for more than two centuries. Thanks to a trove of letters, images, and personal writings, many previously unpublished, Fried reveals the truth in what John Adams once wrote about his closest friend: "I know of no Character living or dead who has done more real good in America." As a thirty-year-old doctor, Rush was one of the fifty-six signers of the Declaration and one of the first Sons of Liberty in Philadelphia. His anonymous writings helped inspire the Boston Tea Party. He encouraged Thomas Paine, a bookstore acquaintance, to write Common Sense, and edited the entire pamphlet. He was also personal confidant and medical adviser to Benjamin Franklin, George Washington, Thomas Jefferson, and Adams, becoming uniquely close to the Revolution's leading men.


As a doctor, Rush became known as the "American Hippocrates" for transforming medical training and institutions, as well as for revolutionizing our understanding and treatment of mental illness and addiction. From improbable beginnings as the son of a Philadelphia blacksmith, Rush grew into an internationally renowned writer and reformer, a fierce progressive agitator who championed public education and opposed prejudice by race, religion or gender, even as his convictions threatened his name and career, time and again.


Dr. Benjamin Rush was one of our nation's most provocative, broadly influential, and shockingly overlooked Founding Fathers. The true depth of his contributions has remained buried in archives and private collections—until now. With RUSH, Fried resurrects the most significant Founding Father we've never heard of, installing Dr. Benjamin Rush in the pantheon of great American leaders.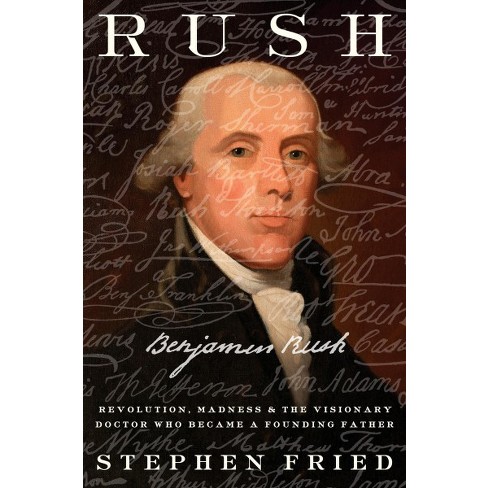 ABOUT THE AUTHOR

Stephen Fried is an award-winning investigative journalist and essayist, and an adjunct professor at Columbia University's graduate school of journalism. He is the author of the highly praised books Thing of Beauty: The Tragedy of Supermodel Gia, Bitter Pills: Inside the Hazardous World of Legal Drugs, The New Rabbi, and Husbandry: Sex, Love & Dirty Laundry—Inside the Minds of Married Men.

A two-time winner of the National Magazine Award--the Pulitzer Prize of magazine writing--Fried has been a prolific writer of feature stories and personal essays for Vanity Fair, The Washington Post Magazine, GQ, Rolling Stone, Glamour, Ladies' Home Journal and Philadelphia magazine (where he also served for two years as editor-in-chief.) He also lectures widely on the subjects of his books and magazine pieces.


This event is co-sponsored by the Athenaeum of Philadelphia.


Questions? Email events@collegeofphysicians.org.
Tickets are non-refundable but transferable to other people.
Photo Source: Sowerby, James, 1757-1822, "Origanum majorana," The College of Physicians of Philadelphia Digital Library, https://www.cppdigitallibrary.org/items/show/2045.