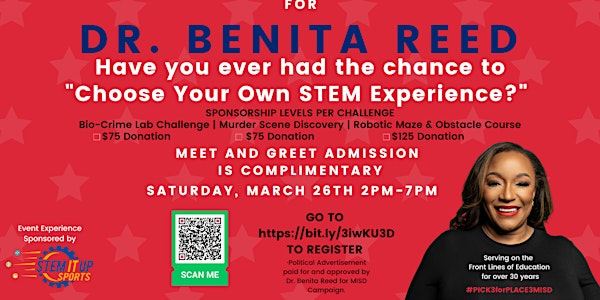 Dr. Benita Reed for MISD "Choose Your Own STEM Experience" Fundraiser
Dr. Benita Reed for MISD Trustee Interactive Meet & Greet Fundraiser
When and where
Location
Willow Woods Barn + Studio (formerly The Shepherd's Barn) 7836 County Road 526 Mansfield, TX 76063
About this event
Have you ever had the chance to "Choose Your Own STEM Experience?"
Join us on Saturday, March 26, 2022 between 2pm and 7pm for an Interactive Meet & Greet Candidate Fundraiser for Dr. Benita Reed.
You have the option of choosing 1 of 3 STEM Challenges brought to you by STEM It Up Sports :
The Bio-Crime Lab Challenge is a timed obstacle using a robotic rover to complete the challenge. Participants will navigate through the challenge to identify clues needed to discover the bio-chemical that destroyed the lab. Once they collect the clues, participants will have to correctly identify the chemical before it destroys the lab again.
The Murder Scene Challenge is for the individual that enjoys investigating a mystery. Participants will work to solve the clues of a camp site murder scene by collecting and examining evidence and crime scene photos, lifting fingerprints, and much more to solve the challenge. Participants must hurry to solve the case before the criminal strikes again.
The Robotic Maze and Obstacle Challenge involves groups working together to control their out-of-control robot. Participants will navigate through the maze to collect robot performance challenges. Through the use of block coding and mathematics, participants will instruct their robot to complete a series of tasks to regain control and prevent the robots from taking over the world.
Now remember...this is a Meet and Greet, so even if you choose not to participate in the STEM Experience, you can still get a COMPLIMENTARY General Admission Ticket and still be a part of the fun by helping Dr. Reed cheer them on! STEM Experiences are LIMITED, so act fast.
For over 30 years Dr. Benita Reed has been on the front lines of education. She stands for Excellence for ALL Children, Readiness, and Accountability. Get to know more about Dr. Reed and her platform by joining us on Saturday, March 26, 2022. We can't wait to see you!
Choose Your Own STEM Experience is sponsored by