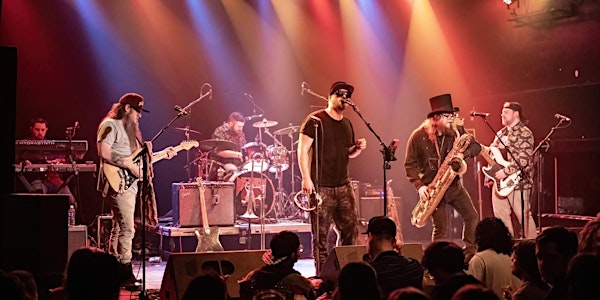 Dr. Bacon w/ Electrochemical
The Pour House Music Hall & Record Shop
Event Information
Location
The Pour House Music Hall & Record Shop
224 S Blount St
Raleigh, NC 27601
DR. BACON is a 6 Piece touring Appalachian Funk, Grass and Rock & Roll band. Doors 8pm, Show 9pm.
About this event
Dr. Bacon is a funk-focused 6-piece Appalachian rock n' roll band residing in Asheville, NC. Wielding a potent arsenal of instrumentation including guitars, horns, harmonica, synthesizers,harmonized vocals, and a thick groovin' rhythm section to masterfully wrap it all together, Dr. Bacon has been hitting full force as a live act since 2013 with notable performances spanning the length of the East Coast and as far west as Colorado. Dr. Bacon is currently touring in support of their first full length album "Fast and Loose With the Essentials."
Dr. Bacon has performed at many notable venues like: Hula for a Cause, Warren Haynes Christmas Jam By Day, Shakori Hills Grassroots Festival, The Big What?, Burning Can Festival, Front Porch Fest, Camp Barefoot, The Red Hat Amphitheater, Greenfield Lake Amphitheater, Funk Fest in Punta Gorda, FL, The Lincoln Theatre in Raleigh, The Cat's Cradle in Chapel Hill, Asheville Music Hall, Terra Fermata in Stuart, FL, The Eldo in Crested Butte, CO, Biggs in Sioux Falls, SD, and The Broadberry in Richmond, VA.
Dr. Bacon has shared bills with many notable acts such as: Andy Frasco and the UN, Lettuce, Perpetual Groove, Trampled By Turtles, Here Come the Mummies, Dumpstaphunk, Too Many Zooz, Ghost Note, The Devil Makes Three, The Empire Strikes Brass, Yarn, Yo Momma's Big Fat Booty Band, Acoustic Syndicate, Big Something, Pigeons Playing Ping Pong, The Mantras, People's Blues of Richmond, The Travers Brothership, Come Back Alice, Custard Pie, and many, many more.
ElectroChemical is unhinged psychedelic progtronica spawned from the inner minds of Will Davis (bass/production) and Collin Fradenburg (drums). Residing in Asheville, North Carolina, ElectroChemical has been constructing songs since 2011. Soup Williamson of Life is Art Studios, an integral new addition to the band, is offering unparalleled visual graphics directly on stage as the third member of this fast rising group. High energy performances, creative collaborations and thought provoking music are all things guaranteed at any ElectroChemical show.
ElectroChemical is quickly gaining recognition for their unique ability to excite fans across a variety of genres including the electronic, jam, & experimental scenes. The band has been developing an enthusiastic and loyal fan base throughout 2014 and have been seen at an assortment of shows including Soulshine Farm Fest, opening for Phutureprimitive, Thriftworks, Consider the Source, The Mantras, & performing at Alex Grey's 4th Annual Visionary Arts Fair.
ElectroChemical provides self produced backing tracks that weave modern and ancient tones while filling the sound waves with uncommon live bass and drum melodies. Creating music that is consciously driven and focuses on their unique bass-drum dynamic, the listener is encouraged to venture inward while simultaneously finding connections within the world around. Traveling through technological and organic musical dichotomies, audiences are encouraged to suspend their previous beliefs of music. Whether listening to their their CD entitled Oscillations (released in 2013) or dancing feverishly at one of their live shows, fans are inspired to create their own reality while listening to genres not previously defined.
Date and time
Location
The Pour House Music Hall & Record Shop
224 S Blount St
Raleigh, NC 27601
Refund policy