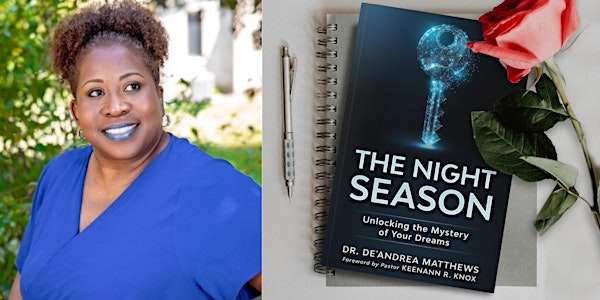 DPL Author Series Presents Dream Analyst Dr. De'Andrea Matthews
Dr. Matthews will share insights from her 2022 book about the prophetic nature of dreams.
By Detroit Public Library
Date and time
Saturday, April 15 · 2 - 3pm EDT
Location
Duffield | Detroit Public Library 2507 West Grand Boulevard Detroit, MI 48208
About this event
Dreams are not just meaningless images or imageries engineered by your previous meal! Dreams can carry deep, personal messages from God and provide key information for your future. If you're curious about your dreams and desire to learn more about this phenomenon, all of the questions above and more are covered in The Night Season: Unlocking the Mystery of Your Dreams! This practical training manual is specifically designed to equip believers to properly interpret their dreams with the Word of God and a relationship with Jesus Christ as their solid foundation.
Author and dream analyst Dr. De'Andrea Matthews delves deep into explaining the significance of dreams in a simple, practical way. Dream symbolism and interpretation deliver messages from the spirit realm that should always include revelation and insight from God. Never discount the significance of your dreams. Learn how to move beyond apathy, fear, and the unknown to unlocking the mystery of your dreams!
Committed to edifying the kingdom of God, Dr. De'Andrea Matthews serves as senior pastor of Visions International Ministry where she teaches, trains and activates leaders to heal from trauma, experience victory over darkness and walk in their divine destinies. An international speaker and award-winning author, Dr. Matthews turned adversity into her advantage by showing others how to triumph over tragedy to become their greatest possible selves. Graced with an abundance of gifts and over twenty years of ministry experience, Dr. Matthews is paving the way for many to grow and thrive spiritually and professionally.
About the organizer
The Detroit Public Library enlightens and empowers people by providing Diverse and Dynamic Pathways to Literacy and Learning.  The Library will be a vital force for promoting literacy, expanding the mind, creating opportunities for individuals and building community.