If you are a NONPROFIT ORGANIZATION serving Dallas we invite you to Learn, Connect, and Share with DPD about your organization.
About this event
Dallas Police Department Office of Community Affairs is hosting a Nonprofit OPEN HOUSE! It's a Meet and Greet! June 25, 2021 -11:30am-1:00pm at Jack Evans Police Headquarters 1400 Botham Jean Blvd. Dallas, TX .
You are invited to attend. We want to hear about your organization. You will have the opportunity to meet our new Community Operations Division Leadership team.
Join us to Learn, Connect, and Share about your organization. It will be an opportunity to hear what others are doing as well and how we can build partnerships.
Bring your handouts to connect and share with others.
Lunch will be provided.
Please register to attend so that we can connect with your organization.
Space is limited you must register to attend.
For more information: Contact Office of Community Affairs at 214.671.4045.
Community Affairs Team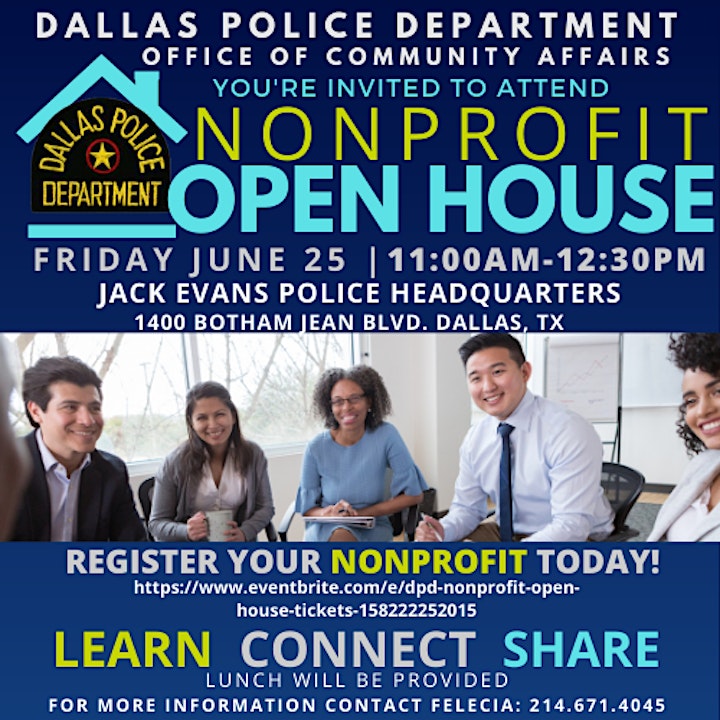 Organizer of DPD NONPROFIT OPEN HOUSE
The Office of Community Affairs and Employee Communications (OCA) is comprised of Civilian Community Outreach Representatives and Sworn Police Officers. The OCA's primary goal is to establish and maintain a positive working relationship between the Dallas Police Department and the residents of Dallas. The OCA has a three fold mission: to educate, to empower, and to engage the citizens of Dallas in an effort to reduce crime within our communities.