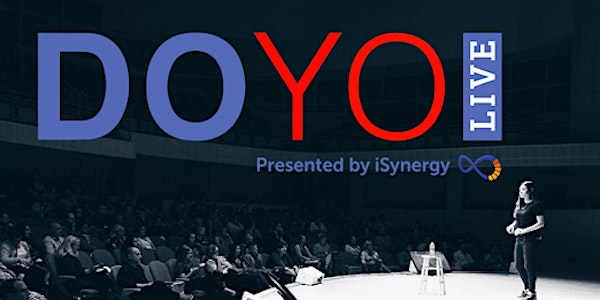 DOYO Live - Digital Marketing Conference Presented by iSynergy
When and where
Location
Stambaugh Auditorium 1000 Fifth Avenue Youngstown, Ohio 44504
Refund Policy
Refunds up to 7 days before event
Description
4th Annual DOYO Live Digital Marketing + Interactive Design Conference Presented by iSynergy
DOYO Live will feature speakers presenting on the how to's of marketing, plus this is a totally awesome networking event. Anyone doing business in the regional market in Northeast Ohio and Western, PA will benefit from making long-lasting connections.

This is a fun, upbeat event, that is locally owned and supports the local community, featuring:
Dynamic Speakers - Keynotes & Breakout Sessions

Deep Dive Workshops - Optional half-day deep dive workshops day 1.

Unlimited Networking Opportunities

Music, Video & Fun

FREE Swag

Parties - Kickoff pre-party and After-Party
Featured Speakers
Joe Pulizzi - 2019 Keynote - Founded the Content Marketing Institute, CMWorld, author of several books on content marketing and is one of the foremost experts in the world, according to Forbes Magazine in marketing today.

Devyn Bellamy - Inbound marketing expert, previously presented at DOYO Live and Inbound by HubSpot. True thought leader and expert in inbound marketing strategy.

Gabby Schiraldi - Director of development and communications for the Madison Square Boys and Girls Club in New York City.

Sable Kyle-Beshara - Digital channel manager at the Cafaro Corporation.it is Expert in developing performance-based marketing solutions for paid, owned and earned media strategies.

Ross Morrone - Director of Marketing at Youngstown State University. He has over 10 years of experience with a focus on digital marketing, advertising, branding, social media, content building and analytics.

Jim Komara - 20 year veteran in digital marketing, inbound marketing expert, director of digital marketing at PALO Creative.

Deanna Fussilo - Entrepreneur dedicated to strategically growing, empowering and partnering with small business owners and inspiring women business owners.

Tony Zayas - An award-winning digital marketer and strategist. As Director of Sales & Manager, Tony coaches Proforma franchise owners and sales associates on prospecting, client acquisition and other growth strategies, in addition to leading Proforma's digital marketing initiatives.

Maria Stevens - Founder and owner of Stevens Coaching & Consulting; a company dedicated to helping leaders achieve their personal and business growth goals through leadership and communication training classes, business development strategy and specialized consulting engagements.

RJ Thompson - Branding and creative marketing efforts behind the City of You marketing campaign, which has recently been recognized by the Governor of the Buckeye State...How cool is that?

Hillary Smith - A YSU grad working in social media for Clemson University, that's a huge deal. Clemson University is known for having one of the top social media strategies in the country.

Jeff Leo Herrmann - Our man Jeff has been one of the most well-received speakers at DOYO Live in our first three years, which is why we are bringing him back Additionally, Jeff presents at CMWorld in Cleveland, which attracts 4,000 people and is a video marketing expert.

Josh Curcio - Content marketing expert helps mid-sized B2B companies with complex sales cycles establish and steady a consistent stream of new quoting opportunities through their website using content centered Inbound Marketing.

Rachael Kay Albers - Is a designer and business comedian. As the founder and creative director of RKA ink, a branding, web design, and digital marketing studio based outside Chicago, Rachael has helped hundreds of thought leaders and visionary entrepreneurs all over the world stand out online without selling their soul or playing the manipulation game.

Brit Kolo - Creator of the Marketing Personality Type Framework at MarketingPersonalities.com and the Host of the Marketing Personalities Podcast. Through her framework, designed to match you with your best marketing strategy based on your Myers-Briggs Personality Type, she's here to shake up your approach to marketing and inspire you to grow your business in a feel-good way.

Blake Wynn - The founder of "Just Wynn", which is a holding company that includes all of Wynn's businesses, including B Wynn Sports, a marketing agency geared at pairing today's hottest brands with the NFL, NBA, and MLB clients that are signed with the company, of which Wynn is CEO.

Nate Dinet - Featured on our expert's panel, is the author and founder of the lifestyle brand Conquer Life. Nate has spent the last decade as a transformation consultant for large organizations, streamlining their product development cycles and increasing operational efficiencies. In mid-2018, Nate took his experience helping companies transform and applied it to the individual with the publication of his first book entitled Conquer Life, thus the lifestyle brand was born.

Dhariana Lozano - Will leading our advanced social media strategies deep dive workshop and why wouldn't she? Dhariana is recognized by Social Media Today as a true social media influence. Her experience ranges in creating social media strategies for companies big and small with both B2C and B2B brands. Co-founder, Supremacy Marketing, social media blogger at DhariLo.com with work published on Social Media Week, Social Media Today, AgoraPulse, Business2Community.
Deep Dive Workshops - All Inclusive Ticket Includes Day 1 & Day 2

Fundamentals of Social Media - 101 - Learn the basics of Facebook, Instagram, and LinkedIn - Deanna Fusillo, Sassy Girl Media

Advanced Social Media Strategies - Social advertising strategies, growing your engagement, and content - Dhariana Lozano, Supremacy Marketing

Content Marketing - Developing a content marketing strategy with a purpose for inbound marketing - Josh Curcio, Protocol 80

B2B Content Marketing Strategies - TBD
Who should attend DOYO Live?
This marketing event should be attended by anyone looking to grow their business.
Marketing - Anyone with marketing in their title.

Business Owners

Professional Services - Attorneys, Accountants, Real Estate Professionals, etc.

Sales

Design
DOYO Live will feature speakers presenting on the how to's of marketing, plus this is a totally awesome networking event. Anyone doing business in the regional market in Northeast Ohio and Western, PA will benefit from making long-lasting connections.

This is a fun, upbeat event, that is locally owned and supports the local community.
ABOUT
DOYO Live is a marketing conference that features an immersive content experience for industry thought leaders, experts, and practitioners to share practical insights and tactical advice in the fields of digital marketing, social media, branding and interactive content.
You can grab a ticket to DOYO Live including totally awesome, informative talks in our keynotes and breakout sessions, plus a second day with deep dive workshops.