Event Information
Refund policy
Contact the organizer to request a refund.
Eventbrite's fee is nonrefundable.
Join in as we center our mind, body & being in the eco-friendly heart of Downtown Las Vegas, Container Park! All ages. All levels. All good.
About this event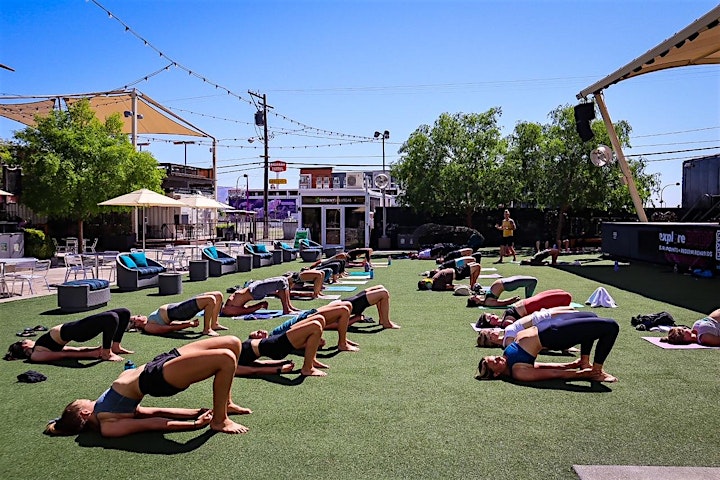 Young & old, active or sedentary- everyone is capable of reaching their unique challenge. Downtown Yoga In The Park is entering its fourth year of promoting health & wellness in the Las Vegas community.
These Saturday & Sunday recurring classes unfold at a welcoming pace for all, & are taught in the Ashtanga style by Rayce Rayos (RYT200/ CPT-ACE/ BS-Kinesiology). Each position, or asana, assumed during class lasts several breathing cycles to allow practitioners to ease themselves into form without getting left behind, yet requires purposeful concentration throughout. Breathwork techniques, known as Pranayama, will be introduced, & Pratyahara (sensory withdrawal) is attempted as we all venture closer toward the self.
WATER + MAT + FRIENDS + AN OPEN MIND ...
ALL RECOMMENDED !
____________________
ADDITIONAL COMPONENTS :
> SOUND THERAPY SUNDAYS - 1st & 3rd Sundays
Every 1st & 3rd Sunday of the month Alex Xela (@ohmhomie) & Pholly Cisneros (@peaceofpholly) delivers sonic vibrations using Tibetan bowls, rain-sticks, tongue drums, healing chimes, & other instruments that help bring us back to equilibrium before the start of class.
9:00a-9:20a.
> MINDFUEL MINI MEDITATIVE WORKSHOP - 2nd Sundays
Each 2nd Sunday of the month features an opportunity to check in with the self, clarify actions & intentions through mindful journaling, & authenticate an approach to meditation. Self-Love with Leticia's founder leads the workshop - a journal, pen, & open mind are all highly recommended.
9:00a - 9:20a.
> GUEST INSTRUCTION FROM YOGA PROFESSIONALS
A few times per month there will be a substitute instructor teaching the DTYITP class in order to enhance the diversity & scope of the techniques offered. Hatha, Ashtanga, Vinyasa, Iyengar, Yin, Kundalini & other forms can all be found on the lawn throughout the year. Check the monthly schedule on the @DowntownYoga_ Instagram page for guest teacher info & their corresponding class dates.
> PARK DISCOUNTS & SPECIAL OFFERS FOR ALL YOGA ATTENDEES
(must receive stamp prior to or after class)
Simply Pure – Buy 1 fresh juice, get 50% off a second fresh juice
Sunny Pole Fitness – 20% off any pole class/party and/or membership. $10 off any retail purchase of $60
LAYOP – 10% off regular price items and 50% off the clearance rack. (Does not include stickers and buttons)
Third & Arrow – 15% off entire order
Pizza Zazza – $7.99 10 inch Cheese Pizza
DTLV Merch – 10% off total purchase
Waffelato – Couples Waffelato; take a yummy warm waffelato and split it for two. Fill it with cool gelato and topping of your choice. $10.50
Tour Support CBD – Free daily dose of CBD with any purchase. Mention this ad and get 20% off entire purchase
Lovo Cigars – Buy 2 and get one for $2
Las Vegas Kettle Corn – Buy 1 bag of corn (any flavor) and get 2nd same size for free
Downtown Terrace – Happy Hour specials (usually 4p to 7p Monday through Friday)
Sugar Shop – 10% off total purchase
Pinches Tacos – Happy Hour 3p to 5p Monday through Friday $5 plus tax on Margaritas and beer. $2.50 tacos (adobada, al pastor, chicken, carnita, mole, gringo, gringa, veggie, nopal, chicken/al pastor, fish)
Sassy Boutique – 10% off your purchase and sale rack starting at $10
Bin 702 – Daily Happy Hour specials (usually 3p to 6p)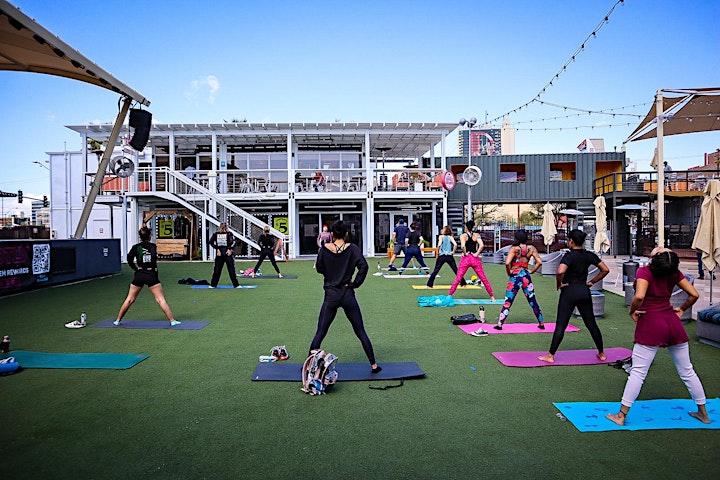 Class Elements:
yoga will take place in the beloved Container Park (south lawn), a sprawling open-air shopping center creatively constructed out of repurposed shipping containers along the famed Fremont Street
spots must be reserved via the Eventbrite ticketing platform, & purchased individually (ID will be checked at gate, & must correspond to first & last name on Eventbrite ticket); if multiple tickets are sought, each cannot contain the same purchaser's name
SATURDAY/SUNDAY : front gate opens at 9:00 am, & class will last from 9:15-10:20 am; 10 minutes following the start of class, any reserved spot(s) yet to be claimed will be given to bystanders present
WEDNESDAY : front gate will be open, & class will last from 7:00-8:00 pm
liability waivers must be signed by all participants (or parent/ guardian of participant) prior to the start of class
FREE PARKING ON CARSON, BRIDGER & 10TH STREET ***
Visit the Downtown Container Park's website for more info: HERE !
OR visit the @DowntownYoga_ page on IG & Facebook for the latest updates & community interactions !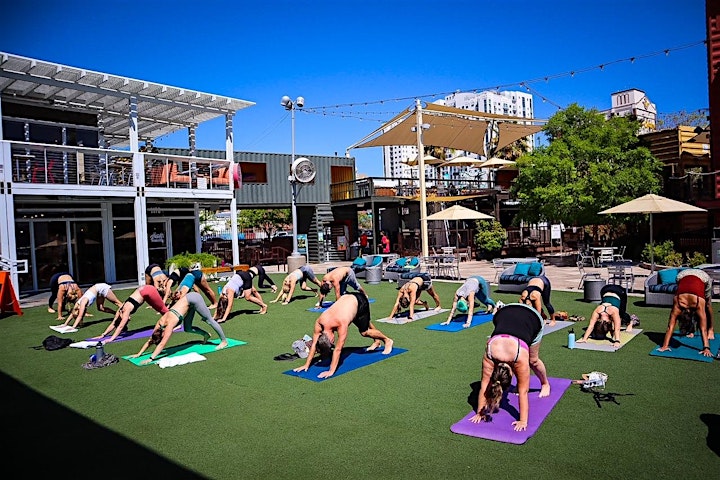 In the life of any person, especially in the year 2021, taking the time to tap in with the breath & brain (while simultaneously testing our anatomy in rewarding new ways) allows for growth to occur on conscious & subconscious levels. Human expression is rooted in individuals' experiences, & what better to experience wholeheartedly than your own being? Plus, it allows us to come together as a community with the goal of improving our collective conscience.
Yoga is an ancient Sanskrit word meaning union. It is used in reference to the unification of one's body & mind through continual practice, leading to outward clarity & knowledge of self taking root in diligent yogis & yoginis all over the world...
for millennia!
____________________
See ya' this weekend!
Namasté.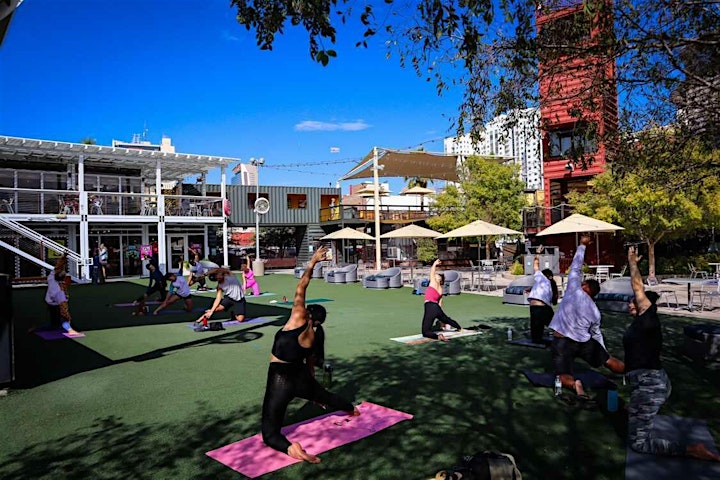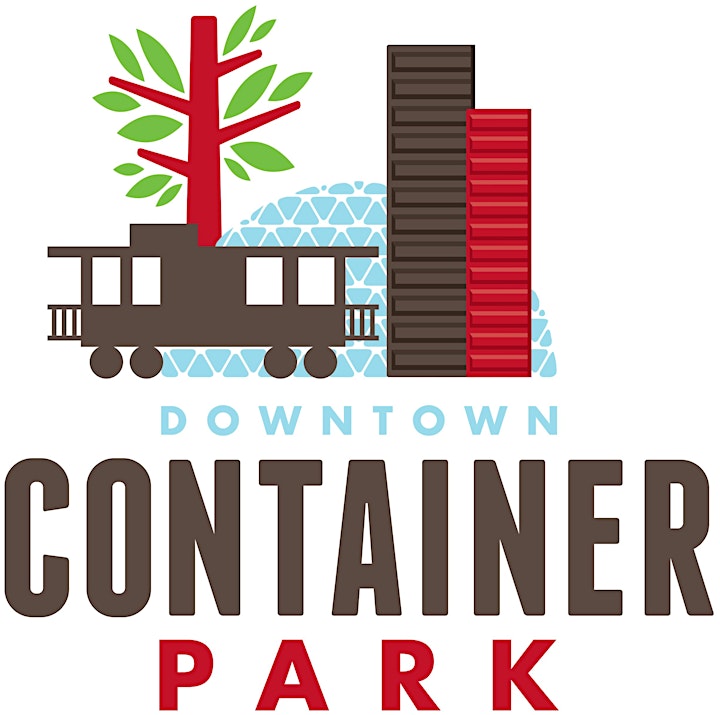 Date and time
Location
Refund policy
Contact the organizer to request a refund.
Eventbrite's fee is nonrefundable.