Celebrate Juneteenth with the Downtown Rotary Club of Houston with Rev. Dr. Bill Lawson and Dr. Roderick R. Paige.
About this event
Join the Downtown Rotary Club of Houston as we host the 2021 Juneteenth Luncheon Celebration. Special guests include Rev. Dr. Bill Lawson and Dr. Roderick R. Paige. See their full biographies below.
Juneteenth – also known as Freedom Day, Jubilee Day, Liberation Day, and Emancipation Day – is a holiday celebrating the emancipation of those who had been enslaved in the United States.
Downtown Rotary Club of Houston members are entitled to one (1) free ticket per paid member. Corporate members are entitled to five (5) tickets. Visitors and guests must purchase a ticket at $50.
*** If you are ordering more than one (1) ticket, please enter each attendee's name for faster event check in. ***
All credit cards and PayPal accepted. Valet parking included.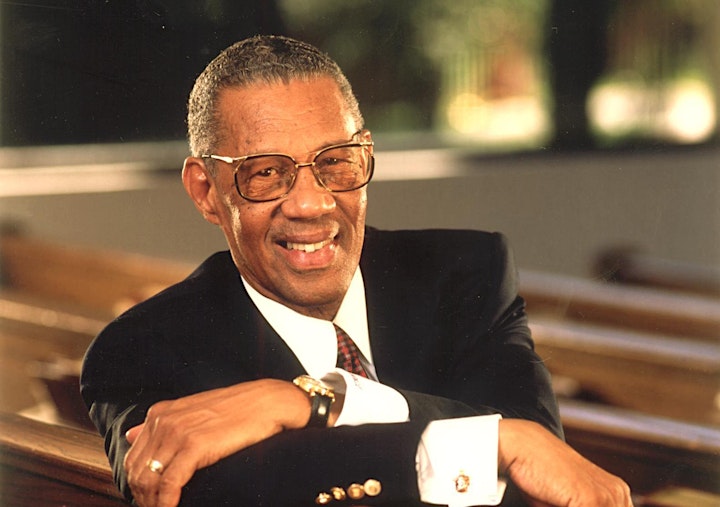 ABOUT REV. DR. WILLIAM A. "BILL" LAWSON
Rev. Dr. William A. "Bill" Lawson was born in St. Louis, Mo., and reared by Walter and Clarisse Lawson Cade in Kansas City, Kansas, where he graduated from Sumner High School. He earned a Bachelor of Arts in Sociology at Tennessee A&I State University in Nashville. He returned to Kansas City to attend Central Baptist Theological Seminary, which conferred upon him the Bachelor of Divinity and Master of Theology degrees.
While in seminary, he was married to the love of his life, the late Audrey H. Lawson of St. Louis. They were married for 62 years. The Lawson's have four children, Melanie Lawson, Cheryl Lawson, Eric Lawson, and Roxanne Lawson. Son-in-laws are John Guess and Thomas Carter. Grandchildren are Robyn Troup and Raven Troup, and grandson-in-law is Alex Koby.
Rev. Lawson came to Houston after graduation from seminary to serve as director of the Baptist Student Union and Professor of Bible at the new (eight years old) Texas Southern University. He served in that position for ten years, also becoming director of Upward Bound, a pre-college program for high school students on the TSU campus. During his years at TSU, a number of residents of the neighborhood persuaded the Lawson's to establish a church near the university.
Wheeler Avenue Baptist Church was established in their home in June, 1962. The congregation has grown to over 5,000 members, with many outreach programs, and is much respected in the community. Since the church was born and lived its infant years during the Civil Rights Movement, Rev. Lawson has been deeply involved in advocacy activities for minorities and the poor. Rev. Lawson was a central figure in working with Dr. Martin Luther King Jr. to turn around the Houston community during those tumultuous years.
In 1996, the Houston community honored him with the creation of a non-profit advocacy agency called WALIPP, the William A. Lawson Institute for Peace and Prosperity. That agency has gone before public officials and bodies on behalf of the underclasses, and has now established a middle school for boys, and chartered as a public school with the Houston Independent School District so it would be accessible to low-income families. The school has recently risen to the second highest ranking among public secondary schools. WALIPP has also constructed 50 units of apartments for seniors in Houston's Third Ward. The agency has successfully pulled together community development groups, churches, civic clubs, and local governments to redevelop the Third Ward, so that aggressive real estate development will not expel all who need affordable housing. Rev. Lawson has received honorary doctorates from Howard Payne College in Brownwood, the University of Houston, and Texas Southern University. He is the author of a book of meditations called Lawson's Leaves of Love.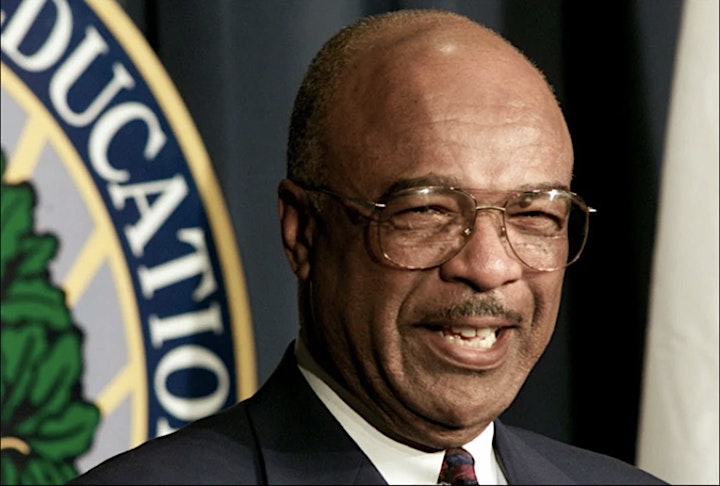 ABOUT DR. RODERICK R. PAIGE
Born Roderick R. Paige in Monticello, Miss., on June 17, 1933, he is the son of public school educators. Paige earned a bachelor's degree from Jackson State University and a master's degree and a doctorate in physical education from Indiana University. Before beginning his career in education administration, he was a college football coach for two decades. Paige became superintendent of the Houston Independent School District in 1994 and was known for his successful leadership and innovative reforms as head of the large district. He also served as the dean of the College of Education at Texas Southern University. He was the first African-American and the first school superintendent to serve as education secretary. After leaving the Education Department, he became a public policy fellow at the Woodrow Wilson International Center for Scholars. He recently served as the interim president of his alma mater, Jackson State University.
Organizer of Downtown Rotary Juneteenth Celebration Luncheon
The Downtown Rotary Club of Houston is a 501 (c) organization meeting twice each month for social fellowship and service. Join us and be a part of something big!  
Our members are committed to the ideals of Rotary International® and are dedicated and invested in making Houston, Texas, and the world a better place for all and…to have fun doing it. The Downtown Rotary Club of Houston membership is open to men and women who are recognized for their leadership, want to be socially active and dedicated to community service. No individual may join Rotary on their own.
A current member of the Rotary Club of Houston Downtown must sponsor an individual for membership and subsequently that individual must be approved by the Downtown Rotary Club of Houston Board of Directors. Guests of members are welcome to visit the club to learn more about Rotary and our community and worldly involvement.