About this Event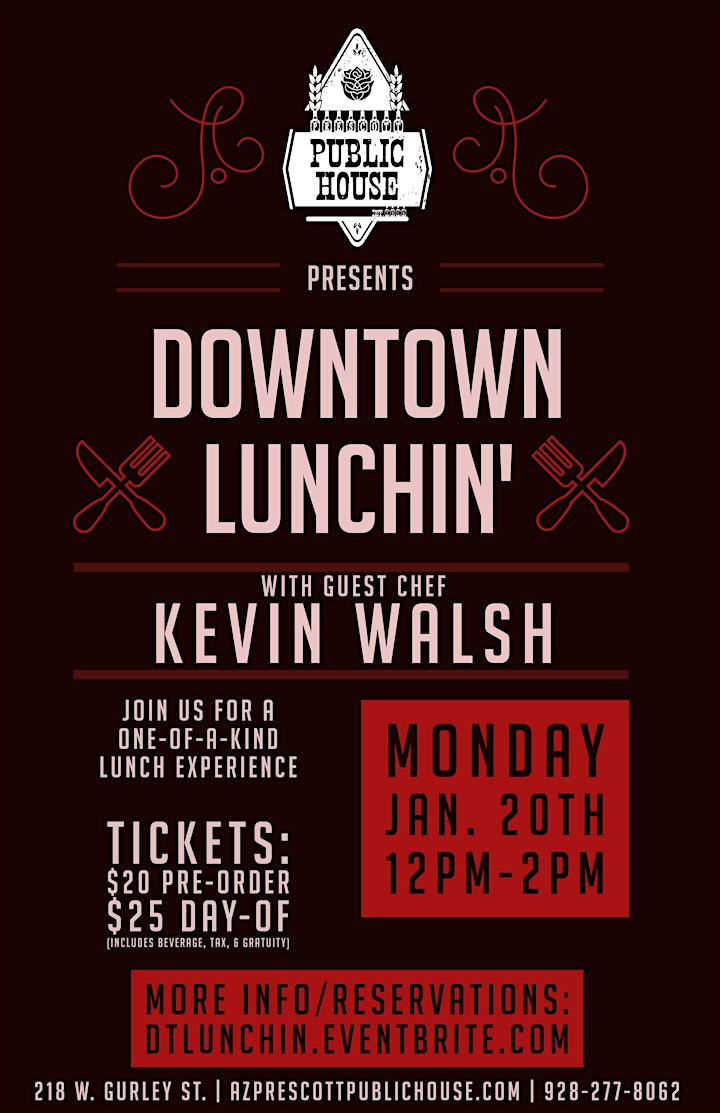 We are excited to announce that Kevin Walsh will be cooking a private engagement lunch at Prescott Public House.
Who's Kevin Walsh?
Kevin has been the sous chef at BiGa for over a year, and is expanding his culinary adventure to our venue for this one-time event.
Prior to living in Prescott, he had managed the Salmon Bake and Prospectors Pizza in Denali, Alaska. He has also worked in many restaurants while here (such as, Park Plaza Liquor and Deli, John's Chophouse, The Raven Cafe, and more) as a means to increase his culinary experience and fine tune his craft. This event is Kevin's way of thanking Prescott for his culinary journey by providing an at-cost meal. Please join us for this special occasion!
THE MENU
SEARED DUCK BREAST SERVED ON A RICOTTA POLENTA CAKE WITH A POMEGRANATE BBQ SAUCE. ACCOMPANIED WITH PEAR CHUTNEY AND ROASTED WHIPSTONE CARROTS.
Early reservations are encouraged. Tickets will be $20 for early reservations, and $25 for day-of guests.
Ticket price includes a Draft Beer/Well Cocktail or non-alcoholic beverage, as well as all taxes and gratuities.
(Eventbrite will add a credit card processing fee, or you may purchase tickets directly from the Pub at 218 W. Gurley Street)