Description
Birmingham's Downtown Loft Tour presented by H2 Real Estate will take place on Saturday, April 30th from 12:00pm – 4:00pm. The Downtown Loft Tour is a self-guided walking tour with an exclusive look at 10-12 spaces in Birmingham including both residences and businesses. H2 wants you to be able to experience downtown living through a combination of enjoying the spaces to experiencing many of the restaurants and businesses that shape the downtown community.
A Marketplace will also be set up with food trucks, local vendors, and fun right next to the registration at H2's office!
Tickets are $20 in advance and $25 at the door. The tour registration will be held at H2 Real Estate's Office (2012 1st Ave. North). Event proceeds will benefit REV Birmingham.
*Special Tour: We have been able to set up exclusive hard hat tours of the Pizitz and Thomas Jefferson Building. There are only 70 spots total on the tour. Certain attire is permitted. We are offering an early bird special ticket for $25 which includes H2's Downtown Loft tour along with the Hard Hat Tour. Tickets the day of the event will be $25 for the loft tour + $10 for the Hard Hat Tour.

Get Excited! Here is a list of Vendors that are going to be at the Loft Tour!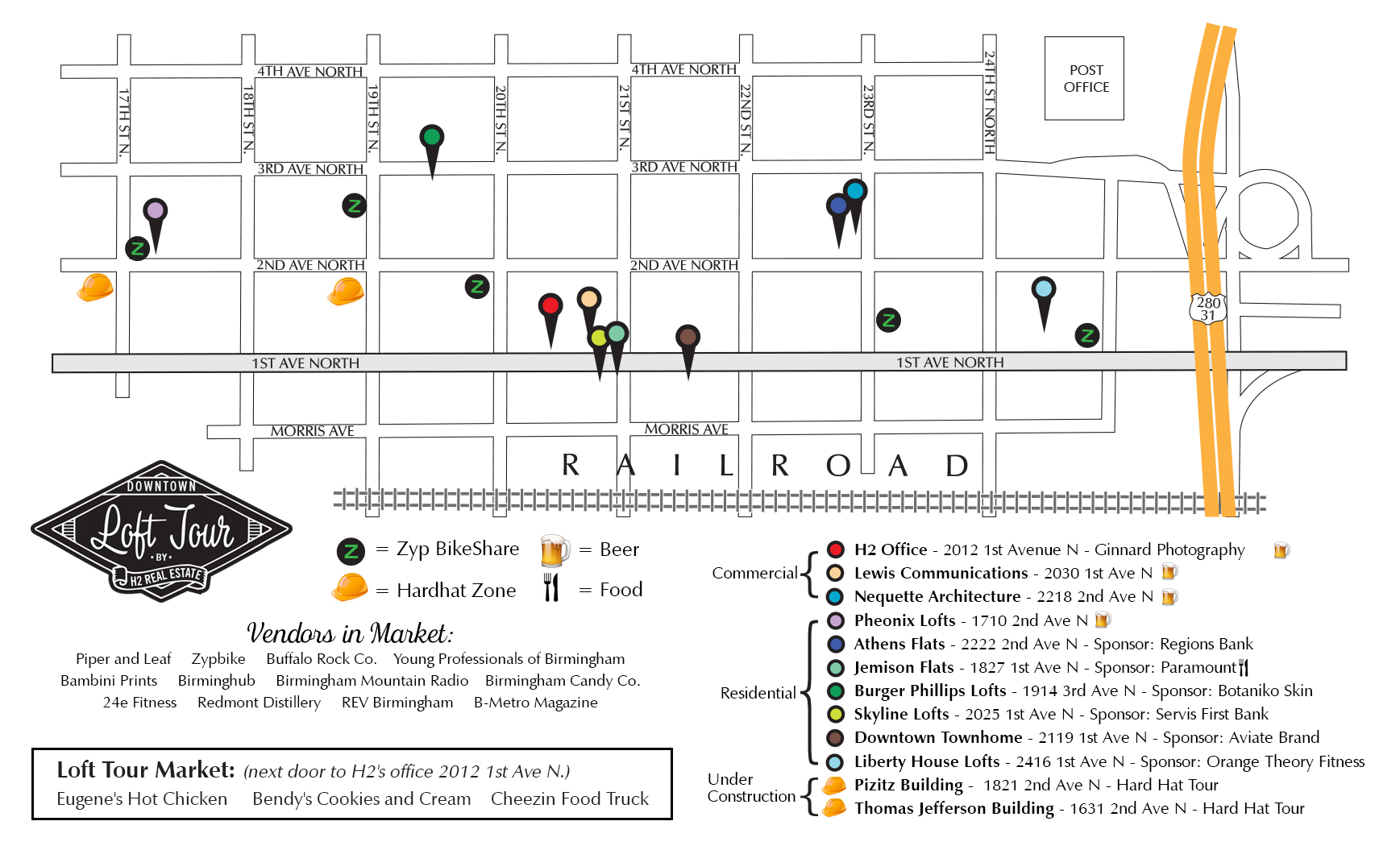 Market (right next door to H2's office 2012 1st Ave N.)
Food Trucks:
Eugene's Hot Chicken
Bendy's Cookies & Cream
Cheezin
Piper And Leaf x Lowe Mill
Zyp BikeShare - Birmingham
Buffalo Rock Company
YPBirmingham
Bambini Prints
BirmingHub
Birmingham Mountain Radio
The Birmingham Candy Company
Executive 24e Group Fitness
Redmont Distilling Company
REV Birmingham
B-Metro: The Magazine of Metro Birmingham Living
For more information, please contact Louise Kidd at louise@h2realestate.com.