Description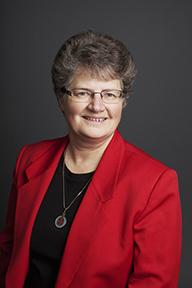 The First Presbyterian Church, as a downtown church, is reaching out to our neighbors, inviting you, whether an employer, employee or just looking to gather with likeminded persons for a FREE lunch on the third Wednesday of each month. These lunches will provide a time to Network, receive Inspiration, feel Connected and experience Encouragement.
As part of the Higher Power Lunch, a scripture-based message/devotional that is relevant to the daily challenges and struggles faced in daily life will be shared.
Higher Power Lunch Schedule: lunch served from 11:30 a.m. to 12:10 p.m., a welcome, prayer and any announcements at 12:10 p.m. followed by five minutes of networking time. Our guest speaker will provide a message for 12 -20 minutes. The closing will end the gathering at 12:50 p.m.
October 17th, 2018 Speaker: Sister Kathleen Atkinson~
Sister Kathleen Atkinson is a Benedictine Sister from the Annunciation Monastery in Bismarck, ND. Nationally recognized as an energetic and creative leader in hunger and homelessness education, she has developed service learning experiences for all age groups and led service teams to a variety of foreign and United States locations. Kathleen has been a teacher at the elementary, secondary, university level and has served as director of catechesis for the diocese of Bismarck. In 2013 she founded Ministry on the Margins, serving those who fall through the cracks during times of transition, especially the transition from prison to society. Ministry on the Margins currently serves over 700 people with 70-75 volunteers each week.
Kathleen has recently been recognized with the North Dakota Catholic Charities Caritas Award, North Dakota Leading Ladies recognition, St Mary's Central High School Outstanding Alumni, and a 2015 top three Lumen Christi National Finalist with Catholic Extension Society. She holds an MA in Theology from St John's University and a Doctorate in Ministry from the St Paul Seminary School of Divinity, University of St Thomas. She is also the author of two books - God is Always There. Psalms for Every Moment, and Letting Go and Letting God. 21 Centuries of Faith.
RSVP'S are necessary to attend the event. RSVP through this tool or e-mail higherpowerbis@gmail.com
We are looking forward to seeing you there!