Sales Have Ended
Ticket sales have ended
Ticke online are now officially sold out but will be available at the door for purchase
Sales Have Ended
Ticket sales have ended
Ticke online are now officially sold out but will be available at the door for purchase
Description
Saturday, October 29th, Downtown, Tampa transforms to the Halloween Headquarters
of the Bay for the exclusive yet most anticipated adult party experience - The 3rd Annual Downtown After Dark: Halloween in the City presented by Carvana!
Featuring Five Live DJs at 5 of Downtown's Best Venues, for Five Themed Parties all within walking distance fro each for the largest partyhop experience in Downtown.

Also featuring Stilt Walkers, Impersonators, Custom Themed Drink Specials All Night and Costume Contests, lots of giveaways from Carvana, plus free rides throughout Downtowner to and from the venues using the Downtowner App!
Also download Lyft for the first time and enjoy up to $50 in free ride credit using the code "ridetoevent"!
Get a ticket for one of the halloween parties presold for only $15 or experience all five for only $49 presold!

Must be 21+ to party!
Enjoy.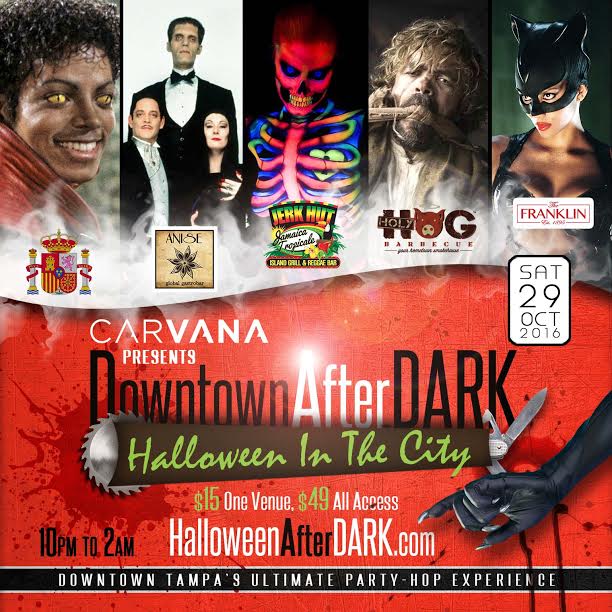 PARTY 1: The Addams Family House Party: ANISE: 777 N Ashley Drive, Tampa, FL

---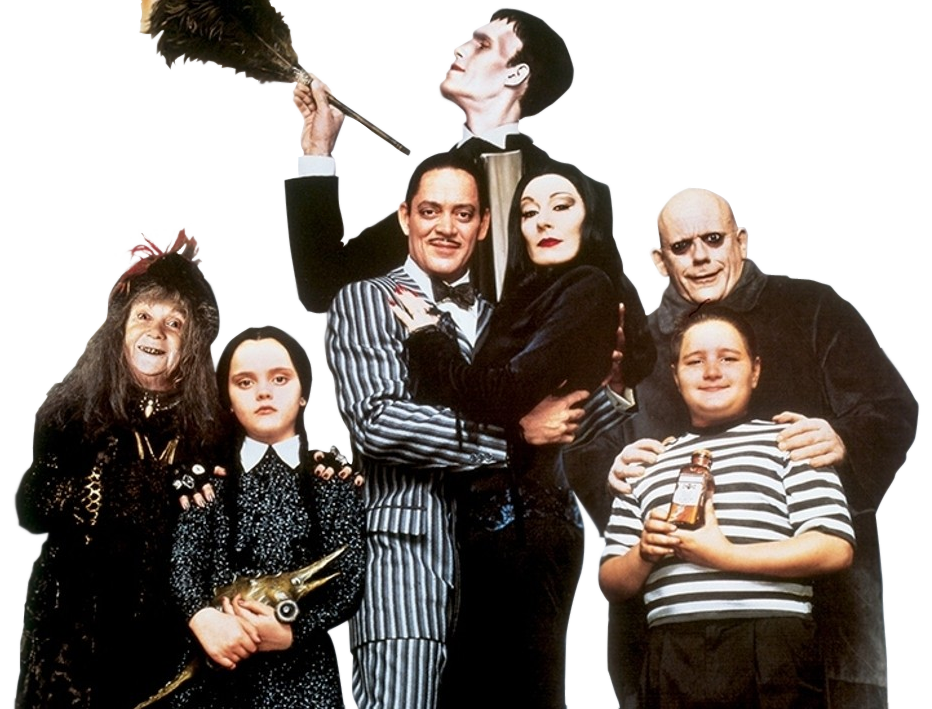 Their house is a museum where people come to see em...Join the house party with the Addams Family at Anise Gastro Global Bar. It's a ghoulish gala of ghost and goblins.
Fester with exotic elixirs like Black Magic Brew, Fizzy Blue and more!
Look out for "Lurch" lurking around for a photo opportunity. All hands on deck for Dj ."Thing"'s opening set!! Become Gomez and Morticia and dance the night away - Addams Family Style!
Genre of Music: The Best of House, Classic Hiphop, and RnB featuring NYC DJ Grand Groove
---
PARTY 2: After Dark Con - Superheroes vs Villains - The Franklin also known as Urban Juice, 510 N Franklin Street, Tampa, FL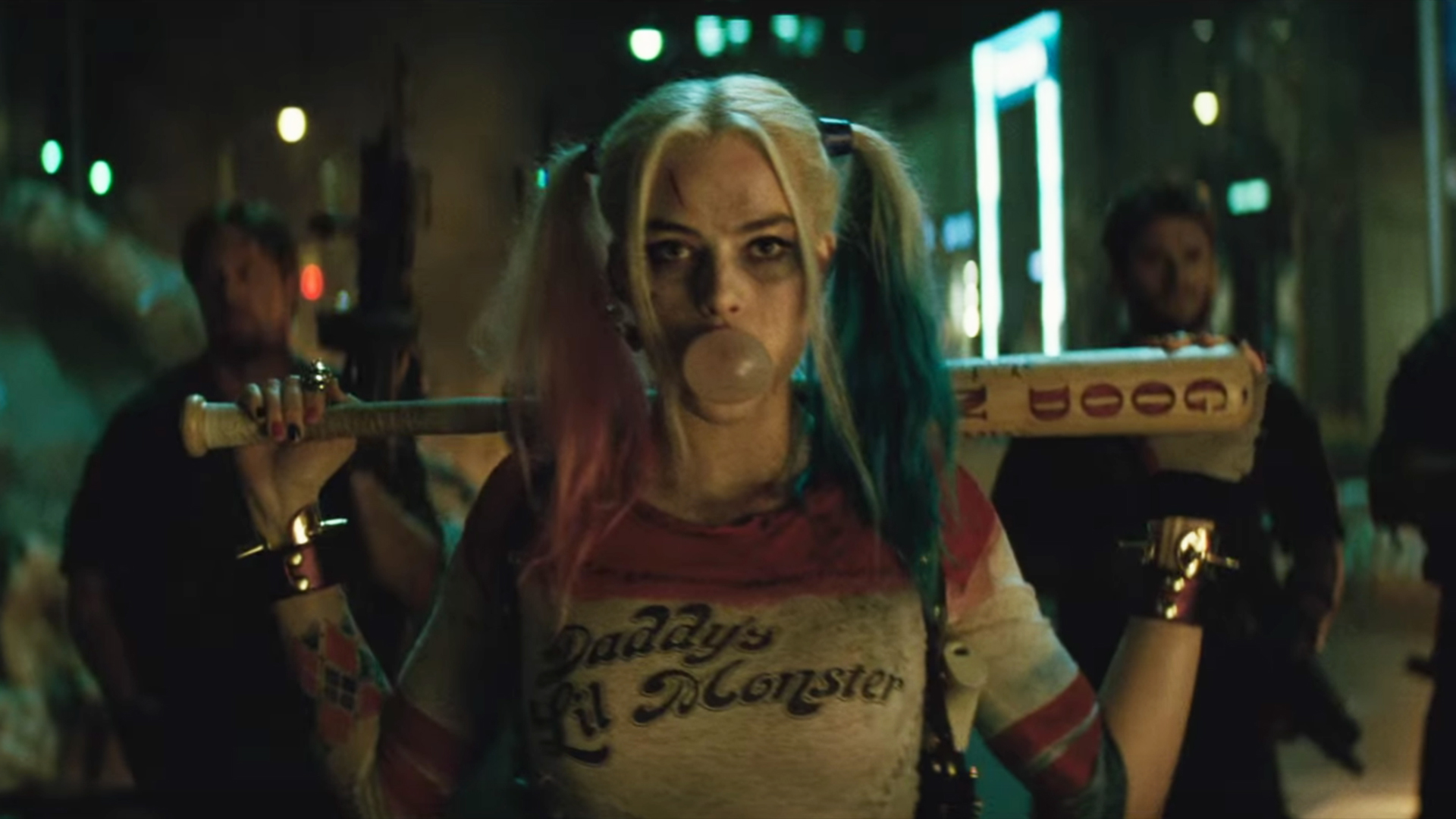 It's a Marvel and DC Universe where everyone including your bartenders have superpowers!
Come as your favorite superhero or even better come out with the crew like suicide squad.
Featuring: Live DJ, The Psychopatic Harley Quinn on Stilts, Superheros and Villains like you,
Ultimate Costume Contests, Custom Themed Drink Specials all night including Kryptonite Jello Shots
Signature Drink Specials: Kryptonite, Poison Ivy, and The Riddler!
Music Genre: House, EDM, and Dance featuring International DJ Lock Tight
---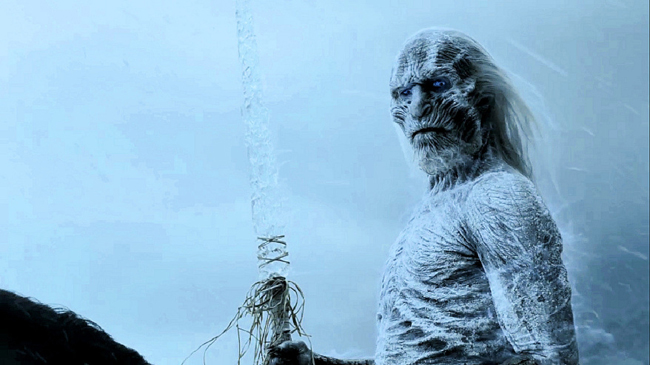 PARTY 3: Game of Thrones White Walker Party - Holy Hogs, 302 E Kennedy Blvd, Tampa, FL

---
Experience a cold night in Westoros because winter is coming at the Game of Thrones White Walker Party this Halloween weekend.

Featuring Live DJ, Custom themed Drink Specials including Snow Brew, special Sword Dancing performances, Costume Contests to redeem the throne and more!

Music Genre: Best of Pop, Top 40s and Latin (Merengue, Salsa, and Bachata)

Music by: Iron Heart Sound....the beholders of throne of kingdom

---
PARTY 4: Dance Party of Gone Legends - The Franklin, 513 N Tampa Street, Tampa, FL
---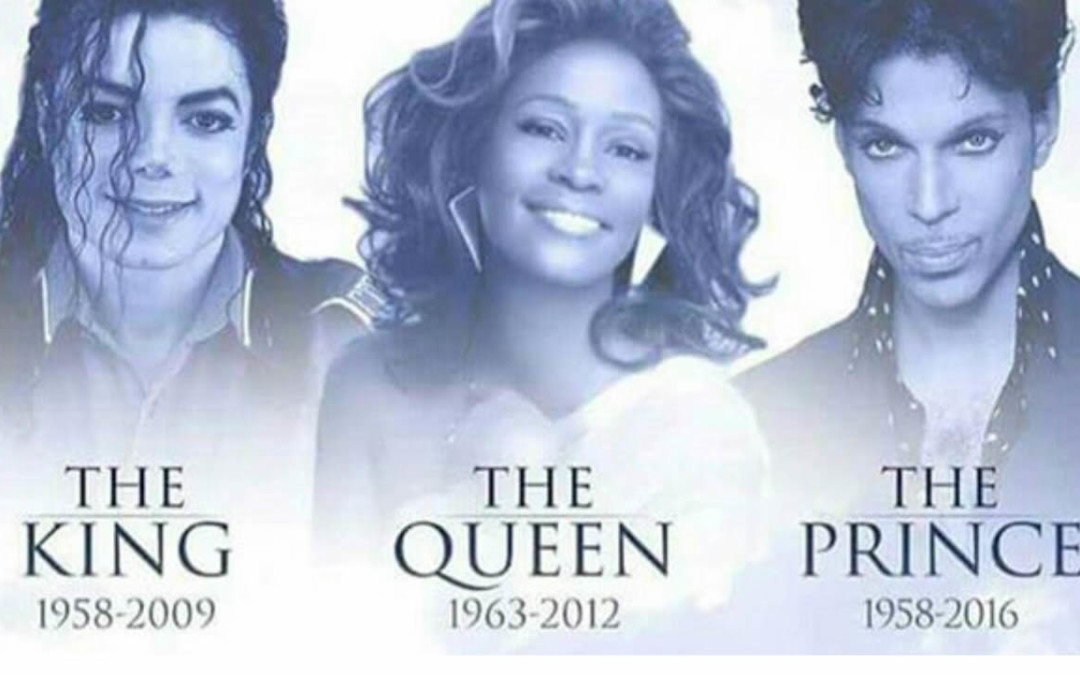 Come dressed as your favorite rock legend for a Dance Party that's an ode to the stars that had us moving on the dance floor!
It's a disco with hits of ALL gone legends! Think David Bowie to the King, Prince, and Queen. From Jimmy Hendrix to John Lennon and Donna Summers, and the list goes on.

Featuring Walking Zombies, Featured Portraits of the Legends, Giveaways, Costume contest, and Drink specials with custom themed drinks including "Purple Rain" and "I wanna dance with somebody"!

Music by Macten Records

PARTY 5: CarnEVIL Glow Party - Jerk Hut, 513 N Franklin Street, Tampa, FL
---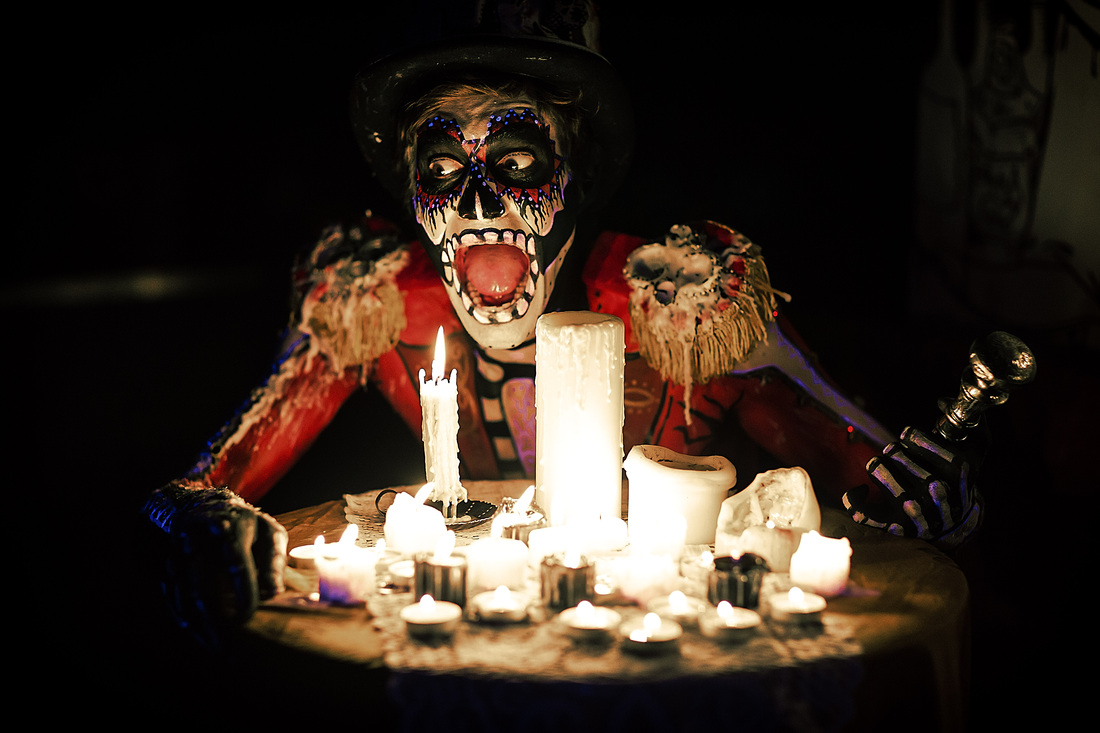 Join the circus, where we welcome you with laughter. It's where the DJ is spinning all night long and they call him the "Ringmaster". The drinks are flowing, the music's good, it puts you in a trance. Weird thing happen you least expect, so be on the look out when you dance!

Featuring: Stilt Walkers, Live DJ, Glow in the Dark Party, Custom Themed Drink Specials

Genre of Music: Reggae, Soca,Kompa, and more
Music by: DJ Bizzie B
---
Coming early? Join us at Le Meredien Hotel, the official partnering hotel for Downtown After Dark for an early Ghastly Gaspy pre-event mixer featuring a live band and flappers from 7pm- 9:30 as we prepare to get the party started!!
DOWNTOWN AFTER DARK IS PROUDLY PRODUCED BY: Tash Johnson & Co. Events
Organizer

Downtown After Dark

www.HalloweenAfterDark.com

Ride Partners

Lyft

Use code "Ride2Event" for $50 in ride credit to #DTADTampa

Presenting Sponsors

Carvana

www.Carvana.com