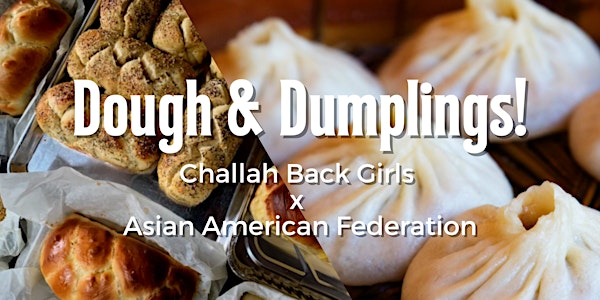 Dough & Dumplings!
Learn how to bake delicious Challah and make delectable Momos with the Challah Back Girls as we raise funds at the end of APAHM
By Asian American Federation
When and where
Date and time
Wednesday, June 2, 2021 · 4:15 - 5pm PDT
About this event
This fun, interactive demo will teach you how to bake delicious Challah (the dough!) with the Challah Back Girls and delectable Momos (the dumplings!) with Tashi Chodron as Asian Pacific American Heritage Month comes to an end, and we look forward to a more hopeful future.
In a generous act of inter-cultural solidarity, the Challah Back Girls have chosen to donate all proceeds from the sales of their Challah bread for the month of May to AAF. And now they're baking bread with us to help bring awareness of the rise in anti-Asian hate to diverse audiences and to raise funds for our Hope Against Hate Campaign.
And as for the Momos, you will learn from "Momo Maven" Tashi Chodron, Founder of Himalayan Pantry Inc., as she helps us understand the journey the dumpling — a staple of many Asian cuisines — makes as it travels to the Himalayan regions of Nepal, Bhutan, Tibet, and India.
After the event, you will also have a special opportunity to order the Challah for yourself or your loved ones! All proceeds from this event will benefit the Asian American Federation's Hope Against Hate Campaign, which is helping to provide immediate safety for New Yorkers and combat the pandemic of anti-Asian hate.
If you can't make it to our event, or would just like to support Hope Against Hate, please donate here: bit.ly/GiveHopeAgainstHate
And please feel free to email the sisters at info@challahbackgirls.org to be added to their VIP list and be the first notified of their exclusive challah drops!
About the organizer
The Asian American Federation (AAF) is a nonprofit organization that works to raise the well-being and influence of the pan-Asian American community through research, policy advocacy, public awareness, and organizational development. Founded in 1989, AAF aims to overcome the significant obstacles that Asian Americans face by empowering our 70 member nonprofits to better serve their communities. Our leadership role helps us strengthen the collective voice of the more than 20 ethnic groups—diverse in language, culture, and religion—that make up New York's Asian community.