Description

A Case for Native Gardening
How You Can Sustain Wildlife With Native Plants
August 7, 2011
Woodlawn, Ohio
Lectures by
Doug Tallamy
Entomologist - Author - Professor
As a child, Douglas W. Tallamy spent his summer days exploring the wild places that surrounded him, discovering a small pond filled with pollywogs, and taking great delight in watching their growth. One day, a bulldozer buried the young toads and all the other living treasures within the pond, an act that forever influenced Doug's way of thinking about nature.
Tallamy is currently Professor and Chair of the Department of Entomology and Wildlife Ecology at the University of Delaware in Newark, Delaware, where he has written more than 65 research articles and has taught insect taxonomy, behavioral ecology, and other subjects. Chief among his research goals is to better understand the many ways insects interact with plants and how such interactions determine the diversity of animal communities.
Doug won the Silver Medal from the Garden Writer's Association for his book, Bringing Nature Home.
In his free time, Doug enjoys photography, hiking in remote places with his wife, swimming, canoeing, and teaching young people about the importance of the life forms around them.
You may also be interested in the author's own Web site, www.PlantANative.com.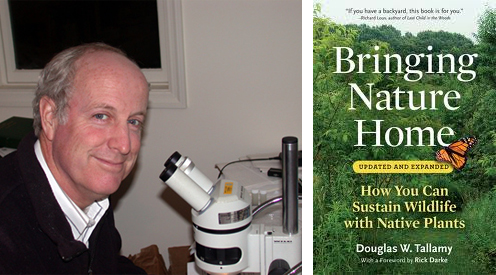 Receive 1/2 off your admission to David Rogers' Big Bugs
when you present your lecture ticket at Glenwood Gardens.
Buy the book at the Special Price of $14.95
Come early or stay late to attend the
Green Resource Fair
12:30p.m. - 5:00 p.m.
Current Commercial and Non-Profit Exhibitors include:
Greater Cincinnati Master Gardener Association

Nature's Niche Books & Gifts

Alpine Valley - Your Hometown Water & Coffee Company

Access Audio, Inc.