Double Twisted Life of Rev and First Lady Lee
Actions and Detail Panel
Double Twisted Life of Rev and First Lady Lee
Sat, November 26, 2016, 6:00 PM – 9:00 PM EST
Description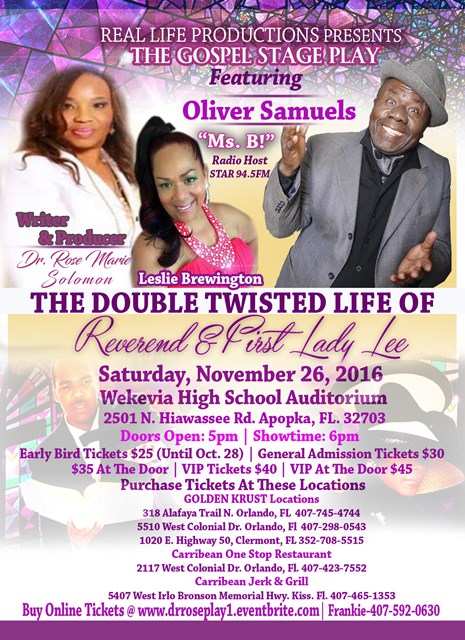 Jamaica's King of Comedy- OLIVER SAMUELS will Grace the Stage with his Presence!
Star 94.5 Radio Personality - "Ms.B!" Leslie Brewington will the role of Mother Welch, one of those "Straighten you out" type of Mothers in the church!
Agape Award Winner for Drama/Playwright- Dr. Rosemarie Solomon is the Writer and Executive Producer of this Inspirational Production!
The Double Twisted Life is the bringing the "Drama" to the Wekiva High Performing Arts Center for a great night of entertainment!! After that Thanksgiving Dinner on Thursday and you get your Black Friday shopping is done, Saturday night with The Double Twisted Life is where the Party at!! The one and only "OLIVER will bring the funny!! Things that happen behind closed doors will bring you to your knees if it is ever brought to Life. This Real Life Production will "Keep It Real" for you and take you on a journey that you won't soon forget. Great Singing, Great Laughs and a Deacon you gotta watch out for!! We got that "Mother Of the Church" who know how to keep everyboby in Check!! Get your Tickets NOW!! Contact information Frank @ 407-592-0630
DTL Play Video Clip: https://www.youtube.com/watch?v=Gvn6P2-QtFk
Date and Time
Location
ORANGE COUNTY PUBLIC SCHOOLS: WEKIVA HIGH SCHOOL
2501 North Hiawassee Road
Apopka, FL 32703