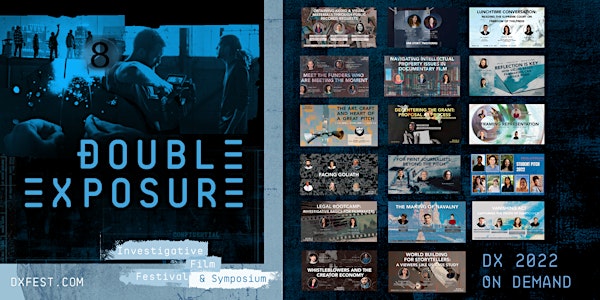 Double Exposure Symposium 2022 | On Demand
Did you miss DX22? Now you can purchase a post-festival pass and stream all of the symposium sessions through the end of April, 2023.
About this event
8TH ANNUAL DOUBLE EXPOSURE INVESTIGATIVE FILM FESTIVAL & SYMPOSIUM | ON DEMAND
On its eight edition, Double Exposure, a project of the nonprofit news organization 100Reporters, presented eighteen panels and workshops where participants examined the challenges and opportunities of investigative storytelling in the current political climate, connected industry insiders, and celebrated this distinct, vital genre of filmmaking.
While the festival took place in October in Washington, DC, and online, and films and special programs are no longer available, you can stream all of the symposium sessions and skill-building workshops geared towards investigative journalists and documentary filmmakers!
"Whether you're a journalist or filmmaker, 'Double Exposure' brings two vital lenses together, giving twice the investigation, twice the scrutiny and twice the artistry in bringing important truths to light." - Jason Fraley, WTOP News
"Beautifully handled, thoughtful, provocative..." - Nancy Schwartzman, director of Roll Red Roll.
"Managed to watch some of the hottest films in the circuit" - Sushmit Ghosh, co-director of Academy Award nominated Writing with Fire