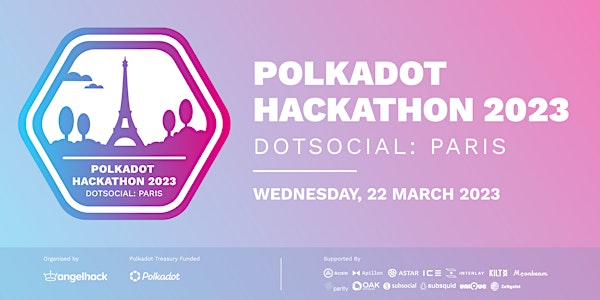 dotSocial: Paris
Network with fellow Polkadot developers & Web3.0 enthusiasts throughout the day and leave with your connections full!
Date and time
Wednesday, March 22 · 3 - 9pm CET
Location
Pan Piper 2 Impasse Lamier 75011 Paris France
About this event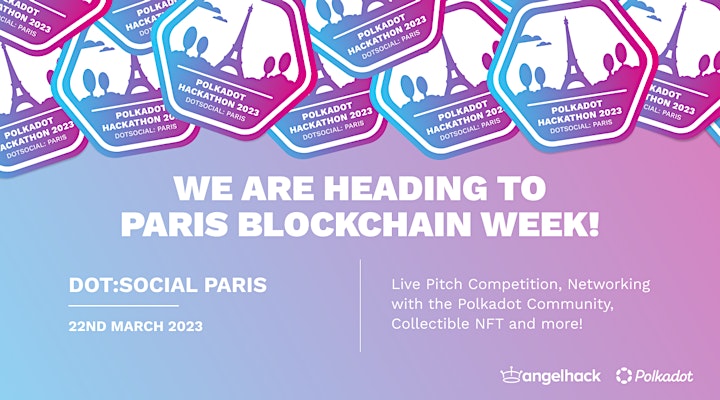 In conjunction with Paris Blockchain week, dotSocial: Paris will be held at Pan Piper on 22nd March, 2023. Get ready to network with fellow Polkadot developers from the community & Web3.0 enthusiasts throughout the day and leave with your connections full!
That's not all! Get the night started with our networking dinner & drinks lined up for everyone to get to know each other and who knows? You might just land your very next job over here, or meet new team mates for the next Polkadot Hackathon Global Series!
Join our Discord channel here to get the latest updates on Polkadot Hackathon Global Series & dotSocial: Paris.
Fireside Chats to not miss:
The role of User-experience design in Web3.0 Application with Matjaz Sobocan from Apillon, Dudley Needham from KILT, and Alberto Viera from Moonbeam
ink! and WASM Contracts with Maarten Henskens from Astar, and Lea Narzis & German Nikolishin from Parity Technologies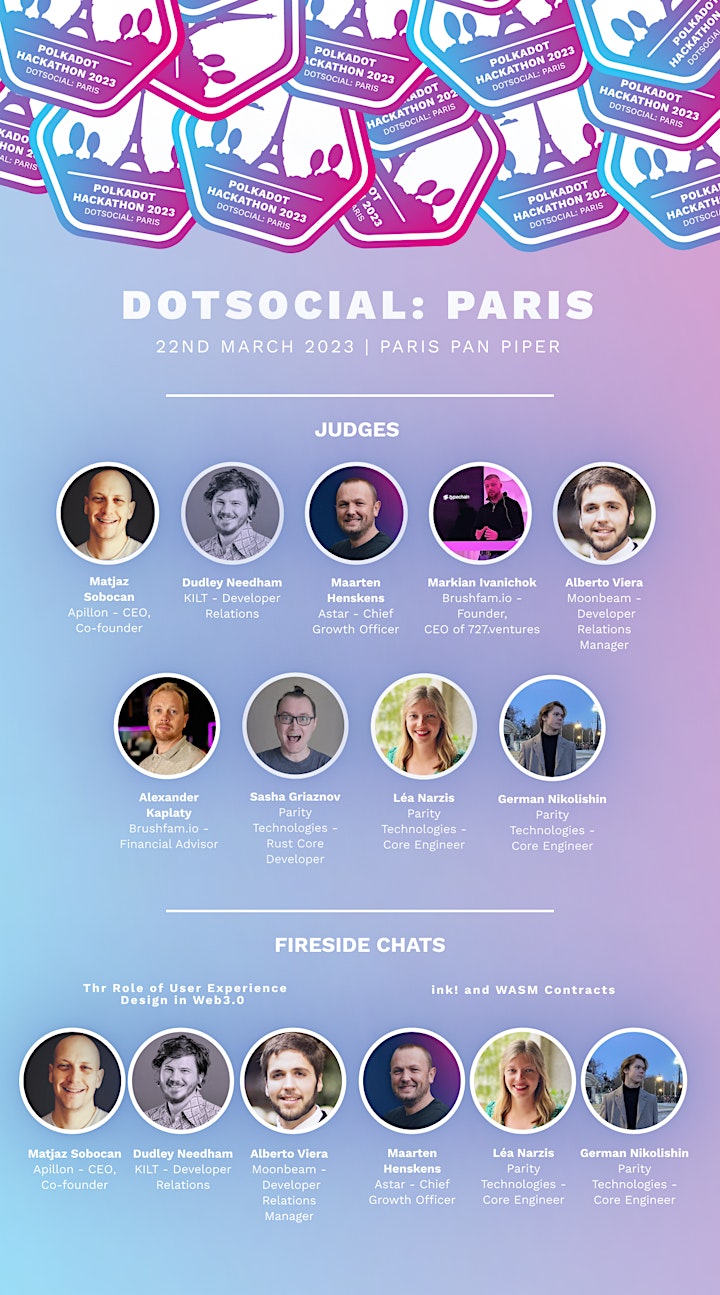 What to expect:
- Networking with like-minded individuals and members of the Polkadot Community (light bites & drinks provided!)
- Listen to compelling pitches as the hackathon finalists gear up to compete for the Europe edition crowns
- Fireside chats with speakers from the Polkadot ecosystem teams
- Mingle with Parity & the Ecosystem teams' representatives and gain insights
- Exclusive event SWAG
- Collectible NFT only for event attendees!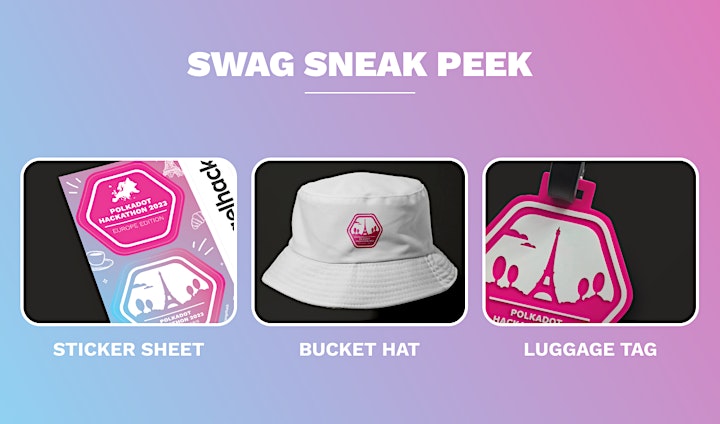 About AngelHack
AngelHack is a global innovation organization, founded on the idea of bringing creators together. Companies from all over the world have chosen them as their partner to engage developers with their technologies through hackathons and events.
AngelHack has created an incredibly diverse and global community of change makers and developers.
About Polkadot
Polkadot is a next-generation blockchain protocol that is designed to support multiple specialized blockchains with security and interoperability.
Polkadot is designed as part of a broad vision for the next generation of the internet that returns control to individuals over internet monopolies. Keep up to date with developments in the Polkadot ecosystem by following us on Twitter or joining in the conversation on Reddit
Agenda
3:00 PM - 6:50 PM
Polkadot Hackathon Global Series - Europe Edition Pitching Session
6:50 PM - 9:00 PM
Networking & Drinks!
Frequently asked questions
What kind of food and drinks will be provided?
Where can I go to receive the latest news and announcements about the event?
About the organizer
AngelHack is the world's largest and most diverse developer ecosystem, helping to drive open innovation of tech products, platforms and brands with extraordinary smarts, scale and speed. Known as pioneers of global hackathons for more than 10 years, AngelHack's 260,000+ developers, designers, and entrepreneurs around the world compete to build, test and launch new solutions over the course of a weekend.