Description
A GUIDE FOR TRUCKING COMPANIES: FMCSR REGULATIONS, SAFETY RATINGS AND AUDITS/COMPLIANCE REVIEWS
presented by All About Trucks
Finally a single course that reviews the complete set of DOT regulations, called the FMCSR - Federal Motor Carrier Regulations. Trucking companies worry about the possibility of a Compliance Review or a DOT Audit. The matter of the fact is that, a DOT Audit is guaranteed for every company while a Compliance Review is a high probability especially if your CSA Scores are high (for mroe information on CSA Scores please see our other course: CSA Safety Scores presented on Thursdays at 6pm).

As such, the best way to prepare for a DOT Audit and/or a Compliance Review is to understand what the DOT officer conducting the review will look for. This is exactly what our course does. It reviews the complete set of FMCSR regulations. Your company will be checked for compliance with these regulations, and based on it, a safety rating will be assigned to you. A bad safety rating may result in your company being shut down. While other types of ratings may result in lower freight rates or brokers refusing to provide your company with loads. It is therefore essential to know the regulations, prepare a safety plan to comply with them, and learn how to enforce an effective safety plan in order to be ready for a compliance review.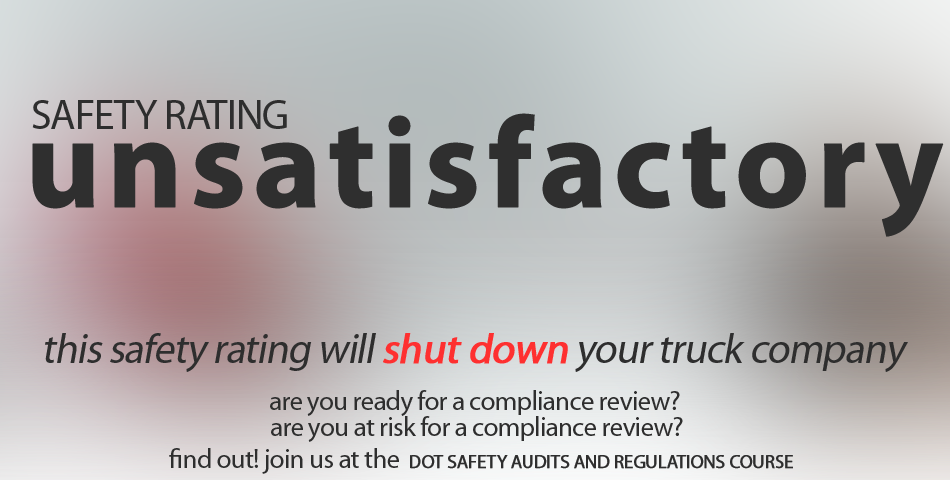 Contrary to popular belief (and many myths that arise at truck stops) one does not need to have flawless log books (as an example) to pass a Compliance Review with flying colors. There is a specific point system and division into factors and patterns that must take place in evaluating your company. Only when you don't comply with specific patterns and/or set of factors will you be downgraded. At our course, we will explain the entire Audit/Review process along with all the regulations that you must be compliant with.
Lastly, we'll provide you with tips and hints on how to run a trucking company, what documents need to be archived and how they should be managed. We'll also provide an set of interesting rights that you have as a trucking company, that not a lot of companies are aware of.
---
COURSE OUTLINE
Introduction to regulation enforcement (How does the DOT check your compliance with regulations)
Quick review of the 3 enforcement methodologies
FMCSR Regulations
Safety Ratings vs Safety Scores
Exemptions to Regulations
Compliance Review Process
DOT Audit Review Process
Required documentation (Drivers, Vehicles, HOS, RODS)
Safety Policies
BENEFITS OF ATTENDING THE COURSE
Learn about FMCSR/DOT Regulations
Understand how Compliance Reviews and DOT Audits take place
Learn how Safety Scores and Safety Ratings impact your business
Understand when you may expect a Compliance Review
Receive a Certificate of Completion for attending the course