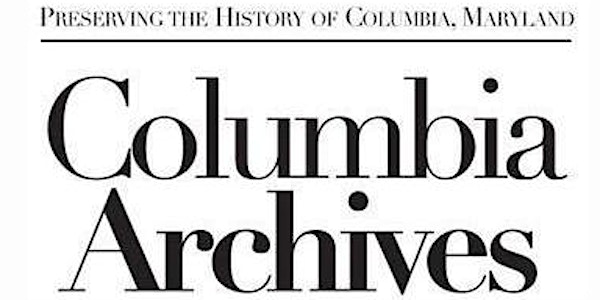 Dorsey's Search RideAbout
When and where
Location
Dorsey Hall Pool 4649 Columbia Rd Ellicott City, MD 21042
Description
Update: CANCELLED DUE TO WEATHER FORECAST

The Dorsey's Search RideAbout has been cancelled. The weather forecast for tomorrow leaves little hope for clear skies.

Please plan to register for the Columbia BikeAbout on Saturday, Sept. 17. We will be including a kid-friendly short ride as an option. Watch for announcement of BikeAbout registration in July.
Dorsey's Search RideAbout
May 21, 2016
Start location: Dorsey Hall Pool
Start time: riders must start at 9:30 am
End time: riders must finish the course by 11:30 am
Course length: about 3 miles
Parking: Parking is available at Dorsey Hall pool. Pre-registration check-in and same day sign-ups will be near the basketball courts.
Registration: Online registration is open through 8:30am on Sat., May 21, 2016. You can register the morning of the ride by filling out a paper form at the check-in table.
Cost: Free
Mark your calendars for the Dorsey's Search RideAbout
— a short, family-friendly bicycle ride on Saturday, May 21 at 9:30 a.m.
The Dorsey's Search RideAbout is approximately three miles; riders will start at Dorsey Hall Pool (4649 Columbia Road) and roll along a beautiful trail that hugs the Little Patuxent River. This bike ride will offer the chance to learn more about the history of the land and the Dorsey Hall manor house built in the early 1700s. It is sponsored by Columbia Association's (CA) Columbia Archives and the Dorsey's Search Community Association. Pre-registration is encouraged at DorseysSearchRideAbout.EventBrite.com. For more information, emailColumbiaArchives@ColumbiaAssociation.org or call 410-715-6781.
This event was developed to offer a shorter ride for younger and less-experienced riders who would enjoy exploring Columbia's paths with the benefit of a marked route similar to CA's popular annual Columbia BikeAbout, which averages between 12 and 15 miles. The 2016 BikeAbout is scheduled for Saturday, Sept. 17. While the natural topography of Columbia makes the open space so attractive, it can also provide for some difficult riding.
"We wanted to design an event that would be easier for young children and others who perhaps are just becoming interested in cycling," said Barbara Kellner, director of Columbia Archives. "This event also allows people to explore Dorsey Hall, which has never been featured in a BikeAbout."
There also will be a preview event at Dorsey Hall Pool from 9 a.m. to noon to give a sneak peek at the upgrades and new amenities recently added to the pool, including the spa, an expanded bathhouse and an inclusive wading pool with fun water features.
Columbia Archives, which collects and preserves the history of Columbia, is located in CA Headquarters at 6310 Hillside Court, off Stevens Forest Road. It is open to the public Monday through Friday from 9 a.m. to 5 p.m. Appointments are encouraged. The collection covers the planning and development of Columbia as well as the extensive James Rouse Collection, which chronicles Rouse's long career that influenced urban and suburban development in the United States and around the world. It is rich with correspondence, speeches, photographs and memorabilia. For more information, call 410-715-3103.
Remember to bring your helmets and a bottle of water.
For more information about the Dorsey's Search RideAbout email Columbia.Archives@ColumbiaAssociation.org or call 410-715-6781.