| | |
| --- | --- |
| Dorothy Jones Memorial Scholarship Fund | |
Event Details
 SAN DIEGO CIVIC DANCE ASSOCIATION, INC.
A California 501(c)(3) Non-Profit Public Benefit Corporation
2125 Park Blvd, San Diego CA, 92101    619-796-3657
Tax ID #95-3668157
Dear Friend of Dance,
Recently, after a long full life full of dance, family and joy, Dorothy "Dottie" Jones, age 82, passed on.
San Diego Civic Dance Association is proud to honor Dottie with the creation of the Dorothy Jones Memorial Scholarship fund.  The purpose of this fund will be to perpetuate Dottie's legacy in the program and honor those adult students that exemplify her passion for dance and dance education. 
Dottie Jones was a dance instructor with Civic Dance Arts for 23 years and a proud member of our Civic Dance Arts family. She was a champion for and inspiration to the adult dance students that she worked with. For many of her students, Dottie's classes were the highlight of their week. She was loved and cherished not only for her professional knowledge and choreography, but also for her ability to help her students achieve their wildest dreams of becoming a dancer and dancing (with style and grace) on the big stage.
 Dorothy Jones began dancing at an early age in San Francisco where she studied ballet, jazz, tap and interpretive dance.  She danced professionally while still a teenager and began touring and performing with the Kings and their Ladies dance troupe soon thereafter.  It wasn't long before she began her own dance troupe, The Dorothy Kramer Dancers, which performed in world-famous clubs throughout the United States and Canada, working with such luminaries as Alan King, Dean Martin, Jerry Lewis, Sammy Davis Jr. and many more.
Dottie's love of dance and love for the people whose lives she has touched kept her working as a dancer, choreographer, and teacher without interruption throughout her entire life.  At Civic Dance Arts, she touched the lives of thousands of students by giving them the gift of dance and, as was always the case with Dottie, true class and style! 
We encourage everyone who knew Dottie to consider donating to her memorial scholarship fund. In this way, Dottie's love for dance will continue to inspire and support the students she so cherished. Please send any contributions to San Diego Civic Dance Association, Att: Dorothy Jones Memorial Scholarship Fund, 2125 Park Blvd, San Diego, CA 92101.  Online donations are being accepted (a small fee for processing will be added) at http://dorothyjonesscholarship.eventbrite.com
Applications for the first annual Dorothy Jones scholarship will be available starting November 2011.  Interviews will be in May of 2012, with awards for the summer-spring semesters of 2012-13.  For more information, please email us at info@civicdancearts.org
With Warm Regards,
Andrea Feier & The San Diego Civic Dance Association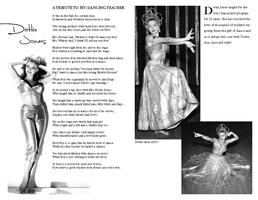 Organizer
San Diego Civic Dance Association
Celebrating over 70 years of Dance Education in San Diego. Founded in 1942, San Diego Civic Dance Arts has introduced hundreds of thousands of citizens to the art form of dance and has been lauded as the standard for which other city-wide dance programs nationwide measure themselves. As part of the City's Park and Recreation Department, San Diego Civic Dance Arts provides affordable dance training at 22 Recreation Centers throughout San Diego County as well as in several dance facilities in Balboa Park. With over 3,200 students enrolled, the program provides our students, ages 3 to Senior Citizen, the chance to participate in a wide variety of classes such as tap, jazz, ballet, modern, irish, musical theater, creative movement, hip hop, Hawaiian and even Zumba®. San Diego Civic Dance Arts is a high quality accessible program which, thanks to the City of San Diego's low income fee waiver program, ensures that anyone who wishes to dance in San Diego is able to do so.
Unique to the program, each spring brings workshops for advanced level, audition only Companies. San Diego Civic Dance Arts Companies provide advanced level training and performance opportunities. All four companies perform in various events year round, representing the City of San Diego. Many of our advanced level dancers have gone on to successful careers in dance and the arts.
Affordable one week Summer Camps are available to dancers ages 6-17 years, with a showcase performance at the end of each week. Also available are our Adult workshop (full convention-style day of dance for Adults and Seniors)and our pre-dancer camp for ages 3-5 years.
With the support of San Diego Civic Dance Association, all of our students are given many different performance opportunities, such as December Nights, our critically acclaimed dance Collage in the spring, Production Finales as well as the highly anticipated Yearly Recitals held at the beautiful Casa Del Prado Theater in historic Balboa Park.
San Diego Civic Dance Association
Mission Statement: Our mission is to support and promote a premiere dance arts program and an appreciation of the arts, in cooperation with the San Diego Park and Recreation Department Dance Arts Program.
San Diego Civic Dance Association is a non-profit, all volunteer, public benefit organization. Every year, our dedicated volunteers give over 25,000 hours of their time to support the many programs of the City of San Diego's Civic Dance Arts program. While the City fee covers the cost of the dance classes, each year our hardworking volunteers work to raise over $180,000 to cover the costs of our performances and additional programs.
San Diego Civic Dance Association funds and produces performance opportunities for dancers taking classes with the City program. From Recitals, Collage, December Nights, Dance Fair and many more, our pledge is to provide a complete education and performance experience for our dance community.
In addition to performance opportunities, SDCDA funds financial aid, merit scholarships, college scholarships, costume assistance as well as specialty dance training opportunities for both dancer and teachers alike. Our pledge is to build and maintain a strong dance program that supports all of our students and teachers, no matter their age or ability level.
For event/show information, ticket sales, and volunteer and donation opportunities, you may reach us at:
San Diego Civic Dance Association (SDCDA):
2125 Park Blvd., San Diego, CA 92101
Dance Office: (619) 235-5255
Box Office: (619) 796-3657
www.CivicDanceArts.org
Events@CivicDanceArts.org
Your donations provide critical funds for student merit scholarships, free dance classes, teacher development, production underwriting, costume assistance and so much more!  Please support Civic Dance with your tax-deductible donation.