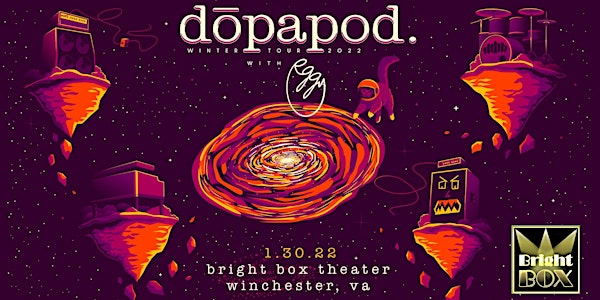 Dopapod w/ Eggy
Synthesizing tastes of funk, jazz, bluegrass, electronica, and more within their complex improvisational compositions
When and where
Location
Bright Box Theater 15 N. Loudoun St. Winchester, VA 22601
Performers
Headliners
More Performers
About this event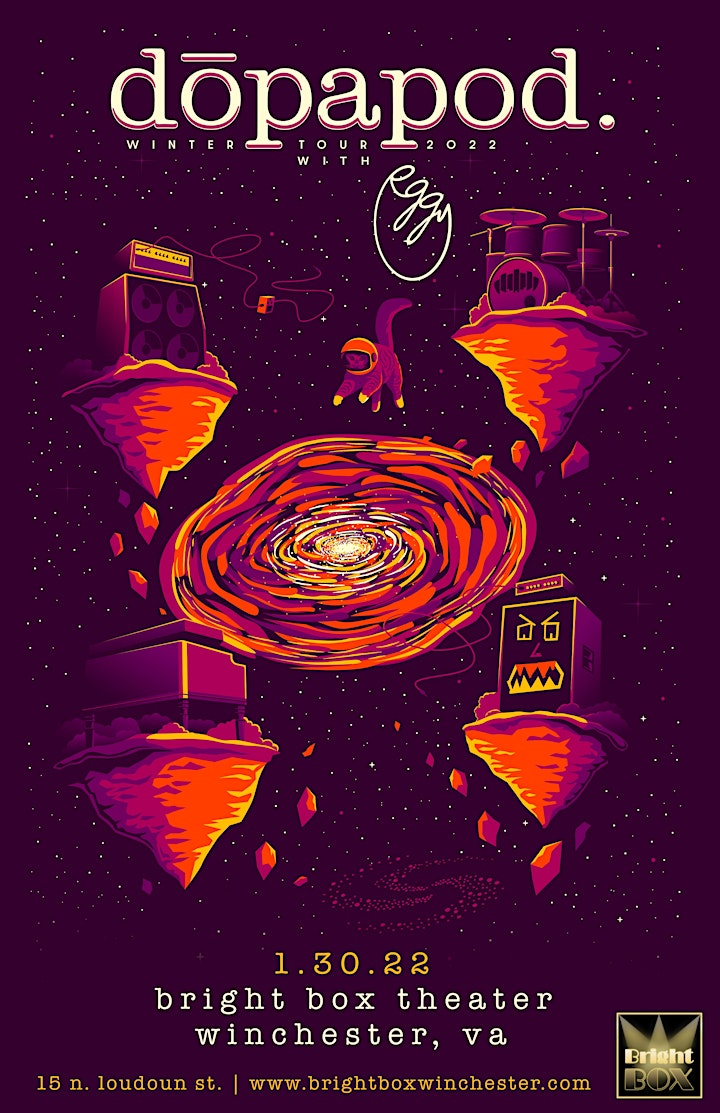 SUNDAY, JANUARY 30
DOORS, BAR, & KITCHEN OPEN at 7PM
SHOW at 7:45PM
TICKETS
GENERAL ADMISSION: $20 + admission tax & processing fee
DOOR: $25 + admission tax
Advance ticket sales end at 6PM the day of the show. If tickets are not sold out by this time they will be available for purchase when the doors open.
ALL TICKET SALES ARE FINAL. NO REFUNDS. NO EXCHANGES unless the show is postponed or cancelled
IMPORTANT INFO
GENERAL ADMISSION
This is an all-standing show. Limited bar stool seating is available on a first come, first served basis. Be sure to wear your party pants and your dancing shoes!
ALL AGES
FOOD & DRINK AVAILABLE FOR PURCHASE
________________________________________________________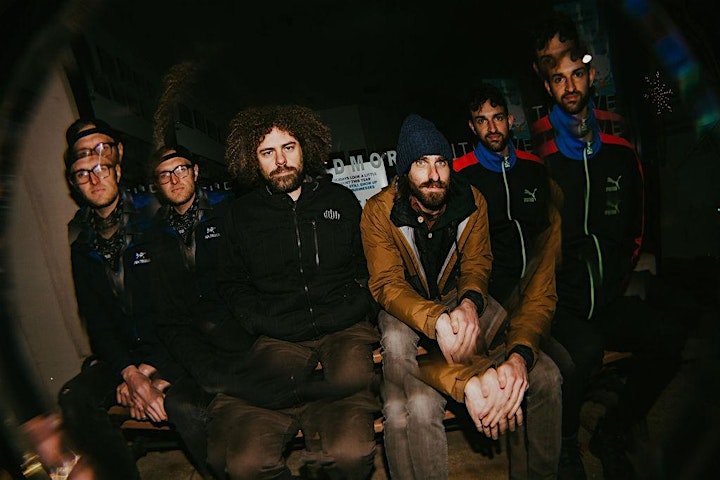 Symmetry defines Dopapod. The band and each of its seven albums sports a palindromic name, meaning it can be read the same forward as backward. More than that, balance has become the band's modus operandi, with the group consciously juggling the darker tones of heavy rock with lighthearted humor; synthesizing tastes of funk, jazz, bluegrass, electronica, and more within their complex improvisational compositions. During live shows, Dopapod is known for taking fans on a full-out journey, guiding attendees through periods of frenzied dance contrasted with moments of thoughtful contemplation.
Since forming at Berklee College Of Music in 2007, Dopapod—composed of Eli Winderman (keys and vocals), Rob Compa (guitar and vocals), Chuck Jones (bass), and Neal "Fro" Evans (drums)—has racked up an enviable list of accomplishments: a flourishing fanbase across the country, yearly show counts tallying into the hundreds, and high-profile appearances at festivals like Bonnaroo, Electric Forest, Summer Camp, High Sierra, and more. Most recently, in fall of 2017, the group released Megagem, the band's fifth studio album, which Glide Magazine called "simultaneously their most focused and thematically ambitious affair to date."
After a successful decade together, Dopapod went on a planned hiatus in 2018 with the goal of restoring balance to the band. Explained Eli Winderman, "We have a fresh perspective on the whole thing—a different outlook on the band and on life. There's a lot of renewed energy we're feeling around it all."
Energetically, the space allowed each member to rekindle their passion for the project and bring their long-standing friendships with one another back to the forefront. With this time gifted to themselves, the group has also intentionally reflected on their music, working together to breathe new life into old songs and revitalize live performances.
"We're excited to come back and play these songs together again, to see if they can take on a new life," Chuck Jones added. "After this year off, we're not just going to be playing the same songs the same way we were five years ago."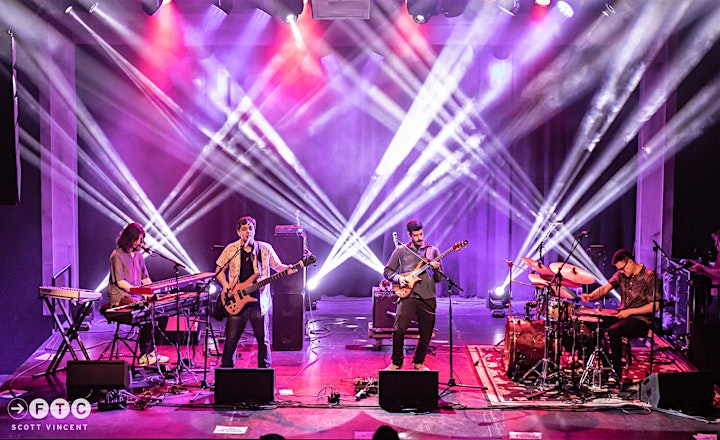 Eggy is... the fresh but familiar sound you crave. Eggy's rich harmonies carry introspective lyrics across winding instrumentation, taking the listener on a deep sonic journey. Like a good dish, Eggy is more than the sum of its parts- Jake Brownstein (guitar/vocals), Dani Battat (keys/vocals), Mike Goodman (bass/vocals), & Alex Bailey (drum/vocals)
________________________________________________________
COVID UPDATES
We have taken enhanced health and safety measures to protect our venue guests. However, there is an inherent risk of exposure to COVID-19 in any public place where people are present. By entering the venue, you voluntarily assume all risks related to exposure to COVID-19, and Bright Box disclaims any and all liability related thereto. Your attendance/participation in any in-person event at Bright Box serves as an agreement to abide by current CDC guidelines that are in place. Any guest who is feeling sick or experiencing cold or flu-like symptoms (including fever, cough and shortness of breath) agrees to abstain from entering the venue.
________________________________________________________
FAQs:
Is there lodging nearby?
There are lots of great and affordable lodging options — from hotels and motels to camp grounds and bed & breakfast spots — just minutes away from Bright Box. Right around the block is the elegant George Washington Hotel, and Courtyard Marriott is quick drive and within a stones throw to the beautiful (and highly recommended) Shenandoah Valley Museum. Check out these websites to explore your options and discover all the wonderful opportunities in Winchester:
• http://www.visitwinchesterva.com/lodging/hotels-and-motels
• http://oldtownwinchesterva.com
Where do I park?
Bright Box is located at 15 N. Loudoun St. on the beautiful pedestrian mall in Old Town Winchester. The nearest parking is the Braddock Auto Park at 30 N Braddock St. This is about a block away from the venue. The parking garage does have several handicap parking spaces available.
Once you've parked in the garage you'll exit toward the pedestrian mall. Once you hit N. Loudoun you'll make a right and Bright Box will be on your right a few storefronts up, directly across from the Old Court House Civil War Museum
More information about the garage can be found here: https://www.winchesterva.gov/parking/garage-information
Is Bright Box handicap accessible?
Absolutely. The venue is handicap accessible and ADA compliant. The infrastructure in Old Town Winchester is friendly toward those with physical challenges or in wheelchairs. Park in one of the close-by parking garages and come to the main door at 15 N. Loudoun St. (the walking mall). We ask that you arrive when doors open, and we will be happy to escort you to a place best suited to your needs in the theater or to take you to the elevator to access the upstairs Out of the Box room.