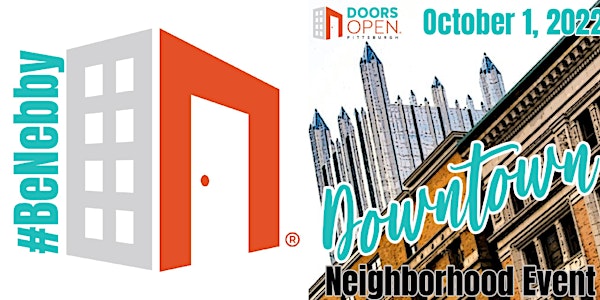 DOORS OPEN Pittsburgh: Downtown
#BeNebby with us! Go behind the scenes, get unique access or just savor the opportunity to explore a large collection of great buildings!
When and where
Location
EQT Plaza 625 Liberty Ave. Pittsburgh, PA 15222
About this event
DOORS OPEN Pittsburgh invites you to #BeNebby with us on Saturday, October 1.
Go behind the scenes, get unique access or just savor the opportunity to explore a large collection of buildings – private clubs, theaters, government offices, artist spaces, hotels, commercial-residential and more!
Experience the best Pittsburgh has to offer – see amazing views, enter private spaces that are usually inaccessible to the public, and discover new spaces in plain view that you may not be familiar with.
EVENT DETAILS:
DOORS OPEN Pittsburgh: Downtown 2022 is presented in an open-house format – you decide which building you want to visit and in what order.
Once inside you will be presented with the chance to experience notable features of the building – panoramic views, murals, stained glass, vaults, revitalized spaces and so much more!
Your event ticket gives you access to ANY of the buildings you want to visit.
Plan your itinerary by reviewing the building list on our website.
Most buildings are open 10 am - 4 pm; but several are only open 10am – 1pm or 1pm – 4pm. Event times are listed for each building.
Buildings and building hours are subject to change; please refer to the Building List for up-to-date information.
Check-in NOT required at our Event Center—instead, start your adventure at any building you decide.
REFUND POLICY:
NO REFUNDS. All sales are final and non-refundable. All DOORS OPEN Pittsburgh events will be held RAIN OR SHINE unless otherwise stated. For circumstances where inclement weather is forecasted, we recommend appropriate precautions such as bringing an umbrella, coat, etc.
PHOTOGRAPHY RELEASE:
By purchasing this ticket, I hereby give permission for images of myself, and those per this ticket order, captured during the DOORS OPEN Pittsburgh: Downtown 2022 event, through video and photography, to be used for the purposes of DOORS OPEN Pittsburgh's promotional material, including, but not limited to website and publications, and waive any rights of compensation or ownership thereto. I also waive the right to inspect or approve any finished product in which my likeness, or the likeness of others per this ticket order appears, including written or electronic copy.
This event is brought to you in part by Dollar Bank.