About this Event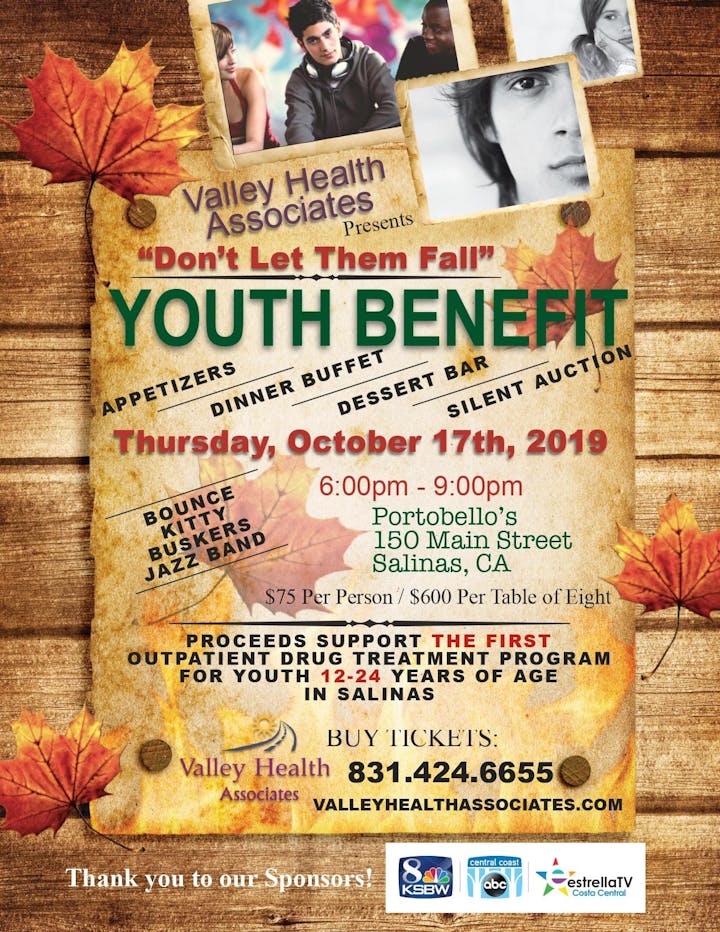 Valley Health Associates Announces FIRST Youth Outpatient Treatment for Salinas
Event to Celebrate and Raise Awareness: October 17th at Portobello's in Salinas
Valley Health Associates has announced the opening of a vital Youth Outpatient Drug Treatment Program, the first of its kind in Salinas, CA. The unique program is designed for YOUTH (12-17 years of age) and transitional YOUTH (18-24 years of age).
To celebrate the opening and to bring awareness to the opioid epidemic, an event titled "Don't Let Them Fall" will be held Thursday, October 17th, 6:00 - 9:00 pm at Portobello's in Salinas. Tickets are $75 per person ($600 per table of eight) and include appetizers, dinner buffet, dessert bar, silent auction, and music by jazz band Bounce Kitty Buskers.
Purchase tickets, make a cash / in-kind donation, or commit to sponsorship by visiting ValleyHealthAssociates.com or please call (831) 424-6655.
Due to improvements in research- and evidence-based programs, Opioid-related deaths in the United States, on average, are declining. However, such a program was not available to our Salinas youth until now.
Still widely acknowledged as an epidemic, ample opportunity exists to improve the outcomes for those suffering from opioid and other substance use disorders. For youth, in particular, the effects include arrest or juvenile detention; serious illness or injury; suspension/expulsion; birth defects in pregnant teens / young adults; getting fired or problems getting hired; losing friendships / family; and unfortunately, more.
With the aim for recovery, wellness, and full social function through healthy and productive lifestyle changes, Valley Health Associate's Youth Outpatient Program is currently taking new referrals at the existing clinic, then will move into a new location with a safe, fun environment in November.
To make a referral, please contact Youth Outpatient Service Manager, Michael Salinas, at (831) 424-6655 x11 or msalinas@valleyhealthassociates.com.
# # #
About Valley Health Associates:
Serving Monterey and San Benito Counties for 27 years, Valley Health Associates is a nonprofit offering intervention, prevention, and treatment services for those suffering from opioid, alcohol, and other substance use disorders. Valley Health Associates offers an individualized and evidence-based approach provided in a safe, caring, and supportive environment.