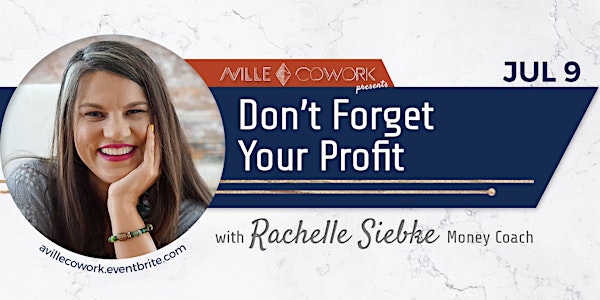 Don't Forget Your Profit
As a purpose-driven, heart-centered business owner, it's easy to forget to pay yourself! Find ways to create profit and pay yourself first.
About this event
As purpose-driven, heart-centered business owners, we are passionate about our work. But let's not forget to pay ourselves regularly and create a profit!
Money Coach Rachelle Siebke joins us to share the method of paying yourself first using the principles taught in the book Profit First, by Mike Michaelowicz.
IN THIS WORKSHOP, YOU'LL LEARN HOW TO CREATE
guaranteed profit
consistent and regular take-home pay
cash set aside for taxes
low operating expenses so you can create the life you want at home
As a self-proclaimed money nerd, Rachelle uses "napkin math" and spreadsheets to reverse engineer the life that her clients want to live. In her one:one work, Profit First is just one of the tools she uses to help clients create money management habits and routines that feel like nurturing self care.
RESULTS YOU CAN TAKE TO THE BANK
✅ Work you love
✅ A steady paycheck to cover your personal expenses
✅ Money stacked aside ready for quarterly tax payments
✅ Cash for a new computer, a rebrand, a home remodel - or whatever it is that you're dreaming up next
Disclaimer: This workshop is an educational and informational resource. It is not a substitute for working with a financial professional.
——
Connect Online
Instagram: @RachelleSiebke.MoneyCoach
Life Coach School: Rachelle Siebke
After registering, you can view event links to find the Zoom link. Access this either from your Eventbrite profile, or use the orange button in the reminder emails.