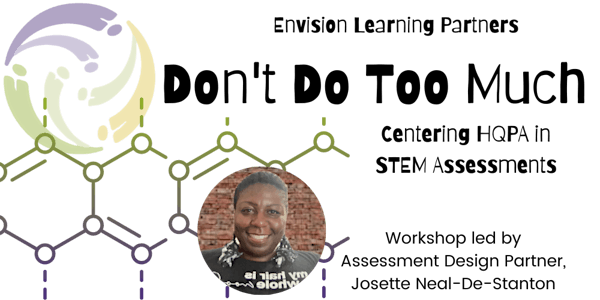 Don't Do Too Much: Centering HQPA in STEM Assessments Workshop
Join ELP for one of our newest STEM workshops! Led by Assessment Design Partner, Josette Neal-De-Stanton.
Refund Policy
Contact the organizer to request a refund.
Eventbrite's fee is nonrefundable.
About this event
Don't Do Too Much: Centering HQPA in STEM Assessments
Wednesday, December 7th, 2022 ⋅ 2:00 – 4:00pm PT (5:00-7:00pm ET)
This workshop will dive into the importance of incorporating culturally responsive practices and DEI authentically in order to thrive in your classrooms! Going beyond adding a trendy handshake or latest song into a presentation, we will be looking into how we use these definitions and ELP's HQPA principles (3: Open to different learner approaches & 4: Authenticity) to create STEM assessments that are engaging to all demographics, particularly targeting your most disengaged students.
You'll leave the workshop with a revised assessment task or a plan on how to incorporate this going forward in your classroom and future assessments. The session will end with a Q&A segment.
TLDR: We have a short video for you below!
FAQ
Is this a virtual workshop? Yes, these workshops are virtual via Zoom. Zoom info will be sent via email to the registered participants the week of the event. Due to the setup of these workshops, we ask that each attendee individually login and join us in the Zoom room separately.
Who should attend? These workshops are designed for all educators and school/district leaders: any grade level, any discipline. We believe that everyone needs STEM understanding, it should not begin and end with the STEM department.
Can I come as an individual, or should I come with a group? Individuals and groups are both welcome, although mixed groups of teachers (from varying subjects) and administrators are encouraged.
* Zoom info will be sent via email to the registered participants the week of the event. The workshop will be recorded and any resources or materials will be shared.
Please reach out to Courtney Katen (courtney@envisionlearning.org) with any questions.
Meet Your Facilitator
🏡 Josette M. Neal-De-Stanton was born in Frankfurt, Germany, but has resided in Oakland, CA for most of her life. She currently is a resident in Costa Mesa, CA.
🎓 Josette received her B.A. and M.A. from San Francisco State University in Family & Consumer Sciences. She also has a single subject science credential from the State of California, completing her teaching program at REACH Institute-for School Leadership.
💬 Currently an Assessment Design Partner at Envision Learning Partners (ELP), Josette has 15 years of experience in education. She has started teaching life science at Elmhurst Community Prep in Oakland, and then spent 6 years teaching, coaching, and leading at ARISE High School in Oakland as well. A highlight, as well as a shift in her career gears came while working at ARISE, as Josette became a Career Technical Education (CTE) Pathway Coordinator and then Coach. With these positions, Josette led the charge to create ARISE's first Linked Learning Pathway in Public and Community Health. After leaving ARISE, she continued her work in CTE with the West Contra Costa Unified School District, as their District Work Based Learning Liaison. COVID saw Josette transitioning out of the traditional school setting, and needing to feel her work impact a larger audience, which essentially led her to ELP. As a former client of ELP, Josette saw the importance of the work being done, and really wanted to bring her science/CTE background to the organization. Josette is also a part time adjunct professor at Mills College, where she works in the Department of Education, in the teacher credential program as the Math & Science Curriculum and Instruction professor.
💭 What sparked Josette's love and passion for education was her experience at the former Teach Tomorrow in Oakland, which showed her the importance of giving back to her community by way of teaching. She has taught in Oakland, CA for most of her career, which grounded her in her philosophy of the importance of justice and equity in education, focusing mainly on STEM education. She considers herself to be a warrior for diversity, equity, inclusion and access in education, with a necessity of accountability on a systemic level.
Connect with Josette:
LinkedIn: www.linkedin.com/in/josette-nds-mj1024
Twitter: @JosetteNDS