Description
*First 100 Attendes will receive an autographed copy of Dr. Tommy John's best selling book, Minimize Injury, Maximize Performance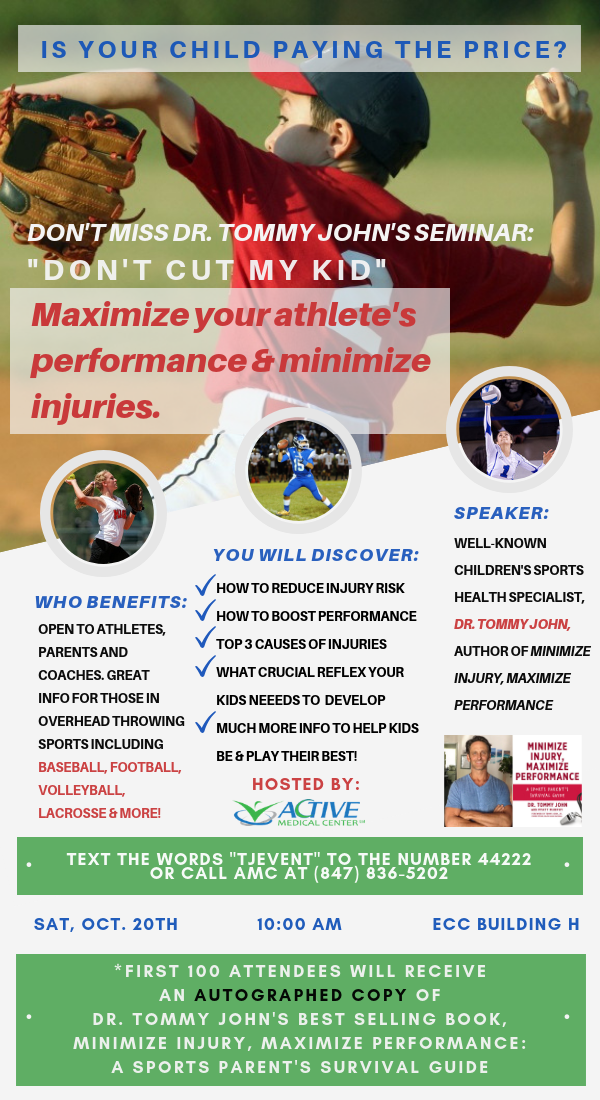 Since 2010, the nation's youth-sports industry has grown by 55% into a $15 billion industry—and our kid's bodies are paying the price. Up to 40% of emergency room visits for children between 5 and 14 years old are for sports-related injuries. The soft tissue repair market is on track to grow from $11.15B to $17.12B by 2022—fueled largely by the increasing participation in youth sports. The reality is, as early as age 6, both male and female athletes are more at risk of serious injuries at younger ages than ever before. It has to end, but to make it stop—it has to start with the parents and coaches.
Dr. Tommy John has dedicated his life and profession to helping change this epidemic. His father, pro baseball legend Tommy John, well known for the surgery he had that is now named after him, has begun to plague even young athletes. Dr. Tommy has made it his mission to educate and empower coaches and parents to help all young athletes avoid the pitfalls of injuries in their youth.
Things you'll learn at this event:
Why 'not warming up' isn't why they're getting injured—identifying the three 'real' causes behind the youth sport's injury epidemic!

Learn which reflex kids are no longer developing that is crucial for sport—and which natal reflexes they're still holding onto—that are holding them back!

The 9 That Define: The test that measures stability, balance, coordination, agility, endurance, mobility, posture, kinesthetic awareness, strength, and power simultaneously—regardless of age, gender, or sport.

The weekly warning signs to watch for that are telling you to dial back their sports.

Are you pushing a passion on your progeny? The four questions you better say no to—or know you're not the parent you believe you are.
The smartest way to get young athletes to eat healthier—even when you're not around.

Why young athletes aren't as dehydrated as we believe, and why you should never allow your son or daughter to drink plain water without adding this essential ingredient!

The one antibacterial and anti-inflammatory food they should keep in their locker all year long!
The 'only' sports-specific training anyone 8 years old or younger should be doing.

The Three Areas of Dysfunction: why almost every injury comes down to dysfunction in three distinct areas—and how you can protect your kid from being a victim.

The 4-1-8-1 Breathing Technique—the destressing performance booster that turns time spend waiting on the field, court, bench, or in the car driving to practice or a game into an opportunity to improve both physiologically and neurologically.
Why your kid should never take an anti-inflammatory drug—ever!

The Pre-Game Warm-Up that stimulates the body and works for every sport

Learn the Recovery Powwow—a simple elevation technique that helps their body recover faster while reducing levels of adrenaline and cortisol.

How to Use the Tap Technique before a practice or game—the fool-proof technique to tell if your child may be neurologically fatigued and overtraining.

Read Their Mind by Reading Their Body (how their shoulders, hands, and even their breath can tell you if they're being pushed too hard.)
FAQs
Can I bring my athlete?

Absolutely! Bring your entire team. Student-athletes are encouraged to come and participate.
What are my transportation/parking options for getting to and from the event?
Elgin Community College has plenty of parking just in front of the theater. There is a pull up driveway if someone needs to be dropped off in front of the door.
What can I bring into the event?
Just bring yourself and a pen and paper to take notes!
How can I contact the organizer with any questions?
Fell free to contact Active Medical Center at drtommyjohn@activemedicalcenter.com or (847)836-5202
Do I have to bring my printed ticket to the event?
No
Is it ok if the name on my ticket or registration doesn't match the person who attends?
Absolutely, we encourage everyone to bring a friend or family member. If they need to take your place and take notes for you that is ok.