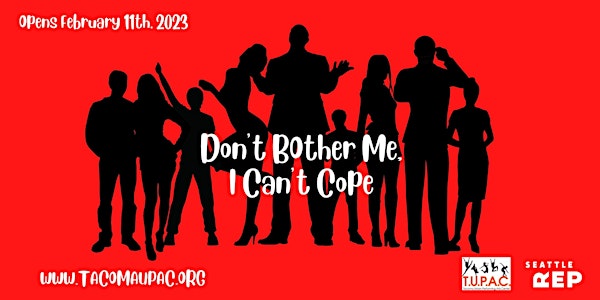 Don't Bother Me, I Can't Cope
"Zesty and fun...lively score and lyrics...Deserves a wide audience." – The New York Times by Micki Grant Conceived by Vinette Carroll
When and where
Location
Tacoma Urban Performing Arts Center 1105 Martin Luther King Junior Way Tacoma, WA 98405
About this event
A Tony nominee as Best Musical of the season, this dynamic mixture of gospel, r&b, calypso and ballads features a dozen singer-dancers in 20 numbers. In revue-style format, Don't Bother Me... explores the African American experience through vibrant song and dance.
HISTORY
Don't Bother Me, I Can't Cope premiered on Broadway at the Playhouse Theatre on April 19, 1972. Directed by Vinnette Carol, the production featured Alex Bradford, Hope Clark, Micki Grant, Bobby Hill and Arnold Wilkerson.
From the Jul 25, 2018 NYCITYCENTER Encores! Off-Cente Production
With music and lyrics from Micki Grant, Don't Bother Me, I Can't Cope (1971)
Originally conceived and directed by the first African-American woman to direct on Broadway, Vinnette Carroll, this radical work presents the issues of race politics in America and raises voices for change through a lively mix of song and dance with a score that includes gospel, jazz, soul, calypso, and rock.
Tony Award-winner Savion Glover (Bring in 'Da Noise, Bring in 'Da Funk) directs and choreographs the Off-Center revival, mixing his own artistic flair with Ms. Grant's score. Don't Bother Me is a homecoming of sorts for Glover—his mother and aunts toured with the show in the '70s. From his childhood to today's Off-Center audience, Don't Bother Me, I Can't Cope is as relevant as ever.