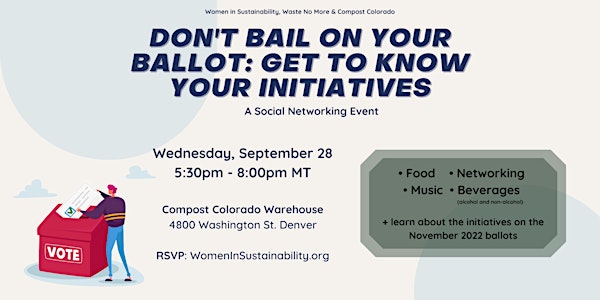 Don't Bail On Your Ballot: Get to Know Your Initiatives & Social Networking
Women in Sustainability, Waste No More & Compost Colorado are teaming up to host a "Get to Know" evening to prepare for the Nov. elections!
When and where
Location
Compost Colorado 4800 Washington Street Denver, CO 80216
About this event
Women in Sustainability, Waste No More and Compost Colorado are teaming up to host a "Get to Know" and social networking event on September 28 from 5:30pm - 8:00pm at the Compost CO warehouse.
This event brings together community members to network and learn more about the enviromental and social ballot initiatives, including Waste No More (Measure 305), that will be on the November 2022 election ballots. We'll have experts there to answer your questions about the intiatives to help you vote with confidence this fall! It's important to be informed and vote. All voices matter in our community!
This discussion will pertain mostly to Denver area measures, but all are welcome to come and learn.
We will have fun networking opportunities. Plus, light snacks and beverages will be provided to all attendees. This event is free and everyone is welcome to attend.
Stay tuned for more information.
Women in Sustainability
Women in Sustainability (WIS) is an inclusive social and environmental justice nonprofit dedicated to caring for the people that CARE for the planet through Community, Advocacy, Resources and Education to create a sustainable and equitable future through the feminist viewpoint and leadership. WIS strives to create a safe space for like-minded and diverse individuals to create purposeful connections and conversations. All are welcome in this community.
Waste No More
Waste No More (Measure 305) is a grassroots ballot initiative created to encourage Denverites to recycle more and throw away less. Last year, the Waste No More team drafted this policy and collected over 11,000 valid signatures in support of putting the measure on Denver's 2022 General Election ballot. Ballot measure 305 will require all businesses — including apartment buildings, condos, restaurants, hospitals, hotels, and sporting arenas, and permitted events to provide compost and recycling pickup services alongside trash services. It will also require that all construction and demolition waste must be sustainably managed. These policies aim to boost recycling rates and dramatically decrease the amount of waste our city sends to the landfill.
Compost Colorado
Founded in 2018, Compost Colorado (CoCO) collects compost, "completes the loop", and connects everyone to an accessible gateway towards a more sustainable and regenerative future. We aim to make composting mainstream and in the process support local, sustainable businesses and causes. We strive to make composting as easy, affordable, and available as possible - composting should be accessible and inclusive to all people. Signing up for Compost Colorado is an easy way we can all participate in reducing our green house gas footprint, reduce our reliance on landfills, and support our community.