Event Information
Refund policy
Contact the organizer to request a refund.
Eventbrite's fee is nonrefundable.
Read on for important registration and book order details!
About this event
Celebrate the release of Give Unto Others, the thirty-first Commissario Guido Brunetti mystery, with author Donna Leon.
Books ordered on this page include a signed bookplate! Thank you for supporting a small business with your purchase.
How to Register
Register on this page to receive a Zoom link
Ticket includes entrance to the virtual event OR entrance plus a copy of the book
If you don't receive a confirmation email after registering, contact us
Get Your Books
Books are held for pickup or shipped after ticket sales have closed.
STORE PICKUP- Pick up your book in person at Brookline Booksmith (Click here for directions). You will receive an email alert when your book is ready.
SHIPPING - Have your book shipped via USPS priority mail. Shipping is only available in the United States.
If you have trouble checking out, check the Eventbrite FAQ located here.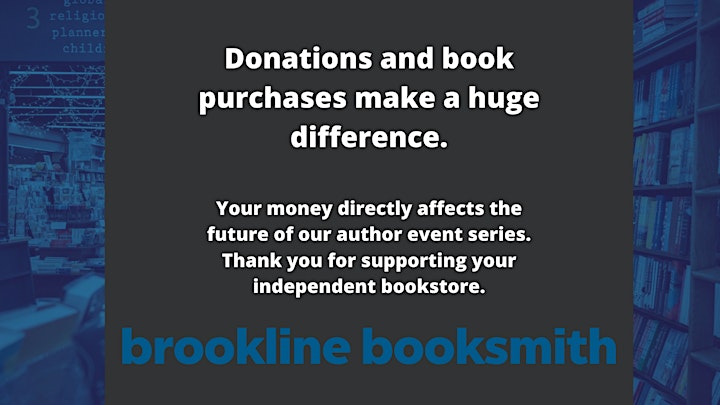 Give Unto Others
Brunetti is forced to confront the price of loyalty, to his past and in his work, as a seemingly innocent request leads him into troubling waters.
What role can or should loyalty play in the life of a police inspector? It's a question Commissario Guido Brunetti must face and ultimately answer in Give Unto Others, Donna Leon's splendid 31st installment of her acclaimed Venetian crime series.
Brunetti is approached for a favor by Elisabetta Foscarini, a woman he knows casually, but her mother was good to Brunetti's mother, so he feels obliged to at least look into the matter privately, and not as official police business. Foscarini's son-in-law, Enrico Fenzo, has alarmed his wife (her daughter) by confessing their family might be in danger because of something he's involved with. Since Fenzo is an accountant, Brunetti logically suspects the cause of danger is related to the finances of a client. Yet his clients seem benign: an optician, a restaurateur, a charity established by his father-in-law. However, when his friend's daughter's place of work is vandalized, Brunetti asks his own favors--that his colleagues Claudia Griffoni, Lorenzo Vianello, and Signorina Elettra Zorzi assist his private investigation, which soon enough turns official as they uncover the dark and Janus-faced nature of a venerable Italian institution.
Exploring the wobbly line between the criminal and non-criminal, revealing previously untold elements of Brunetti's past, Give Unto Others shows that the price of reciprocity can be steep.
Donna Leon, born in New Jersey in 1942, has worked as a travel guide in Rome and as a copywriter in London. She taught literature in universities in Iran, China, and Saudi Arabia. Commissario Brunetti made her books world-famous. Donna Leon lived in Italy for many years, and although she now lives in Switzerland, she often visits Venice.
About Brookline Booksmith
We are one of New England's premier independent bookstores, family-owned and locally run since 1961. We offer an extensive selection of new, used, and bargain books; unique, beautiful gifts; award-winning events series; and specialty foods. Every day, we strive to foster community through the written word, represent a diverse range of voices and histories, and inspire conversations that enrich our lives. Find more at brooklinebooksmith.com!
EVENT ACCESSIBILITY
Barring technical difficulty, auto-transcription is enabled on all Brookline Booksmith Zoom Webinar events.
Date and time
Location
Refund policy
Contact the organizer to request a refund.
Eventbrite's fee is nonrefundable.