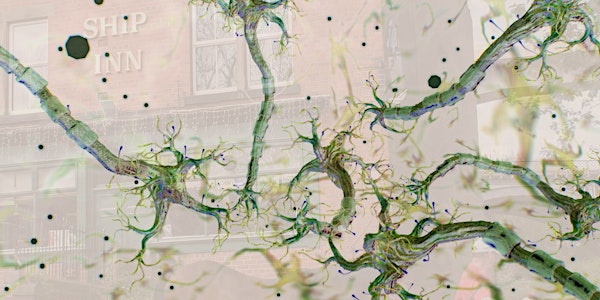 Donate Yourself - An Augmented Reality Artists Tour
A guided tour of a new augmented reality artwork through the Ouseburn Valley in Newcastle.
When and where
Location
Byker Farm Ouseburn Road Newcastle upon Tyne NE1 2PA United Kingdom
About this event
Donate Yourself is an augmented reality art project by artist Stacey Pitsillides with body>data>space that uses sound and 3D visuals to spark debates about our organs, tissue and body data. It has been commissioned as part of the One Cell at a Time public engagement programme for the Human Cell Atlas (see below for further info).
You are invited to join us on a guided tour of the artwork through the Ouseburn Valley in Newcastle. Using your phone you will see digital objects and hear audio, sharing stories of care, trust, immortality, consent and futures, asking us to think:
What role can our bodies play in scientific discovery?
Could we see ourselves as a collection of cells?
Does donating organs or tissue make you immortal?
Donate Yourself is produced by Dominic Smith and was commissioned by One Cell At A Time, a public engagement project for the Human Cell Atlas.
The online artwork is being exhibited as part of the One Cell At A Time exhibition www.onecellatatime.org running from 29 October to 30 November 2021.
This work was funded in whole by Wellcome Trust Grant 218597/Z/19/Z.
About the Artist
Stacey is a design research fellow at Northumbria University. Her creative work explores how design can help people think about mortality and choice at the end of life in new ways. Throughout her career she has collaborated with hospices, festivals, libraries and galleries to curate a range of interactive events for tech innovators, educators and bereaved family members. Alongside writing a series of articles and book chapters on death, creativity and technology and keeping an active design practice, which has been featured in festivals like FutureFest, London and DesignTO, Toronto.
Websites: https://www.digitaldeath.eu/ & https://loveafterdeath.co.uk/
body>data>space is a collective of artists and designers engaged in creating fascinating connections between performance, architecture, new media and virtual worlds. Using their own collaboration methodologies and networked creation processes, the group visions the future of the human body and its real-time relationship to evolving global, social and technological shifts.
Website: https://www.bodydataspace.net/
If you have any questions contact:
Producer: Dr Dominic Smith:
Email: mail@dominicsmith.info
What is the Human Cell Atlas?
The Human Cell Atlas (HCA) is an international collaborative consortium which is creating comprehensive reference maps of all human cells—the fundamental units of life—as a basis for understanding human health and for diagnosing, monitoring, and treating disease.
The body has 37 trillion cells, and the HCA is looking to create a human 'Google map', which researchers can zoom into to understand every human cell type, across time from development to old age.
The HCA is revolutionising our understanding of biology and disease. This new knowledge on cellular mechanisms will lead to new diagnostics and treatments and transform future healthcare.
The HCA was co-founded in 2016 by Dr Sarah Teichmann at the Wellcome Sanger Institute (UK) and Dr Aviv Regev, then at the Broad Institute of MIT and Harvard (USA). A truly global initiative, there are now more than 2,000 HCA members, from 75 countries around the world. https://www.humancellatlas.org
What is One Cell At A Time?
One Cell at a Time is an ambitious programme of public, creative engagement activities, commissions and talks, inspired by the Human Cell Atlas, bringing together arts and communities, patients and researchers.
Funded by Wellcome and led by the Wellcome Sanger Institute, One Cell at a Time engages the public with the science of the Human Cell Atlas project and aims to deepen public understanding of the revolutionary impact it will have on our understanding of the human body.
Find out more here: