Actions and Detail Panel
DONATE TO THE TEWAARATON FOUNDATION
Wed, Jul 13, 2016, 1:00 PM – Thu, Jan 5, 2017, 6:30 PM EDT
Description
The Tewaaraton Foundation is a non-profit organization tasked with fulfilling the mission of the Tewaaraton Award. This mission is to:
1. Recognize excellence in the sport of lacrosse by annually honoring the most outstanding men's and women's college players and legends of the game.
2. Honor the Native American history of the sport through the Awards name and by integrating Native American traditions and culture throughout the program.
3. Give back to the Native American community in a meaningful way through educational scholarships and youth development.
The Tewaaraton Foundation is a 501(c)3 non-profit organization. Federal Tax ID 45-4596535.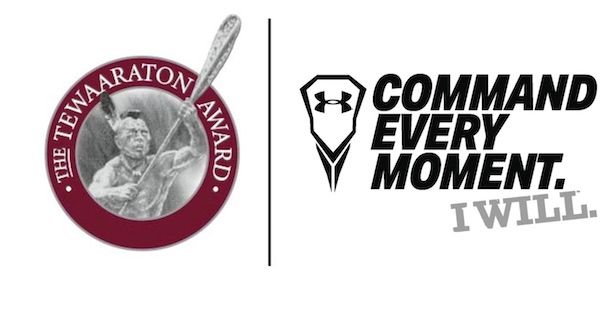 About The Tewaaraton Foundation
Founded at the University Club of Washington DC and first presented in 2001, the Tewaaraton Award is recognized as the preeminent lacrosse award, annually honoring the top male and female college lacrosse player in the United States. Endorsed by the Mohawk Nation Council of Elders and U.S. Lacrosse, the Tewaaraton Award symbolizes lacrosse's centuries-old roots in Native American heritage. The Tewaaraton Foundation ensures the integrity and advances the mission of this award. Each year, the Tewaaraton Award celebrates one of the six tribal nations of the Iroquois Confederacy – the Mohawk, Cayuga, Oneida, Onondaga, Seneca and Tuscarora – and presents two scholarships to students of Native American descent. To learn more about The Tewaaraton Foundation, please visit www.tewaaraton.com.
About Under Armour, Inc.
Under Armour (NYSE: UA), the originator of performance footwear, apparel and equipment, revolutionized how athletes across the world dress. Designed to make all athletes better, the brand's innovative products are sold worldwide to athletes at all levels. The Under Armour Connected Fitness™ platform powers the world's largest digital health and fitness community through a suite of applications: UA Record, MapMyFitness, Endomondo and MyFitnessPal. The Under Armour global headquarters is in Baltimore, Maryland. For further information, please visit the Company's website at www.uabiz.com.