DONATE to the TABLE of PLENTY Anytime!

Friday, February 5, 2016 at 10:00 PM

-

Tuesday, December 31, 2019 at 11:59 PM (PST)
Event Details
MAKE a DONATION anytime here!

TABLE of PLENTY hmb

...a distinctive weekly supper for the hungry at in Half Moon Bay, serving struggling families, seniors, and the homeless in our community every Thursday evening at 6:00 pm at the Senior Coastsiders, 925 Market Street,

Sr. Jeanette, our Director instills the values of TABLE of PLENTY ministry in her weekly message to her TOP volunteers: "Servers, we honor the dignity and sacredness of each person. Your gift is to create an experience for our guests of what it feels like to "love one another."  Bring your smiles, warmth and your kindness to our guests who hunger for more than food."
Our DISTINCTIVE Approach to Feeding the Hungry:
    How we do it. Every Thursday evening, our parish classrooms at the church, are transformed by TOP volunteers into a beautiful dining room, complete with table cloths, fresh flowers, flickering candles, real plates and flatware, and music thoughtfully selected by parishioner and singer, songwriter, and musician, Mike Rossi.

   A warm, simple, healthy meal. Each of our guests is served by ourTOP volunteer servers, dressed in white shirts/blouses and black aprons. Sample Meal: Pasta with Meat Sauce, Garlic Bread, Organic Green Salad, and array of desserts served on a dessert cart and a choice of beverages.
    Our inspiration:  "...Jesus was a clever guy. ...He knew that food gathers people. I never fully understood its impact until we experienced at the TABLE of PLENTY. It gives us another opportunity to ground people in making our religion concrete by putting our FAITH into action for the common good here in Half Moon Bay.
-- Fr. Charlie Fermeglia Half Moon Bay Review Interview 

The TABLE of PLENTY (TOP) was founded in 2012 by a Priest and a Wine Merchant: Fr. Charlie Fermeglia in partnership with Clyde Beffa Jr, long-time Half Moon resident and wine merchant, Learn more: Read our founding story, "VIEW from the TOP" in the award winning, in the award winning global business journal, Leader to Leader, Spring 2015: http://bit.ly/1NWbaR5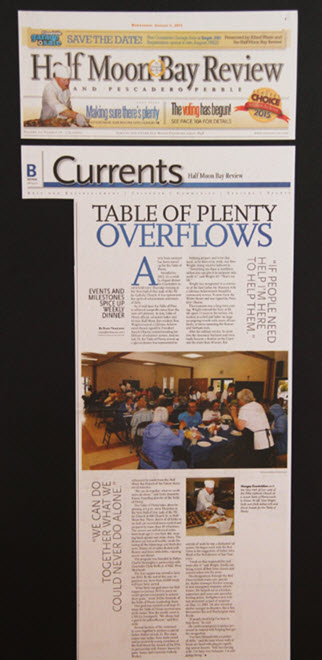 TOP Honors

August 5, 2015  HMB Review

TABLE of PLENTY Overflows

"A very busy summer has been served up for the TABLE of PLENTY:
Founded in 2012, it's a weekly, elegant dinner for Coastsiders in need held every Thursday evening in the New Hall of Our Lady of the Pillar Catholic Church. It has epitomized the spirit of volunteerism and tenets of faith.
As of mid-June the Table of Plenty achieved nonprofit status from the state of California. In July, Table of Plenty official, volunteer baker and 42-year Half Moon Bay resident Don Wright received a Lifetime Achievement Award signed by President Barack Obama commemorating his lifetime of volunteer service. And on July 23, the Table of Plenty served up a special dinner that represented involvement by youth from the Half Moon Bay branch of the Future Farmers of America..." READ MORE

CATHOLIC SF
TABLE of PLENTY was honored in a front-page story for the November 22, 2013 Thanksgiving Edition of CATHOLIC San Francisco, the newspaper of the Archdiocese of San Francisco. READ THE FULL article by Edison Tapalla.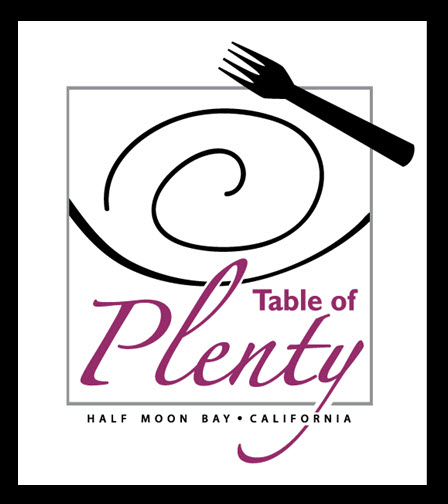 TABLE of PLENTY (TOP) Website: 
http://tableofplentyhmb.org

https://topdonation.eventbrite.com

---
Save This Event
When & Where

We feed struggling families, seniors, and the homeless in the Half Moon Bay coastal community.
at the Senior Coastsiders Banquet Room
925 Main Street at 6pm-7pm Thursday; doors open at 6:50 pm.
Half Moon Bay, CA 94019


Friday, February 5, 2016 at 10:00 PM

-

Tuesday, December 31, 2019 at 11:59 PM (PST)
Add to my calendar
Organizer
Join us for this year's community gathering in Half Moon Bay on SATURDAY, November 17, 2018. Buy TICKETS to attend and also DONATE to the TABLE of PLENTY Half Moon Bay. Doors open at 5:00 pm - 7:30 pm. Don't miss Clyde Beffa's BUBBLE LOUNGE open 5:00 pm to 6:30 pm. 


When you make a donation or buy tickets, you support for our TABLE of PLENTY volunteers in creating a beautiful dining room, complete with table cloths, fresh flowers, plates and flatware, and live dinner music for struggling families, elders and homeless friends in our coastal community. Each guest is seated and served a warm, healthy meal with all the trimmings, including freshly baked desserts and a choice of beverages. Our TOP volunteers wear black aprons and they strive to help each guest experience what it means to LOVE ONE ANOTHER.

Sr Jeanette Braun, TOP's founding director says it best:  
"We honor the dignity of each person. Whether you cook the food, serve it, or greet our guests, our standard is high: We all strive to reflect LOVING ONE ANOTHER as each volunteer contributes their smiles, warmth, and kindness to each guest, who may hunger for more than food."
By the end of 2018, we will have served over 44,000 meals. 

The TABLE of PLENTY was founded in 2012 by Fr. Charlie Fermeglia in partnership with Clyde Beffa Jr. wine merchant and long-time resident of Half Moon Bay. 

Learn more: http://tableofplentyhmb.org 
TABLE of PLENTY HMB  |   P. O. Box 3693, Half Moon Bay, CA 94019