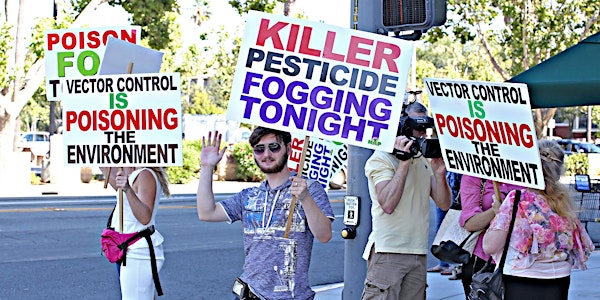 ★Donate To Healthy Alternatives To Pesticides to Help Stop Pesticide Sprayi...
Description
★Please help STOP the toxic pesticide spraying in the Santa Clara County with your donation.★
We welcome all contributions in any amount!
Thank you for your support in creating a safe environment without the use of toxic pesticides.

Vector Control can no longer ignore the United States Constitution, Amendment
IV, our right to be secure in our homes.

Vector Control can no longer ignore the California Environmental Quality Act.

It is NOT reasonable to fog with poison 4.1 square MILES each time there is a single positive find of a mosquito. It is NOT reasonable to ignore safer methods such as trapping.

Vector Control can no longer use the excuse that they are killing mosquitoes carrying the West Nile Virus. They have failed to show even a consistent two-day mosquito reduction. Furthermore, Vector Control has not even studied the environment to understand that they are killing the very predators that control mosquitoes and their larva.

We have seen the pesticides that Vector Control uses kill fish, birds, frogs,
mosquito eaters, dragonflies, damselflies, and other primary predators of mosquitoes. Declarations in our court case document these observations.

Though Vector Control claims the pesticides they use are safe for bees, bees found dead the day after fogging, tested by Columbia Food Labs, contained Zenivex E4, Vector Control's pesticide.

A pesticide they have been using, etofenprox, was claimed in their water permit
to have a 4.1 day soil half-life and was instead discovered (by Columbia
hormone systems, gut flora and the brain. Pesticide exposures, including pesticides that have been used by Vector Control, are associated with increased cancer incidence. Many people have complained of sickness to Vector Control, the
Santa Clara County Board of Supervisors and to Healthy Alternatives To
Pesticides after Vector Control fogging. We want the court to stop Vector
Control's mass poisonings that have made people sick. Infants are especially vulnerable to pesticide exposure*.

Vector Control's pesticide Zenivex E4 content is 96% undisclosed as trade secret. Not even Vector Control, the agency spewing it, or the Board of Supervisors,
knows what 96% of it is. Pesticide formulas are not required by the EPA to be tested, only the active ingredient. Thus, this mass pesticide fogging is a huge uncontrolled experiment with basically unknown ingredients with no
researchers on the job. No one can say it is safe. No one can say it is effective.
We urge the court to recognize this reckless experiment and put a stop to it.

We have the right to a real trial on these issues.

Will the Appellate Court ensure our right to not be poisoned?.

*"Prenatal Exposure to Organophosphate Pesticides and IQ in 7-Year-Old Children",

Maryse F. Bouchard

,1,2

Jonathan Chevrier

,1

Kim G. Harley

,
a birth cohort study (Center for the Health Assessment of Mothers and
Children of Salinas) study,

Environ Health Perspect

. 2011 Aug; 119(8):
1 Beate Ritz,5,6,7 Robin L. Hansen,3,8 and Irva Hertz-Picciotto1,8,
Environ Health Perspect; Volume 122, Issue 10, October 2014, DOI:10.1289/ehp.1307044
★ Zenivex E4 Was Withdrawn By The Manufacturer★

The state of New York received notification from the manufacturer Wellmark International to withdraw their application for Zenivex E4 (the same pesticide they are spraying here in our county) because they were unable to prove that it was safe.
"However, the ecological technical review resulted in unmitigated concerns with respect to data gaps and risks to aquatic species."

Please see report below:
http://pmep.cce.cornell.edu/profiles/insect-mite/ddt-famphur/ethofenprox/etofenprox_wth_0315.pdf

West Nile Fogging Kills Hundreds of Bees in Palo Alto