Don White & Christine Lavin, and Performing Songwriter Competition, May 21,...
Location
Rose Garden Coffeehouse
17 West St
Mansfield, MA 02048
Description
PREPARE TO LAUGH WITH CHRISTINE LAVIN & DON WHITE & ANNUAL CONTEST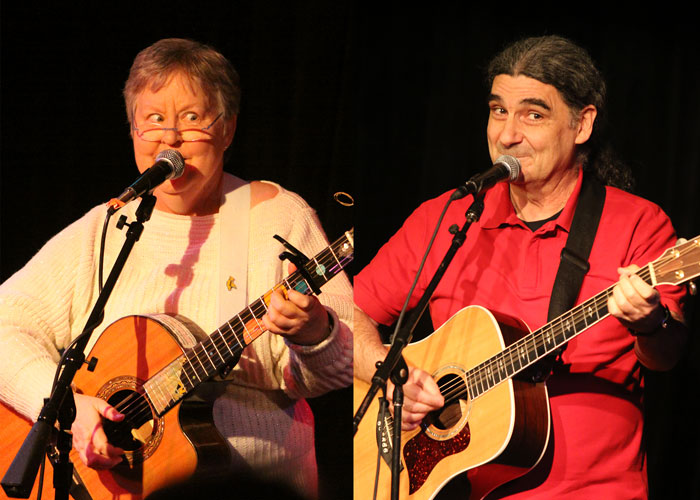 Singer-songwriters and humorists Christine Lavin & Don White will perform at 8 p.m. May 21 during the season finale of the Rose Garden Coffeehouse, Mansfield, Mass. Prior to Lavin & White's featured act will be the Rose Garden's 24th annual Performing Songwriter Competition.
Individually, Don White and Christine Lavin are veteran performers on the folk-music circuit, known nationally for their smart songwriting and entertaining musical styles. Together, they offer a different kind of folk show.
"It doesn't sound like a folk concert, it sounds like a comedy concert," says White. "We rehearse and we rehearse and then inevitably, she'll throw something at me that I have no idea about, with a mischievous grin that lets me know she's been thinking about it all afternoon. Just to see what will happen. And she's taught me to do the same."
When you listen to the duo, "you tend to feel like you're making a friend, rather than admiring some distant star. They are not putting on an act," says renowned folk music writer Scott Alarik. "… [They are] genuinely goodhearted people who use their abundant talents to show us how much we have in common, as we all bumble and stumble through our own day-to-days."
DON WHITE
There is no one-word description for what Don White does. He has survived and thrived for 25 years, bringing his audiences to laughter and tears in his live performances, studio recordings, and on the printed page. He is a storyteller-comedian-author-troubadour-folk singer-songwriter. He is a walking challenge to the phrase "file under."
Don's approach to music is a weird, unique blend. If he just played folk music, it would be a handy label. But he has invented his own genre with a mix of humor and powerful songwriting. White's arc as a writer and performer has taken him from his industrial hometown of Lynn, Mass., across the country as hitchhiker, through Boston's comedy clubs and coffeehouses, and onto the stage with greats like Christine Lavin, Arlo Guthrie, Taj Mahal, Ritchie Havens, Patty Larkin, Bill Morrissey, Tom Rush, and Louden Wainright III. At every point, White has been the ultimate observer, infusing his work with his experiences as a husband, a father, a seeker, and a joker.
CHRISTINE LAVIN
Truth is, it is nearly impossible to sum up Christine Lavin in a few sentences. She is an award-winning iconic singer-songwriter, author and more who has earned her legendary status through years of tireless performing, doing shows at once quirky, hilarious and touching. Her songs have a wordsmith's eye for detail, with a comic's vision for the absurd, and a huge and fearless heart that will go anywhere … and who else baton twirls, knits with her audience before a show, and does their nails?
Lavin performs concerts all over the U.S., Canada, and points beyond (Australia, Germany, Israel), and hosts knitting circles backstage prior to each show. Songs of hers have been performed by artists as diverse as Broadway stars Betty Buckley, Sutton Foster, and David Burnham, cabaret divas Andrea Marcovicci. Barbara Brussell, and Colleen McHugh, the college a cappella Dartmouth Decibelles, and The Accidentals, winners of the National Harmony Sweepstakes championship. Yeah, she's that diverse.
Lavin & White got together for the first time in 1995, and the combination was magical.
"When Christine Lavin and Don White make us laugh, there is always a warm shimmer of community beneath the silliness," says Alarik. "Of all the gifts great entertainers can bring to the stage, I think this is perhaps the rarest and most valuable. Many can dazzle us; but only the very, very best can befriend us, and remind us that, in the end, we are all wary acrobats in the great human circus. And really, when have we ever needed laughs like that more?"
Prior to Lavin-White show, there will be an annual treat. The 24th Performing Songwriter Competitionfeatures three New England acts: Seamus Galligan, of Providence, R.I.; Joanne Lurgio, of Warwick, R.I., and Ian Meadows, of Chester, Conn.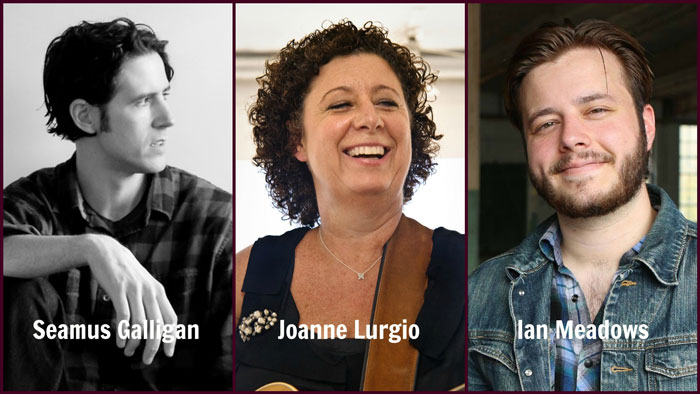 The contestants will each perform two songs, and a panel of music industry judges will select a winner. The prestigious contest has showcased new talent since 1993 and has become pretigious in its own right, drawing entries from across the United States and Canada. The winner receives $100 and a gig during the 2016-2017 Rose Garden season.
Doors open for the 8 p.m. show at 7:30 p.m. Advance sale tickets are recommended and may be purchased at www.rosegardenfolk.com. Tickets are also available at the door. The Rose Garden's all-volunteer staff serves home-baked dessert items and hot and cold drinks of the season before the show and during intermission. The Rose Garden Coffeehouse, is a 501(c)(3) not-for-profit organization entering its 27th season of continuous operation. It is located at The Congregational Church of Mansfield, 17 West St., Mansfield, Mass., and is wheelchair-accessible and alcohol-free.