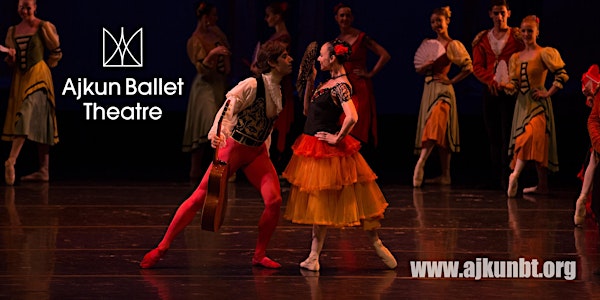 Don Quixote
Powerful Dancing infused by Spanish Charisma in the classic novel by Cervantes
When and where
Location
Theater at St. Jean 150 East 76th Street New York, NY 10021
About this event
The tale of two young lovers, Kitri and Basilio, infused with the vibrancy of Spain. Based on Miguel de Cervantes's novel "Don Quixote de la Mancha", Chiara Ajkun's choreography for the Ajkun Ballet Theatre calls for pure entertainment. Music by Leon Minkus with additional scores by Anton Simon and Ricardo Drigo. Suitable for Children.
This performance is part of our Theater Series.
Kitri (Momoko Burbine), an inn-keeper daughter, sneaks out of the house to meet her beloved, the barber Basilio (Klevis Tafaj). Her mom Lorenza (Bianca Delli Priscoli) shoos away Basilio to introduce another suitor, the foppish and vain nobleman Gamache (Ariel Corrêa). Flashing his wealth, Gamache tries to secure Kitri's hand only to make the girl run away. Toreadors (Kylie Brown as Mercedes and Telmen Munkheredene as Espada) burst into the scene and the knight Don Quixote (Nicola Iervasi) arrives. When Kitri returns, Don Quixote mistakes her for his beloved Dulcinea and sets to a chase into the gypsy camp, where Kitri and Basilio run to hide from Gamache. Don Quixote, exhausted by the pursuit, falls unconscious and dreams of Dulcinea/Kitri (Areum Jeong). Back at the square, Kitri and Basilio join the dances but at the height of the merriment Lorenza gives the blessing to her union with Gamache. Annoyed, Basilio accuses Kitri of being unfaithful and stabs himself. As he lies dying, he begs to be united in marriage with Kitri but Lorenza and Gamache refuse. Don Quixote challenges Gamache to a duel for refusing a dying man's wish. A terrified Gamache is driven out of the scene, while Lorenza gives her blessing to the couple. Basilio pulls the weapon and reveals the joke. After Kitri and Basilio's wedding, Don Quixote sets out again on his quest.
Choreography: Chiara Ajkun after Alexander Gorsky
Music: Leon Minkus and additional scores by Anton Simon and Ricardo Drigo
Libretto: Marius Petipa after the novel by Miguel de Cervantes
Performing Company: Ajkun Ballet Theatre | www.ajkunbt.org
For inquiries about the shows, please email ajkun@aol.com or call 1(347) 346-9951.
No Intermission. Attendees must have a ticket. No sales at the door.