Description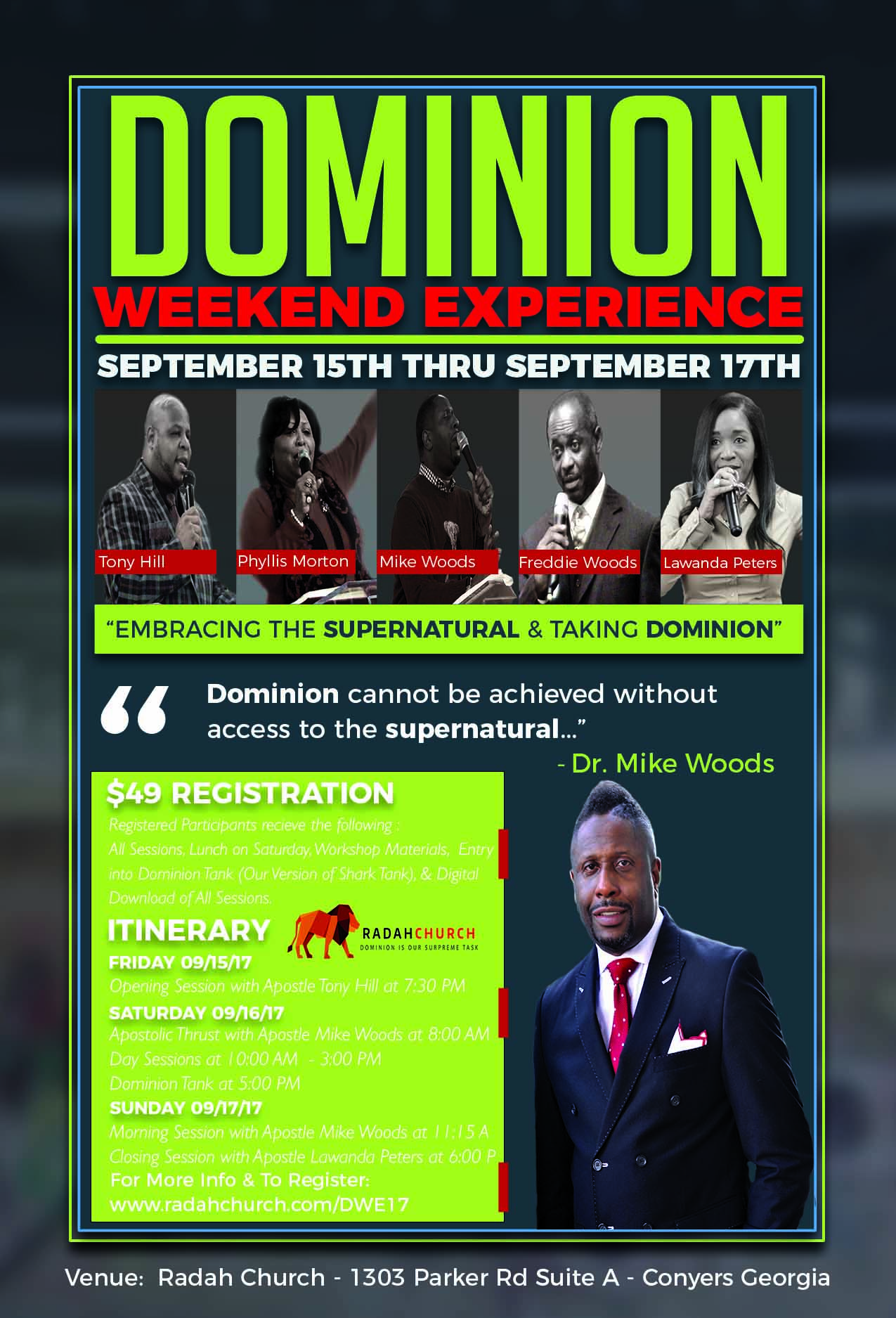 Radah Church
Dominion Weekend Experience
Theme:
"Embracing the Supernatural & Taking

Dominion"



Purpose:
The focus of the Dominion Weekend Experience '17 is be catalytic resource agent to assist attendees in gaining a deeper understanding and revelation of The Dominion Mandate issued by the Father in Genesis 1:28 and their specific dominion purpose.
Vision:
Our vision has it's substratum three distinctive core principles that will assist us in accomplishing our purpose. Observe,
1.) Through seasoned apostolic and prophetic voices who will lead our general sessions and classes, we will seek to help each individual take a deliberate introspective that will cause them to accurately measure & DISCERN their personal dominion purpose;
2.) Through strategic prayer and intercession we have selected a track of classes that will help each attendee manage & DEVELOP in their personal dominion purpose;
3.) Finally our vision is to open the realm of the Supernatural in way to each attendee via Worship, the Word, and Godly Wisdom so they can be DEPLOYED into their dominion purpose with tools that will help them master that purpose.
Location:
Radah Church, 1303 Parker Road, Ste. A, Conyers Georgia 30084
URL: www.radahchurch.com/DWE17
Registration:
$49.00 per person which includes All Session, lunch, Entry into Dominion Tank, Digital Download of Sessions, & Class Materials.

*Evening Sessions Free and Open to the Public.






Date and Time
Location
Refund Policy