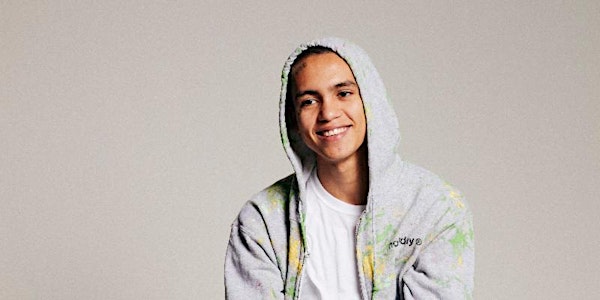 Date and time
Starts on Tuesday, October 1, 2019 · 7pm PDT
Location
Slim's 333 11th Street San Francisco, CA 94103
About this event
Dominic Fike
Rain or Shine Tour
with Deb Never
On sale: Friday, 7/12 @ 10am
Door 7 / Show 8
Dominic Fike is aware of the demand that's mounted for him to put his music online ever since he posted a batch of self-produced bedroom demos to Soundcloud in 2017, and then swiftly pulled them down. "People are mad at me. It's like owing your friend money," says the 22-year-old. "You can't really talk to them about anything else until they get it."
Fike wasn't really aware of the buzz that had accumulated nearly overnight until he finished serving a jail sentence earlier this year. While on house arrest for three months, Dominic wrote, produced, and recorded a set of songs in a friend's bedroom, some of which would later release on Don't Forget About Me, Demos. The demos are a rare glimpse at an artist on the precipice of ubiquity, one so specifically him, notable for his self-assured singing, dynamic instrumentation, and compelling songwriting.
"3 Nights" sets the tone for Don't Forget About Me, Demos, an effortless slice of pop with a tropical bent that coasts on acoustic guitars and a Fike's elastic, sing-song flow. The rest is a composite of his influences filtered through his artistic lens: "Westcoast Collective" takes cues from Weezer, all spidery rock guitars and intermingling vocal harmonies, while "King of Everything" harnesses both the breezy beach-rock and angst of Sublime, a diarist rumination on ruling a domain when you find yourself alone.
Elsewhere, Fike touches on family life on the Red Hot Chili Peppers-indebted "Babydoll," while "Socks" dials back the pace for a more laidback reflection on the boundaries that others canplace before you. Sonically, it's a polished step-up from his first Soundcloud offering, which he erased from the Internet for a variety of reasons. Now, he says, his songs were updated "kind of in the way they would remaster a Disney movie—it looks the same but the quality is just better. The vocals are brought out better. It's not too bedroom-y."
Don't Forget About Me, Demos is the first official entry in Fike's discography, the culmination of a longtime dedication to and love of music. Born and raised in Naples, Fla., he was first introducedto music by his father, who taught him how to play guitar when he was 10. From there, he developed a taste for music on his own,refining his skills by looking at and learning from YouTube tutorial videos. His musical interests reflect those of one raised on the internet — spanning everything from The Beatles to Frank Ocean and Young Thug.
From there, he began to experiment with writing and recording his own music. He recalls that the house was filled with musical equipment including a four-track recorder that he used to laydown his earliest work. With his brother, he played a variety of instruments—piano, guitar, vocals—on original songs, treating music as a hobby from his pre-teens up until he posted his demos.
His compositions speak to his upbringing, embodying both the relaxed tempo of his native Florida and his own tumultuous upbringing in the sometimes oppressively sunny state. ("All the songs are a direct reflection of being in that environment," he explains.)
With his untimely incarceration behind him and Don't Forget About Me, Demos finally seeing the light of day, Fike is intent on releasing more music and sharing his perspective with the world, this time making sure that nothing stands in his way.