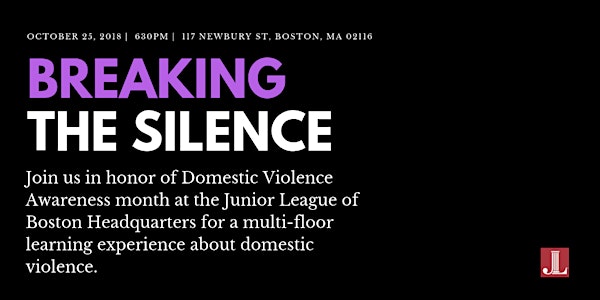 Domestic Violence Awareness Night hosted by the Junior League of Boston
Event Information
Location
Junior League of Boston
117 Newbury Street
Boston, MA 02116
Description
October is Domestic Violence Awareness month. #DVAM2018
Please join the Junior League of Boston on October 25th for a learning experience about domestic violence. This immersive experience will teach you about the dangers and warning signs, legal support in the Commonwealth, hear stories of survival and take simple actions to help better support your friends, family and women who may be experiencing domestic abuse. The evening includes an interactive simulation into the lives of women in abusive relationships where you can take a peek into their challenges and obstacles.
Non-members (including men!) are welcome to attend. There is no charge for this event.
This evening will shed light on an issue that has claimed too many lives and show how you, too, can make a difference.
For example:

Awareness: Attend the October 25th event at the Junior League of Boston building (above Kate Spade)

+
Simple Action 1: Donate Full Size Body Wash, Lotion, Loofah, and or a Gift Card from Bed Bath and Beyond (This supports our partner My Life My Choice)
Simple Action 2: We are asking you to use your clothing to start conversations with others about domestic violence by wearing purple to raise awareness and support survivors
=
Social Change
Free community events such as this one are financed through generous donations from people like you. Please consider giving to the Junior League of Boston or attending one of our great fundraising events!
Date and time
Location
Junior League of Boston
117 Newbury Street
Boston, MA 02116